Sunday 12th September is Education Sunday in England and Wales. The annual national focus on Catholic education this year will be on the theme of "Thank You, Teachers!" We give thanks to God for all those who work in Catholic schools, for their hard work and for their dedication over what has been a very challenging 18 months.

Pope Francis September Prayer Intention
An Environmentally Sustainable Lifestyle:- We pray that we all will make courageous choices for a simple and environmentally sustainable lifestyle, rejoicing in our young people who are resolutely committed to this.

Fun at the Fete
Thank you to all those involved in the Sacred Heart Fete last weekend and to those who came out in support. We are all very grateful and are happy to announce that we managed to raise £2.090 (so far) for the Lhaovo orphanage. So a big Thank you to everyone.

If you'd like to support our appeal directly - you can do so here
Raffle tickets are still available this weekend after Mass, we will be announcing the winners of the raffle next weekend.
Booking is by email at hello@sacredhearthook.org. Please title the email "Mass booking" and give the name, address and contact details of all who will be attending including of all those in a family group. Booking closes on Thursday at 1:30pm. Don't forget to indicate which Mass you will be attending. You will receive an email during Friday morning with more instructions.

More information and a guide on what to expect can be found on our website's Attending Mass page.
Don't forget that the Sunday Mass will still be live streamed via Facebook and our website's Live Page.
COVID Restrictions Update
For the safety and wellbeing of all, we shall continue to:
• wear face coverings whilst inside the church building
• provide contact details
• use sanitiser before and after all services
• avoid unnecessary touching of surfaces
• socially distance within our church and building

These recommendations will be reviewed again later in September. Thank you for your continued support for our church community, and may God Bless you and your families and keep you well and safe.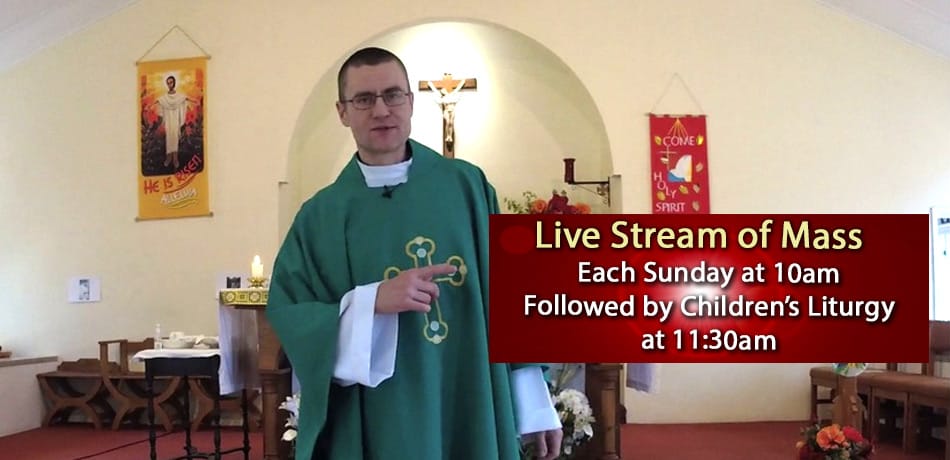 Latest Update Regarding Online Mass
We will be live streaming Mass this Saturday Sunday morning at 10am from Sacred Heart Church. Sunday Mass will be followed by Children's Liturgy at 11:30am. So please do join us to celebrate The Twenty Fourth Sunday in Ordinary Time .

Instructions For Watching Mass via our Website
Please note, when watching via our website, you will initially see an image like the above with a pink button below. This is because the video feed from our Church has not been activated. The video stream will start automatically, but if it doesn't, periodically press the button and if Mass is live, the picture will be replaced with a video player. For more questions - please contact dan@sacredhearthook.org

Why is there no sound?
Before Mass, the camera will initially be muted to avoid people's voices and/or Fr.Paul being picked up. Ensure your volume is turned up too, but rest assured that sound will be restored before Mass starts.

What happens if i lose my connection or the video stops?
Most problems can be resolved by waiting a few seconds and refreshing your browser.
What has God called you to do ?
We need more priests for our Diocese. Could God be calling you to serve Him and His people in the Sacred Priesthood? Perhaps you've thought about it but haven't discussed it with anyone? If this sounds like you, why not attend one of our monthly First Friday "Seeker" events in Fareham. They run from 7-9 pm on the first Friday of the month, the next event is 1st October at Sacred Heart Presbytery, 41-43 Portland Street, Fareham PO16 0NF. For further details contact Canon John Cooke on 01329 318869 or email vocations@portsmouthdiocese.org.uk
Season of Creation
Welcome to our Caritas publication produced to coincide with the Season of Creation. The season starts on 1st September, the Day of Prayer for Creation, and ends on 4th October, the Feast of St. Francis of Assisi, the patron saint of ecology. We have joined with Laudato Si groups in the diocese and with CAFOD to bring you news about the work going on now in the diocese, and being planned for later, on environment and climate change.
Winter Night Shelter For Rough Sleepers
If you would like to know what the plans are for the winter night shelter for rough sleepers, there will be a meeting on 16th Sept at 7:30pm in the Sarum Hill Centre in Sarum Hill. All are welcome.
Metanoia - New Online Course (Update)
"I believe that God is laying a foundation for revival in our Church,"
Fr. Dave Pivonka

From the Franciscan team that brought us the inspiring (and free) Wild Goose series (click for free series) - comes a new online course that expands the popular series. Every Catholic, no matter where we are in our faith journey, is invited to a deeper conversion. Metanoia is not a one-time event; rather, it is a continual process of turning away from the things of the world, from lies and sin and discovering a deeper union with Christ.

The North West Hampshire Pastoral area are offering this 10 week course led by Gerry Penfold, starting on the 13th September and running to the 22nd November at 7.30pm. If you are interested in joining us for this course please register by reaching out to Joan Kent at jkent@portsmouthdiocese.org.uk

The course trailer can be viewed by clicking the button.
The Saints Course
We welcome you to join us for this face-to-face course, to find out more about some of our Saints. We will enjoy a 'cuppa' and cake (or savoury snacks) while we learn more about some of our well-known and less well-known Saints. Sessions will include a video and friendly discussions. (We may sit outside for our early autumn discussions, if the weather is kind to us, or in the hall when it's chilly!) Course starts: Thursday 16th September , from 10am – 11.30am. Course ends: Thursday 18th November (10 weeks). Brief summary: The course comprises 6 sessions on some well-known traditional Saints, followed by 4 weeks of some of our more modern saints. Saints include: St. Therese of Lisieux, St. Ignatius of Loyola, St. Catherine of Sienna, St. Francis of Assisi, St. Patrick, St. Benedict Modern saints will include St. Teresa of Calcutta, Pope St. John Paul II, St. John Henry Newman, St. Faustina Kowalska, Blessed Carlo Acutis and others Please don't be put off signing up if you can't make all the sessions! To sign up, please email Jan in the Parish Office: hello@sacredhearthook.org We look forward to seeing you! (Theresa & Shanthi)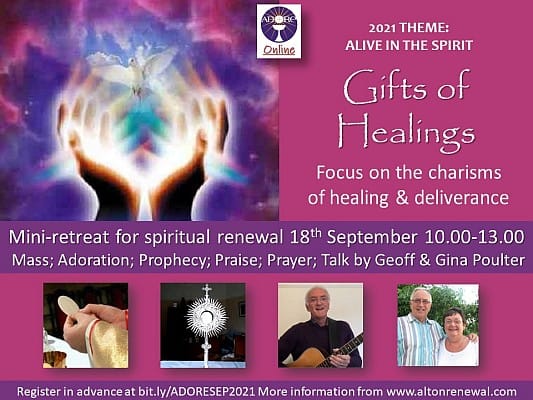 ADoRE Online - Gifts of Healings
September 18th 10.00-13.00 with Mass; Adoration; Prophecy; Praise; Prayer and A Talk by Geoff & Gina Poulter. Theme: This year we are responding to Pope Francis' encouragement to "organise seminars to share Baptism in the Spirit." Baptism in the Holy Spirit is an action of god, invited by an individual through prayer, which brings about a deeper conversion to Christ and gives the Holy Spirit permission to work in that individual's life in a more powerful way. Please register for the Zoom meeting in advance at bit.ly/ADORESEP2021 or go to https://www.altonrenewal.com/programme.html and we will send you the zoom link.
Virtual Pilgrimage to the Holy Land
Fr Tom Grufferty invites you to join him on a Virtual Pilgrimage to the Holy Land at 7.30pm on Monday evenings from 6th September to 1st November. There are nine sessions and there will be a different presenter for each one. Each session will last for about 40 minutes. There is no need to book, just click this link at 7.20pm on Monday 6th September and follow the instructions.
Peter Ferguson from Adore Healing intercessory Prayer runs a Spiritual Compline every Wednesday at 8pm (with sharing, Insight; and Prayer) – If you are interested in joining these evenings please contact Peter at peter@pcfconsultancy.com. Peter advises that the Compline is gentle and compassionate, following the lectionary and simple compline service for each Wednesday evening centred upon the teaching of Jesus. We follow a theme with a reflection, with small break out rooms and prayers with some praise music. People join us now from Scotland and other parts of the country as well as local people. It is joyful, calming, friendly and a safe place to be and can be for participation or just quiet listening in a relaxed atmosphere. We hope that people are encouraged to flourish in their faith.
Week of Accompanied Prayer
Wednesday 29th September 2021 at 7.30pm Online – Zoom.
An opportunity to find out more about the Week of Accompanied Prayer that is being held in our Parish in the Week 17th – 22nd October 2021. Find out exactly 'What it will be like' and 'What is involved', Ask Questions, Share thoughts and Decide if YOU want to sign up and register for the week. Do come along.
Please contact the Parish Office for more information.

Here is the link for the Information Evening on Wednesday 29th September at 7.30pm https://us02web.zoom.us/j/81600209231? pwd=L1VlK3Nqbkh5NGVMdUR5NSt5dS9rUT09 Meeting ID: 816 0020 9231 Passcode: 478148

Charity Evening at Hook Tandoori for Children with Cancer
We are holding a Charity night at the Hook Tandoori on Tuesday 5th October. Tickets are limited and they are £22 each which includes a great feast at The Tandoori and a raffle.

Contact details
Andrea 07823449333 or Andrea.waldram@gmail.com
Fr Paul and Ian Liddell running Royal Parks Half Marathon
Fr Paul and Ian are running the half marathon in October 2021 for The Catholic Agency for Overseas Development (CAFOD) to help raise money to help those living in poverty around the world. In donating and supporting their Fr Paul and Ian's efforts, you will be helping people like Abdella:
Abdella is 23 and he has big dreams. He dreams of starting a small business. He dreams of starting a family. He dreams of having his own home.
He dreams of the day he wont have to walk ten hours to get water.
Abdella lives in Afar, Ethiopia one of the hottest places on earth. Like hundreds of people in the area, he spends most of the day walking to get water for his family to drink.
He knows that if there was water near his home, his family wouldn't have to worry any more about getting enough to stay alive. And he could start on the dreams he has for the rest of his life.
Please join us in supporting this great cause by clicking the button below to donate. Thank you and God bless.
Live Children's Liturgy & Resources Page
This Sunday, the Children's Liturgy will be streamed at 11:30am by Fr.Paul and Maggie.. We also have a new worksheet that is live on our website. This page contains the latest prayers, hymns and downloadable activities, Look worksheets and more. This has been updated for the the 24th Sunday in Ordinary Time...
Online Offertory & Donations
An easy way to give online using your debit card has been set up on our website at https://www.sacredhearthook.org/donations. Just click the button and follow the instructions. Thank you so much for your generosity. God bless. Fr. Paul
Pray for Me
Note: The webpage on the Portsmouth Diocese has sadly been removed but you can still contact the Intercessor team directly. Details on our website.

Through the Called & Gifted process run by our Portsmouth Diocese, a growing number of people (currently over 60) have been able to discern that they have the charism of Intercessory Prayer. The intercessions could include prayers for our Diocese, Sacred Heart Church and all the people in it, Fr Paul or maybe something or someone close to you? Perhaps something you're concerned about relating to yourself, a family member or friend? If you wish the intercessors to pray for you, please email the team.

More details on our website.
Carmelite Spirituality
Our Carmelite friends from Oxford invite us all to join with them in their gentle, contemplative spirituality that's inspired by Carmelite Saints such as St Teresa of Avila and St John of the Cross. They offer a number of free and paid talk, retreats, courses and spiritual direction options that will help you deepen your relationship with God.
Latest Blog Posts from our Website
Urgent Appeal for Orphans in Myanmar
*Updated* Sr. Rosaleen and Holly from the Portsmouth Diocese has alerted us to an urgent and heart wrenching cause that we've been called to support…

Discovering Prayer Apps During the Pandemic by Jennifer Hutton
In this new article, Jennifer Hutton explains how these top prayer apps have helped her during the pandemic and on her daily commute.

St Andrew by Grania Egan
In this new series, Grania Egan explores each of the Apostles of Christ. We continue with St.Andrew.

St James the Greater by Grania Egan
In this new series, Grania Egan explores each of the Apostles of Christ. We continue with St.James the Greater.

Growing in Faith During a Pandemic
Here's a powerful testimony from Theresa Mahon, on how online courses can grow your Catholic Faith in a time of pandemic.

Father Paul Leonard's Talk from Feastcon International
We managed to acquire the full talk that Fr.Paul gave at Feastcon International recently, where he discussed "New Power". This is Fr.Paul, full of the…
Sacred Heart Catholic Church, Hook
London Road Hook RG27 9LA
(c) Sacred Heart Church, Hook