The Sacred Season of Advent begins on the 1st December, ushering in a new Church Year. Advent has two themes – preparation for Judgement when Jesus comes at the end of time and preparation for His first coming as a child at Christmas. It is a time of joy, but also semi-penitential, calling us to turn away from sin and to be ready to meet Christ in joy at Christmas (The Mass of Christ) and then the Last Judgement.

---
Advent Wreath Hymn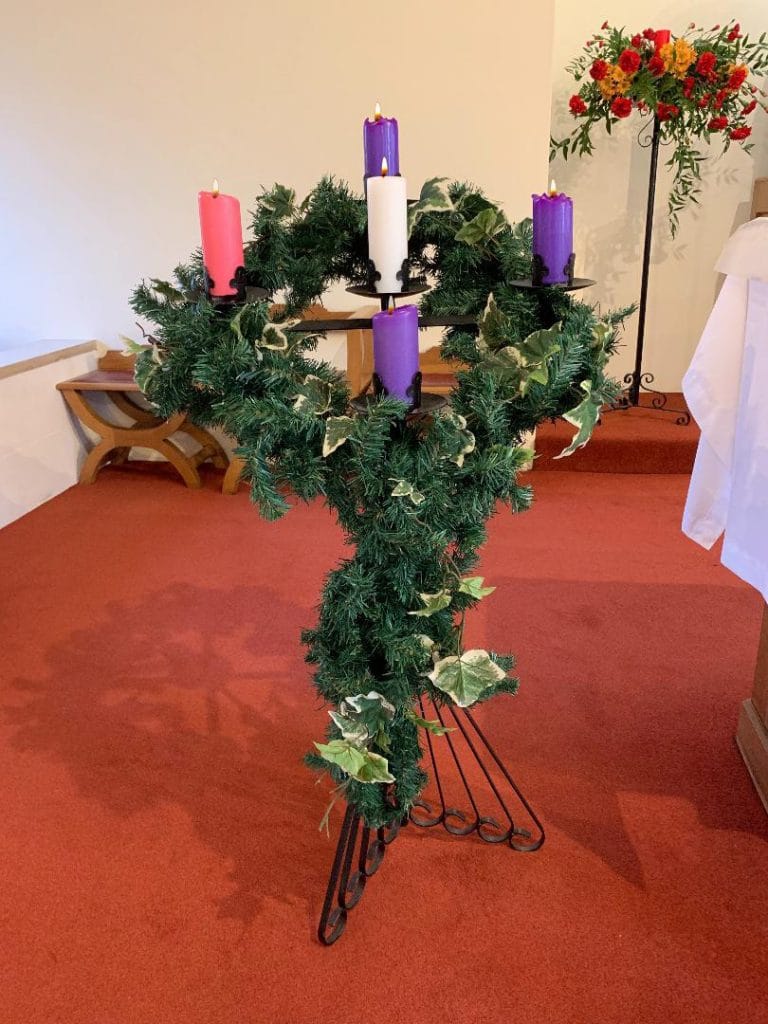 Light the Advent Candle one
Now the waiting has begun
We have started on our way
Time to think of Christmas Day
Light the Advent candle two
Think of humble shepherds who
Filled with wonder at the sight
Of the Child on Christmas night
Light the Advent candle three
Think of Heavenly Harmony
Angels singing peace on earth
At the Blessed Saviours birth
Light the Advent candle four
Think of joy for ever more
Christ Child in the stable born
Gift of love that Christmas morn
(Christmas Eve and Christmas Day)
Light the Christmas candles now
Sing of donkey, sheep and cow
Birthday candles for the King
Let the alleluias ring.
Candle, candle burning bright
Shinning in the cold winter night
Candle, candle burning bright
Fill our hearts with Christmas light
Church Christmas Tree and Crib

This Christmas as we remember all our dearly departed family and friends, you are invited to help us dress this year's Christmas tree with the names of your loved ones. In the porch you will find some silver and gold stars, please write the name of your loved ones on one of them and place the star in the box provided. On Christmas Eve they will be placed on the tree.