Welcome to our Catholic Faith Community
Sacred Heart in Hook is a beautiful Catholic Church located near Basingstoke, Hampshire. We are friendly, relaxed community and welcome people of all faiths, culture and status to join us.
Learn More.
Mass Update
Sadly, due to the latest COVID outbreaks and local restrictions, Mass will now be live streamed only.
Responding to the Prompt (of the Holy Spirit)
This online event, organised by a team working with Fr Mark Hogan, is an opportunity to inspire and to hear from others about how we the Church have responded – or how we might respond– in practical ways, to the Great Commission (Mt 28: 19). Register below to receive the Zoom link.
Second Collection
This weekend we take the annual second collection in
support of your Cathedral in Portsmouth. This collection is the only support our Cathedral receives from the wider Diocesan family. Due to the lockdown and restrictions being imposed on many people travelling, a 'Give as you Live' page has been created to enable you to donate online if you are able.
Third Sunday in Ordinary Time


This week's Gospel is from Mark 1: 14 – 20

Please find here the link to the Spiritual Communion Prayer and the alternative Spiritual Communion Prayer.
Lots of exciting updates in our E-Newsetter this week!
Latest Publications
Christian Week Update
Newsletter
The Latest Newsletter is here.
Viva Voce
Here's a new Quarterly Diocesan Newsletter, featuring interviews and news from across the Diocese. Also available in the church.
Parish Council News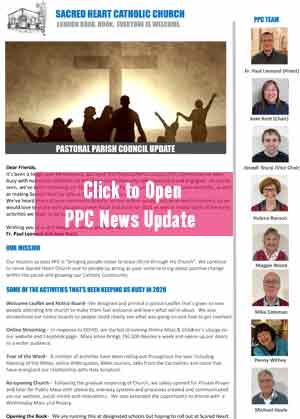 Here's our latest PPC News Update from our Parish Council
For Children
(update coming soon)
Here's our latest Look Magazine for our Children's Liturgy
Mass Live Streams
Sunday Mass will still be live streamed via Facebook and our Live Page at 10am, followed by Children's Liturgy at 11:30am.
Sunday Mass Live Stream
Each Sunday, 10:00am – Live Stream.
Sunday First Mass

Saturday, 6pm (Please book with Parish office).

Sunday Mass


Sunday, 10am (Please book with Parish Office)
Weekday Mass


(Cancelled until further notice)

Weekday Mass is celebrated at Maryfield Convent
next to the Sacred Heart.
Monday to Friday at 10am (times may vary).
Directions

The Sacred Heart Catholic Church
London Road
Hook
RG27 9LA
01256-577007
Map to the church
Online Collection Basket
Some of you have asked how you can continue to support the church financially with your regular giving even while you are unable to physically come to church during these days. We are grateful to be able to offer the ability to donate online or via direct debit/standing order.
Spotlight
Do keep an eye here for the featured news from the Church and wider Portsmouth Diocese.