Latest Updates


Caritas shares the mission of the Catholic Church to serve the poor and to promote charity and justice throughout the world. More information can be found here https://www.caritas.org/who-we-are/mission/
If you'd like to get involved, please get in touch :-

Brita Coleman's : 07464 925 699
Jan Hughes: 07435 249267

Sacred Heart Church are proud to support Caritas through a number of initiatives the most recent of which is below.
Latest Updates
CARITAS SOCIAL ACTION NETWORK & SJOG HOMES FOR UKRAINE
Homes for Ukraine: SJOG and Caritas Social Action Network (CSAN) are part of the Community
Sponsorship movement in the UK offering a matching, training and support service to sponsors
and guests under the Homes for Ukraine Scheme. Together we are working to enable the many
generous people willing to open up their homes as sponsors and match them with people displaced by the war in Ukraine. We aim to support people on their journey and provide opportunities to integrate into our community in the UK. If you would like to be considered as a sponsor, or be sponsored, please use the link below to register your interest. We will work as quickly as possible to contact every applicant and to start the matching process or pick up a leaflet at the back of the church.
https://sjog-homesforukraine.uk/
Collection of Torches and lamps
We have been asked to start a collection of wind up torches, lamps and lights, new hot water bottles with covers, bed socks, blankets/fleeces and sleeping bags please. Caritas have a couple of families in Fleet, a growing number in Hook and Basingstoke. The excess can be given to Hook contacts and two Basingstoke contacts – all supporting our struggling low income families from year to year. Thank you.
If you'd like to get involved, please get in touch :-

Brita Coleman's :  07464 925 699
Jan Hughes: 07435 249267


Brita's Toilet Roll Appeal
Perhaps, through the year, when we buy our own toilet rolls,
we could buy an extra pack for a low income struggling family? I am hoping this is something we can all easily support!
Thank you as always, Brita "
Previous Updates
Sheila Wade, Interim Head of Charity, Caritas Diocese of Portsmouth writes…
"I spent time last week in Hungary finding out about the situation on the ground for Ukrainians as they leave their country and enter another life, their hope is for a short time only. Finding out what their wishes and needs are… and how we can help them. For some of this time I was in a border arrivals help centre, which is a community centre and a series of tents in the small Hungarian border town of Barabás where those arriving in cars, buses or on foot are directed. I also spent some time at the border railway town of Zahony, and also at the Western Railway Station in Budapest, the arrival places for those travelling by train. Caritas Hungary and lots of other agencies were at all these locations: food and drink, accommodation advice, transport advice, legal and translation services, medical and veterinary care, information about other countries refugee policies, reflection and prayer spaces…. I can't begin to describe how much was available to those arriving at all times of the day and night in a steady stream, not a flood now/yet… but a steady stream of women and children and elderly people…hoping for sanctuary for a short time before they can return to their country. I met two sisters, both English speakers. The younger had travelled from Kyiv where she had been at university and was en-route to Turkey to stay with the family of friends; non-English/Ukrainian speaking but she was sure she would cope. Her first visit outside of Ukraine, her first airplane flight. The elder was on her third trip out of Ukraine in 2 weeks accompanying family members and friends on the difficult 48 hour journey to safety. She has since returned to Lviv, where she is volunteering as a translator. She speaks English, Russian and Ukrainian and 4 other languages. Their parents are in eastern Ukraine in a Russian occupied area, thankfully with no shelling at the moment. They have food and water there, but no medical supplies and only intermittent power. They have very limited communication with their daughters and are prevented from leaving, from protesting, from living a normal life.
Both girls are anxious, both girls are determined. Both girls are proud to be Ukrainian. Both girls are the ages of my younger nieces. This is the experience of just one Ukrainian family… one of hundreds of thousands of families. What can we do here in the UK, here in Portsmouth Diocese?

• Donate money to the DEC appeals to allow the relief agencies including Caritas to continue their work with refugees as they arrive in neighbouring countries. Assistance with physical and emotional, psychological and spiritual needs starts from the moment they arrive.
• Consider joining the Homes for Ukraine scheme here in the UK, either as a host or as a supporter.
• Write to your MP to protest about the Nationality and Borders bill currently going through parliament. Ukrainian refugees are not unique in their suffering, they are just "closer to home"

Pray for peace
Go to the Caritas Portsmouth web site where you will find more information on how you can help.
https://caritasportsmouth.org.uk/news-events
Previous Update
Sheila Wade, Interim Head of Charity, Caritas Diocese of Portsmouth writes…
As the dreadful events unfold today in Ukraine, we stand in solidarity with our Caritas colleagues in Caritas-Spes as they continue to assist those vulnerable and in need in that country. Until recently, Caritas-Spes had been working in Eastern Ukraine with the displaced families from the ongoing conflict in the disputed territories, including in Avdiivka which has been under heavy shelling. The photo is an historic photo of a refugee facility near Avdiivka. If you would like to support Caritas work in the emergency in Ukraine, please visit www.caritas.org/where-caritas-work/europe/ukraine-spes/ and donate – and please pray for all those affected.
Easter Egg Appeal
This Easter we will be collecting Easter Eggs for Brita's Caritas families. If you are able to help us please bring your donations of Easter Eggs to the church and leave in front of the Altar.
Environmental Work
Bishop Philip and the Diocesan Trustees approved the Environment Strategy for the Diocese just before
Christmas. Caritas work will now focus on developing a plan with other teams across the diocese, to put into action the work needed to achieve our diocesan environmental targets, which include net carbon zero by 2030, a really significant target. Other Caritas work will be looking at biodiversity throughout the diocesan estate and assisting parishes and parishioners to play their part in our work for the care of Creation. We all have a part to play in this very important work, so we are asking you all to consider making a personal pledge to help the environment. If you visit this survey you will be able to access a pledge questionnaire which will help you identify what you can do as an individual to help in this work.
CAFOD Family Fast Day 11 March – Small acts of love can make big things happen
This Family Fast Day, we remember that there are many people who need our love and support all around the world. Children experiencing malnutrition like Amie's daughter Lombeh in Sierra Leone or families affected by conflict, as we are seeing now in Ukraine. Thanks to your generous giving on previous Fast Days CAFOD was able to respond very quickly to the current emergency by sending £100,000 to our partner agencies Caritas Poland, Moldova and Ukraine. Donating to CAFOD this Lent will enable local experts across the world to provide support to families in times of need or conflict. You can donate in church using a CAFOD envelope or by visiting the CAFOD website: cafod.org.uk/lent
CAFOD has launched an online appeal as well.
Ukraine and Caritas
Sheila Wade, Interim Head of Charity, Caritas Diocese of Portsmouth writes…
As the dreadful events unfold today in Ukraine, we stand in solidarity with our Caritas colleagues in Caritas-Spes as they continue to assist those vulnerable and in need in that country. Until recently, Caritas-Spes had been working in Eastern Ukraine with the displaced families from the ongoing conflict in the disputed territories, including in Avdiivka which has been under heavy shelling. The photo is an historic photo of a refugee facility near Avdiivka. If you would like to support Caritas work in the emergency in Ukraine, please visit their www.caritas.org/where-caritas-work/europe/ukraine-spes/
and donate – and please pray for all those affected.
CARITAS FAMILIES TOGETHER
"It ended up being another busy December, delivering 23 hampers, 73 new gifts and 11 Christmas Eve gift bags to our own Caritas families. We didn't collect/deliver second hand toys/gifts this year as the charity shops were all open, but I did invite our families to order any second hand clothes and shoes from the new clothes bank; just to try and give a little extra financial relief pre Christmas. They were so grateful, as always bless them.
The total (including our 73) collection of new gifts via the Tesco's, Caritas appeal raised 3310, exceeding last years total and covering the increased demand from Children's Services. So very relieved about that as I gather, the demand of struggling families this year has increased dramatically.
Our group should only have been 6 families/individuals (if they had all been healthy at the same time!) pre Christmas, but gradually confidence is growing and others are appearing so if they are able to all turn up at once we should have increased this to 12 families/individuals who are now interested. We need to build up there self esteem and self confidence, before we attempt for more to join us now, so it is looking good. We have noticed a change developing in a couple of parents already. Plus a couple of the children are very keen to come on the group mornings! One has even change her nursery times to suit the group. "
Caritas Annual Xmas Gift Appeal – Thank you
Thank you to all who have donated, a number of the gifts have already been delivered to the parents.
If you would still like to donate and would be happy to donate cash, we can then use the cash
to fill in any gaps in the age ranges.
Heartfelt Thanks Brita
Dear Everyone,
We are in urgent need of tinned and packet food for 3 Caritas families. They are very short of basic food for genuine reasons which are out of their control. This is only until they receive an income, which should be in a month or two. As not many of our parishioners will see this appeal, please could you ask family and friends to collect a few items too? Somehow, we need to obtain a bulk supply to divide into weekly amounts to make it last over the next few months. Financial donations would go directly to the food too.

Helen, Jan and I will be so grateful, and our families are full of gratitude for anything. There is a box in the church porch for any food donations. Also, to those who have already donated, your food and money has enabled us to cover this need up to this week – this was such a relief for everyone!

Brita from Caritas
Thank you!

Dear All,
Firstly, can I wish you all a Happy & Healthy New Year!!!
This e-mail not only comes from me but is also on
behalf of Brita from Caritas.

I can't find the words to express our gratitude for your
support for the Christmas Gift Appeal. The response we
received was simply overwhelming, & greatly touched
both our hearts. We were able to donate an
amazing 2923 gifts to local children in need, all of which
I can assure you were greatly appreciated, & made a
happier Christmas for so many, none of which would
have been possible without your support. We will of
course run the appeal again this year & hope that we
will be able to engage your support once more.
For now, please take care & stay safe!!!

Many many thanks from the bottom of our hearts
Julie from Tescos Chineham & Brita from Caritas

Caritas Christmas Gift Appeal 2020

Following last year's amazing total of
948 gifts, this year will be harder with
various Covid restrictions.
Please could you ask all friends,
family, work colleagues to collect for
this local community.
If you set up your own collection point, we can collect
from you or you can deliver directly to Tesco, Chineham.
If you need a collection box/bucket these can be
provided.
Given the current climate, monetary donations may
prove easier (every penny will be spent on gifts).
Please pay into the account below:

PRCDT Sacred Heart Hook
Ref Christmas Gifts
Account No: 00880117
Sort Code: 30-93-04

We hope, these gifts will take a little pressure out of
their family's lives.
Perhaps even some dreams coming true and a few
prayers answered over this special time of the year.
God bless and thank you,
Brita and Julie


Our hot meals and day to day support continues with the same wonderful volunteers. Helen Weston, has been a star, as soon as I had to self-isolate, she jumped up to the challenge and organises everything, I honestly do not know what I would have done without her!

We have kept in touch with our two InSight groups and our holiday club families, via WhatsApp and phone calls. Those having the hot meals are contacted four times at least four times each week, which often leads to supporting some of their day to day problems. Some of these have been fun, from changing car tyres to obtaining children's garden slides, certain sizes of clothes ("so T shirts didn't curl up his chubby little tummy" as this little lad was growing) and carpets to gardeners! I wondered why my house still needs a good clean.

It has been really nice to keep everyone together through this difficult time and supporting them to the best of all our abilities, thank you team! This week, we have some really cheery news – we were able to hold our first Caritas InSight meeting for our Tadley group! Four of our guests didn't quite have the confidence to meet in a Cafe, but for the two who did, it was wonderful! They looked so happy and comfortable to be back with us again, sharing photographs of their family and chatting about exciting events coming up in their lives, it was worth every minute and I believe it did my mental health good too! Next week, we are able to use our old hall. So being familiar and large enough for easy social distancing, I hope everyone will be together again. We are going to enjoy an indoor picnic of our own food and drinks, with no hard floor to sit on or a wasp in sight and we won't care if it rains either! We knew our weekly meetings gave support, but we
didn't realise just how much of a positive change a weekly meeting can give.

Please pray our meetings can continue at least a little longer in safety, and for our Caritas community, especially for those we have not found yet.
Brita
Fundraiser at the Bolton Arms Raises £1,860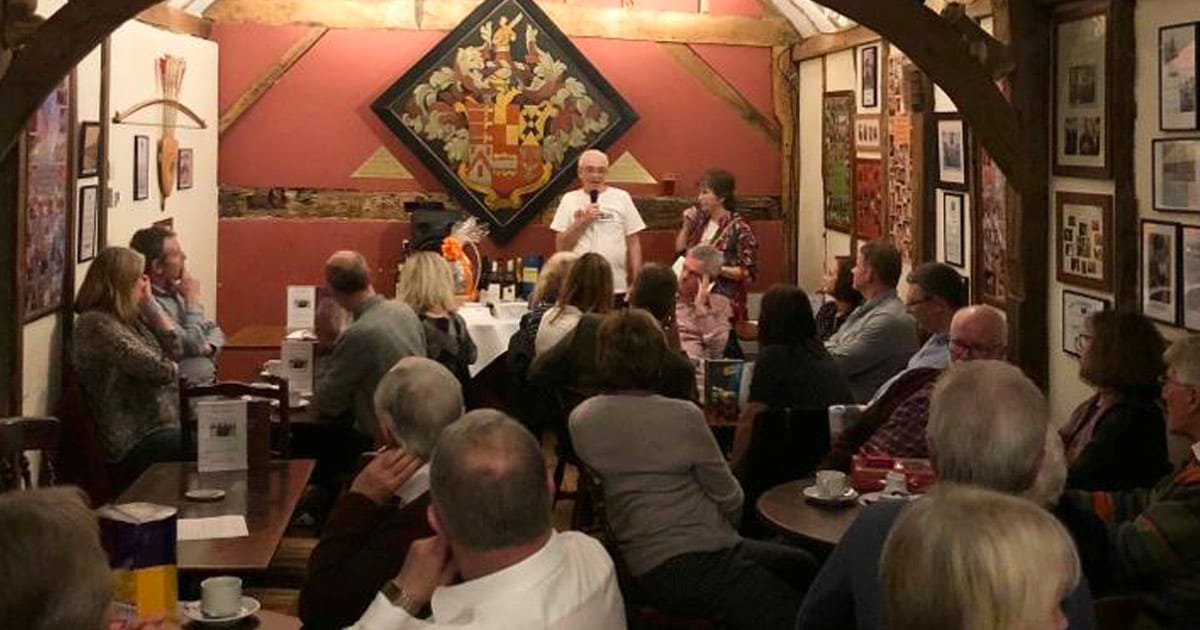 Read the full article about this wonderful event here.
Latest News & Events
Catitas Basingstoke

For those who are working, but perhaps would still be keen to support Caritas and our local community, we are holding a meal at The Bolton Arms in Old Basing. This is on Saturday 14th March '20 at 7.30 pm. The tickets cost £25.00 for a three course meal and need prepaying so that I can pay the pub in advance. As soon as the owner realised the charity work that I was doing was for helping his local community in difficulties, he offered the whole of his restaurant to us to raise money – on a Saturday night too! I have a balance of 20 tickets available.

Message from Brita Coleman, myself and the Caritas team

We would like to thank you for all your Caritas support, I could not continue without you all. On my list there are a couple of misread emails, so if you haven't heard from me then please email me via Nikki Pink. I am wondering if anyone who would like to support us but is unable too, whether you would like to join us for a meal in Old Basing? As soon as the owner realised the work that Caritas is doing in the local community, he offered us his restaurant to enjoy a three course meal (up to 60 seats!). He is charging a minimum fee per head & the balance is all going back into the community! I would need payment in advance, we have up to 20 tickets available if a group of you would like to join us, you are welcome. We need auction prizes too please – say large Easter Eggs, garden accessories, a canal trip, a gliding experience, tea or overnight stays in local hotels. If anyone has any connections to anything like this, or are just happy to ask in different places then please put us forward.
Thank you again for supporting Caritas! Those who have donated money, your prayers, Mike for our spreadsheets, our weekly cooks – mainly Shanthi and Jean! Then those who have covered for us – Eileen, Lisa and Mannie from "Mannicitas" – a home caterer for individual home meals and parties, an ideal emergency cover – thank you! Dates for the diary:

Fund raiser dinner at The Bolton Arms, Old Basing on Saturday 14th March 2020, 3-course meal for £25.00 or offers above. We are invited to fill the restaurant! Please look out and ask for raffle and auction prizes if you can too.

Our 2nd annual holiday club to help our families in difficulties is booked 24th to 28th August 2020. Our first InSight lunch opened in Tadley,


Our first InSight lunch opened in Tadley, great for training. On 24th February (if not sooner) we open the South Ham InSight at St Joseph's church to support individuals weekly. We will need more volunteers for helping in the hall, chatting, taking the register or making the hot drinks, clearing the tables and washing up. We are building up a bank of "home cooks" too. Those without time can still be involved in helping the community, by donating the food directly or in money form to those who have the time! With your email addresses, you can join us at your convenience, we will looking forward to welcoming you in any way that suits!
Brita/Shanthi 07309 256974 or email caritasnwh@gmail.com


Glad rags and handbags – yearly sale in the Church Hall
Congratulations!

An amazing amount of £577.00 was raised over the weekend thank you to Jill Blackburn, Claire Burroughs, Helena Ranson and their team for all their hard work.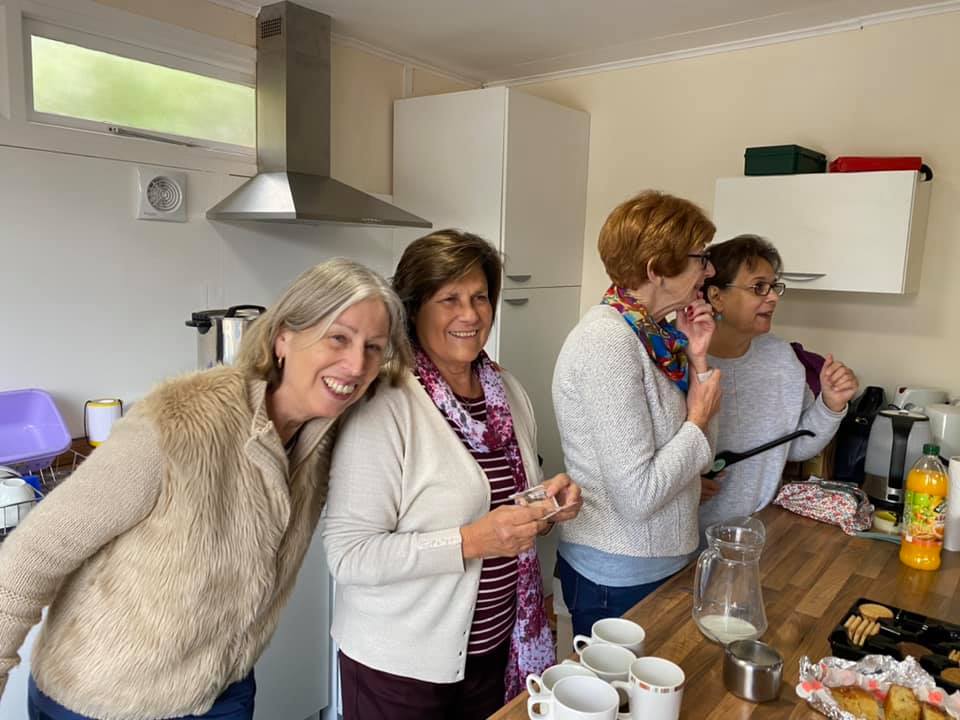 New and Nearly New Sale. Have a clear out of your Wardrobe! We would be grateful to receive items of clothing which are new or nearly new for our sale on Saturday November 16th, 10am – 2pm in Sacred Heart Church Hall in aid of the charity Caritas.

Please contact Jill Blackburn on 01256 766107 or Helena Ranson on 01256 766372 or see us after mass Thank you
Caritas Summer Holiday Club 27-30th August 2019
The Caritas Summer Holiday Club will soon be upon us and will be fun filled days of crafting and sporting fun. There will also be a BBQ on the Friday to which all the family members are invited.

We are running a Holiday Club at St Bede's Primary School for those children who will not have a holiday this year. During these 4 days there will be activities themed around the different countries of the world.

To register or find out more please get in touch by emailing :-
caritas_nwhpa@portsmouthdiocese.org.uk