For all our events please check our calendar and also the latest newsletters.
Below are our top picks coming soon with more on the way so please check back regularly…
Older and archived events are here


Regular Events
Praying the Chaplet of the Divine Mercy is a glorious way to enter into the abundant Mercy of God. Please join us on Friday afternoons from 2:30—3:00 in the Church. To pray for the Mercy of God on us and on the whole world.
Incoming Events

Day of Prayer of Communal Reparation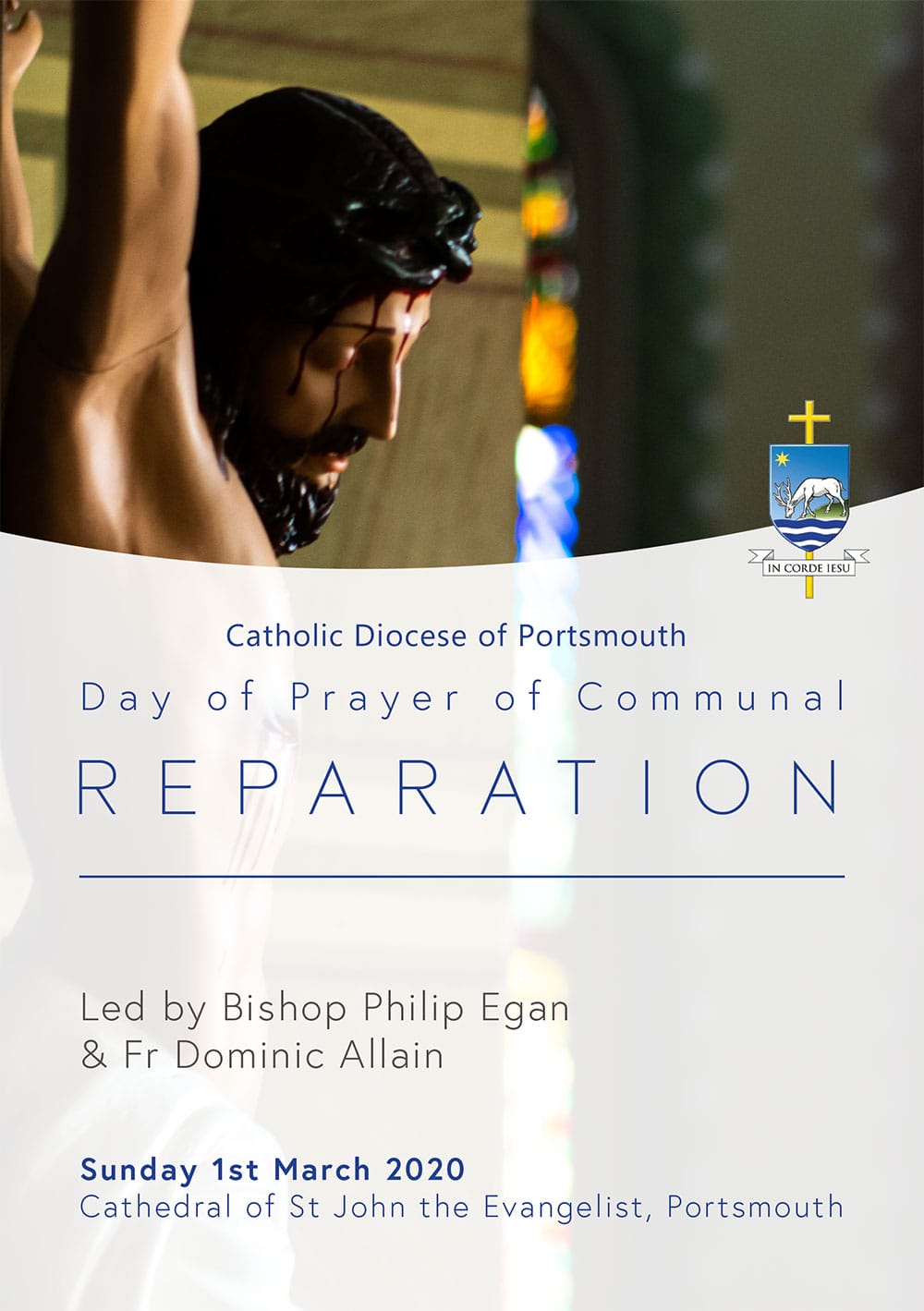 1st March – from 8am.
"As we begin the season of Lent, and especially during this two-year period of intense prayer for the spiritual renewal of our Diocese, it seems very important to me that we all have an opportunity to pray earnestly for the victims of sexual abuse and for the forgiveness of those, clerical and lay, who have perpetrated abuse. We can feel heavily tarnished by the sins of the few and this weight of shame and guilt impairs and even imperils the Church's mission, or at least our ability serenely and joyfully to communicate the Good News of Christ." Bishop Philip.

The Day will include prayers, talks, silent adoration, rosaries of intercession and reparation and a Eucharistic healing procession, and including the usual Sunday Mass schedule at the Cathedral. The day will culminate with a Communal Act of Repentance and Atonement in the afternoon.

This is a wonderful opportunity to come together as a Catholic Community to pray for the healing of all involved.

Both Masses at Sacred Heart will also be dedicated to this important event.

Download the Press Release
Download Flyer
Charity Fundraising





Andrea Waldram has organised 2 events for her Charity fundraising ahead of running the London Marathon in April 2020.

Sunday 19th January – Cake sale in the Parish Hall after 10 am Mass, all proceeds to Children with Cancer UK. Any cake contributions greatly received.
Monday 24th February – Charity evening at Hook Tandoori for Children with Cancer UK and The National Autistic Society. Andrea Waldram and Jackie Harrison are running the London Marathon for these Charities. Tickets are £20 per person which includes Poppadum, Starter and Main Course with Naan Bread. Numbers are limited so book your tickets ASAP. Contact Jackie 07881620701 or Andrea 07823449333. There will be a raffle so any contributions will be welcome.

To donate and learn more – please view the main blog post
Faith Sessions




The evenings are run by friends of the parish who are skilled in transmitting the treasure of our Catholic faith to different groups. They will be interactive, use a variety of media and will take place in the church hall from 7.15 for 7.30 – 9.00 pm.

Thursday March 5th – What is Church and why do we need it?

This session will seek to widen understanding of what the Church is and why it exists alongside introducing and teaching on Kerygma (the basic Gospel message). The aim will be to provide a framework for what is being entered into.

Thursday March 19th – Birth to Burial

This session will look at Sacraments and build on Baptismal promises and commitments linking into First Holy Communion and beyond.

Thursday April 2nd – Getting Closer to God

This will look at importance of prayer both individually but also as a family linking back to domestic church that we touched on in first session.

Thursday April 23rd – The Mass
A systematic guide to the 'source and summit of our faith' – the Mass.
Welcoming and helping our Neighbour




Next weekend, members of the Refugee Resettlement team will be appealing for your help at all Masses – Appeal is 15/16 Feb.

We are looking to come together as a Pastoral area to help one family from the many tens of thousands who have no home, no life, no country to call their own, without hope or joy in their lives.

There are many different ways you could volunteer your talents to help e.g. find suitable housing, take family members to surgery, dentist or hospital; help with form filling, help them to learn English, show them the local shops; at all levels there are so many opportunities to show kindness and compassion to fellow humans who are living at barely subsistence level. The refugee "Community Sponsorship" program is Home Office approved and is based on a well-established process already proven in Canada. In our Diocese it will be overseen by Caritas, the social action agency of the Catholic Church.

If you would like to get involved and were not at the previous meetings, please email your contact details to caritas_NWHPA@portsmouthdiocese.org.uk to be added to our database of contacts.

Full article – here.
World Day of Prayer




Rise, take your mat and walk Women, men and children of all ages are called to 'Rise, take your mat and walk' to join this day of prayer.* Women of Zimbabwe have prepared this year's service and they encourage us all to reflect on the difficulties and unrest that have plagued their country over many years. They share the challenges they have met and the hopes they have for the future. They encourage us to 'Rise, take your mat and walk' with them as they continue their often turbulent journey towards full reconciliation.

Please click the link below to see the press release for World Day of Prayer 2020 which is taking place at Rotherwick on Friday March 6th at 2 pm with refreshments afterwards. All are welcome.

Please view the press release.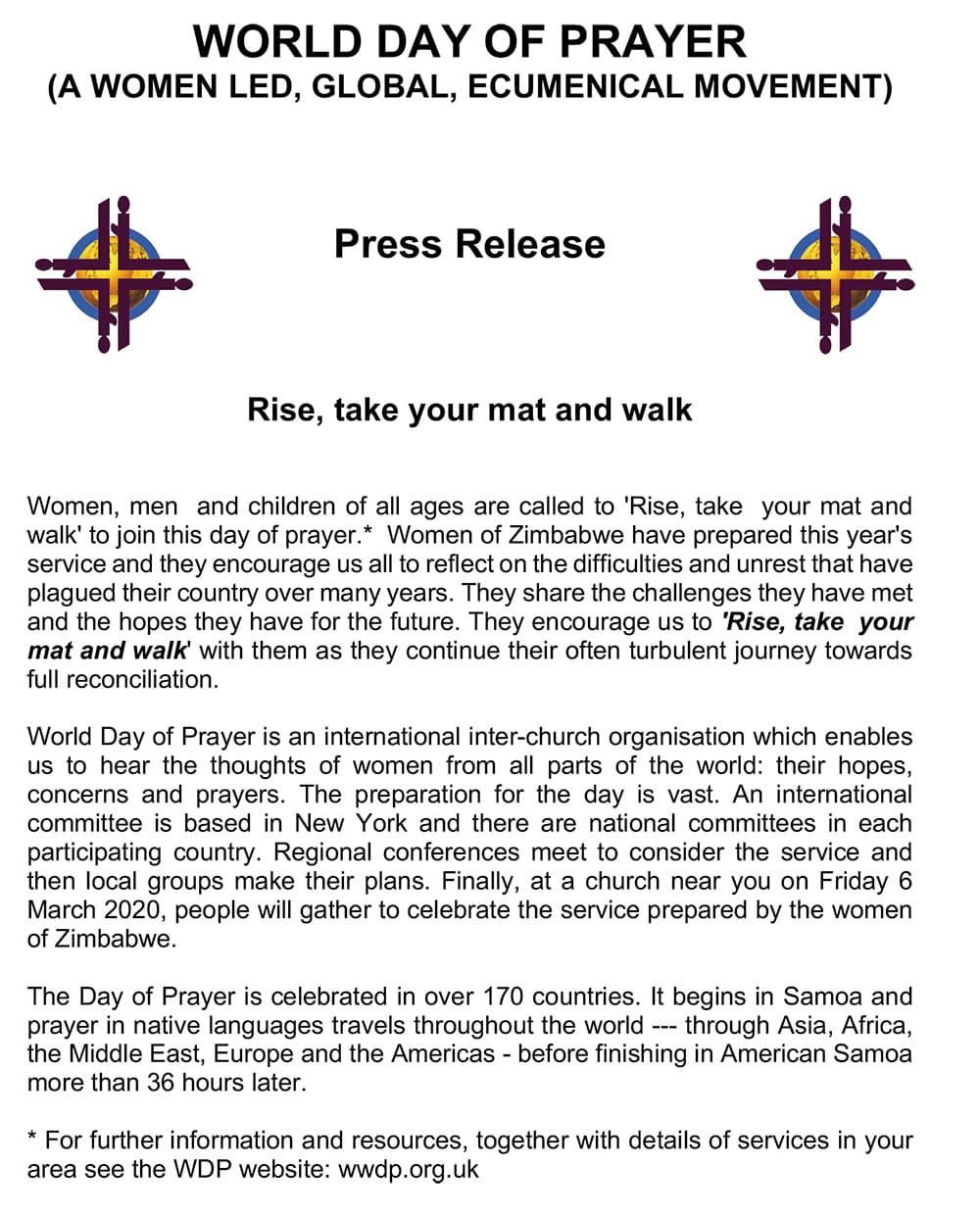 St John Henry Newman – a Legacy for our times



There is a talk on St John Henry Newman which is being held in St Peter's Parish Centre in Winchester on Saturday 21 March. It has been arranged by the Wessex Theological Society, a small group of MA alumni in Pastoral Theology who studied together at St Mary's University in Twickenham.

Monsignor Rod Strange is a former Rector of the Beda College in Rome and is now a visiting Professor of Theology at St Mary's. He is one of the foremost authorities on Newman and his most recent book John Henry Newman: The Heart of Holiness was published last September. The theme of this particular talk will be: "St John Henry Newman: His Legacy for our Times".
Walking the St James Way

Walking the St James Way from Reading Abbey to Southampton in 6 stages on a Saturday starting 21st March at St James Church, Reading RG1 3FD. The route passes through beautiful countryside, past points of historic and religious interest, to a place where many pilgrims in former days will have set sail for Spain. Why not re-enact their journey by joining us this year. Please email the St James parish office on stjames@portsmouthdiocese.org.uk to register your interest. See poster for full list of dates
Pilgrimage to Knock Shrine




Fully escorted Pilgrimage to Knock Shrine, Ireland, celebrating the feast of St. Patrick. Leaving 16th March 2020. £599.00 per person sharing. Price includes flight with 10kg hand luggage, all transfers, 4 nights' in Knock House Hotel with breakfast and dinner. All entertainment and excursions included. Lunches on days out. Wheelchair accessible rooms available. Single room supplement £100. Contact Patricia on 01268 762 278 or 07740 175557 or email knockpilgrimages@gmail.com. Knock Pilgrimages is a member of the Travel Trust Association and is fully protected by ATOL T7613.
St Gabriel's Group 'Continuing Journey in Faith'

St Gabriel's Group 'Continuing Journey in Faith' – with Deacon Pat O'Connell Being held at St Bede's Church, Popley – on the first Thursday of each month at 7:30 pm for 8:00 pm – 9:30 pm. 'Matrimony' – a discussion on the beauty of this Sacrament together with the psychological challenges faced by all married couples today Next session is Thursday 06 February 2020
Pilgrimage to the Holy Land


Tuesday 17th—24th November 2020 This is the initiative of a group of Parishioners in Sacred Heart Parish Hook. For more information relating to the Sacred Heart Parish contact Eileen Cashman – eileen.cashman@pugsley.co
RCIA—Journey in Faith




Each year we provide the Rite of Christian Initiation of Adults (RCIA). This is for those adults living in our parish who wish to become full members of the Catholic Church. This includes both those seeking baptism for the first time and those who were baptised in another Christian Community and who now seek to enter into the full communion of the Catholic Church.

ST GABRIEL'S GROUP 'CONTINUING JOURNEY IN FAITH' – with Deacon Pat O'Connell – Next: 06 February Being held at St Bede's Church, Popley—on the first Thursday of each month at 8—9.30 pm The session will include scriptural references and church teaching focusing on the subject of Matrimony—a discussion on the beauty of this Sacrament together with the psychological challenges faced by all married couples today. Tea & Coffee available.

For more information please contact the Parish Office ( 01256 577007)
For older and archived events. Please visits here