Bishop Philip sends his blessing to us all for Easter. Father Paul and Deacon Dave, also, wish you all joy and abundant blessings for Easter and wish to thank everyone who has helped to make the Holy Week services complete.
The Blessing of the Fire and Preparation of the Candle
At the Easter Vigil we would traditionally gather at the entrance of the church to witness Father Paul and Deacon Dave bless the new fire and prepare the Paschal Candle. This year Father Paul has recorded this for you to watch on our website's homepage and Facebook page. The recording will be available on Saturday from 3pm.

Online Mass will be live streamed at 7:30pm.
Private Prayer and Confessions
Instructions to follow when coming in to church In order to keep everyone safe when coming to church, the following guidelines will need to be followed;
Latest Updates Regarding Easter Online Mass
The Easter Triduum is the proper name for the three days that precede Easter Sunday. Starting with the Mass of the Lord's Supper on the evening of Holy Thursday, continuing through the Good Friday liturgy, and concluding with the start of the Easter Vigil on the evening of Holy Saturday, the Easter Triduum marks the most significant events of Holy Week. "Christ redeemed us all and gave perfect glory to God principally through his paschal Mystery: dying he destroyed our death and rising he restored our life. Therefore the Easter Triduum of the passion and resurrection of Christ is the culmination of the entire liturgical year."

So please do join Fr Paul this Saturday at 7:30pm for the Easter Vigil and Sunday at 10am to celebrate Easter Sunday.

Instructions For Watching Mass via our Website
Please note, when watching via our website, you will initially see an image like the above with a pink button below. This is because the video feed from our Church has not been activated. Periodically press the button and if Mass is live, the picture will be replaced with a video player. For more questions - please contact dan@sacredhearthook.org

Why is there no sound?
Before Mass, the camera will initially be muted to avoid people's voices and/or Fr.Paul being picked up. Ensure your volume is turned up too, but rest assured that sound will be restored before Mass starts.

What happens if i lose my connection or the video stops?
Most problems can be resolved by waiting a few seconds and refreshing your browser.
Let It Be Cafe Course - Starting Monday 26th April.
Sacred Heart Church will be hosting another Cafe series course called Let it be which is about our Lady Mary. The cafe sessions involves watching a video and discussions in smaller groups. Here's the link to find out more - its a 5 weeks course it will end the 25th May. Let It Be | CaFE - Catholic Faith Exploration If you are interested please do get in touch with Joan Kent on jkent@portsmouthdiocese.org.uk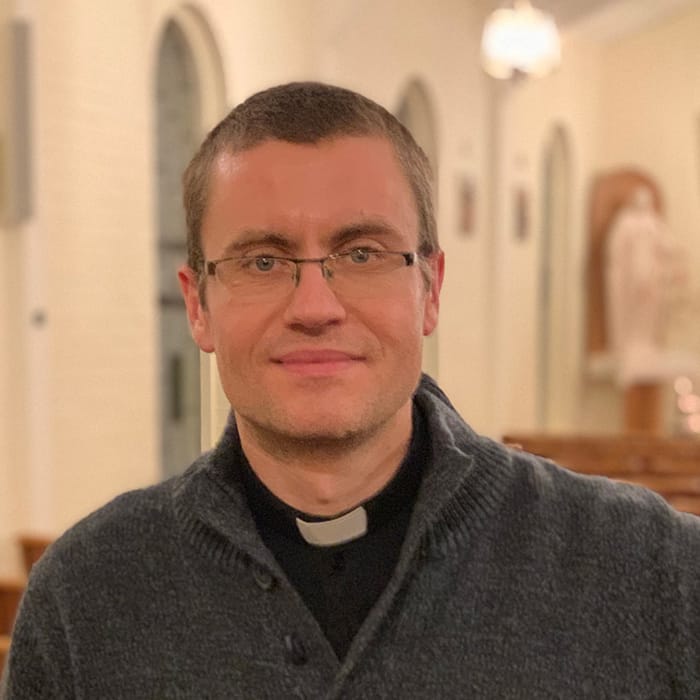 Easter Collection for Fr. Paul
Tradition holds that the Easter Offerings given at this time are your opportunity for a personal gift to Father Paul. This is a main source of his annual income. If you would like to give a gift to support Father Paul in his vocation and mission this Easter, please click the button below.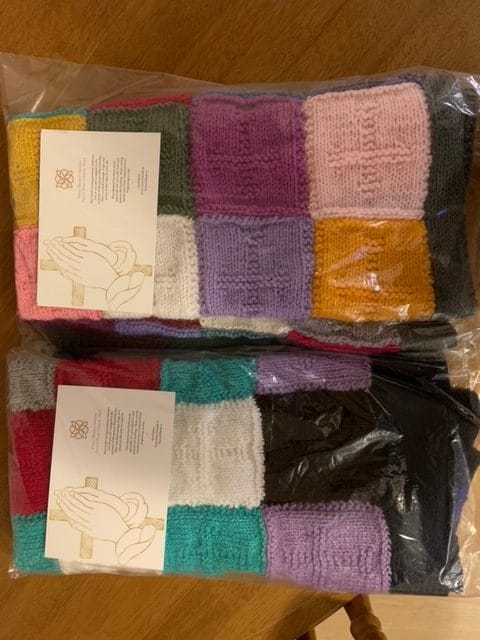 Prayer Blankets
** Our first couple of blankets are ready and going to be blessed by Fr.Paul ready to be sent out. But we need to make more!! **

Can you lend us your skill, time or do you have some spare wool? Are you a keen knitter? Good at crocheting or sewing? Would you like to get together with a group of like minded friends over a cup of tea and knit pieces of a patchwork blanket that we can put together to form a prayer blanket? While currently we are unable to physically meet we can virtually meet and chat while we put together these wonderful blankets. The aim is to have a prayer blanket made by knitting individual squares which will then be pieced together to form a blanket / shawl which will be blessed by Fr Paul and sent to those in the parish who are sick or in need of some comfort. If you are interested to learn more please do reach out to Andrea at andrea.waldram@gmail.com.
Live Children's Liturgy & Resources Page
This Sunday, Children's Liturgy will NOT be streamed this week. We do have a new worksheet though. This page contains the latest prayers, hymns and downloadable activities, Look worksheets and more. This has been updated for Easter Sunday...
This Week's Look Magazine
CAFOD Walk for Water Challenge - Ian Liddell update
Having been inspired by Abdella's story, Ian Liddell is now taking part in the CAFOD in Portsmouth Lent challenge. However, as he usually walks 10,000 steps per day anyway(!), he's doing a 5 mile run every day instead. This is really going to challenge Ian - so please show your love and support by donating generously to this cause.
Online Offertory & Donations
An easy way to give online using your debit card has been set up on our website at https://www.sacredhearthook.org/donations. Just click the button and follow the instructions. Thank you so much for your generosity. God bless. Fr. Paul
Pray for Me
Note: The webpage on the Portsmouth Diocese has sadly been removed but you can still contact the Intercessor team directly. Details on our website.

Through the Called & Gifted process run by our Portsmouth Diocese, a growing number of people (currently over 60) have been able to discern that they have the charism of Intercessory Prayer. The intercessions could include prayers for our Diocese, Sacred Heart Church and all the people in it, Fr Paul or maybe something or someone close to you? Perhaps something you're concerned about relating to yourself, a family member or friend? If you wish the intercessors to pray for you, please email the team.

More details on our website.
Latest Blog Posts from our Website
Father Paul Leonard's Talk from Feastcon International
We managed to acquire the full talk that Fr.Paul gave at Feastcon International recently, where he discussed "New Power". This is Fr.Paul, full of the…
Hope in the Pandemic
Lent is time for renewal and we were blessed with Sr.Valentina joining us to talk about how the Pascal Mystery, Jesus' life, death and resurrection,…
St Bartholomew by Grania Egan
In this new series, Grania Egan explores each of the Apostles of Christ. We continue with St.Bartholomew.
Pope Francis Full Lenten Message 2021
The following is the text and accompanying vide of the Message of the Holy Father Francis for Lent 2021, entitled: "Behold, we are going up…
Stations of the Cross
COVID certainly won't stop us with our yearly Stations of the Cross Event! So this Lent, please join us for a virtual Stations of the…
In Memoriam Captain Sir Tom Moore 1921-2021
A poem provided by Bridie Stringer on behalf of Chris McDonnell celebrating the inspiration of Captain Sir Tom Moore
Sacred Heart Catholic Church, Hook
London Road Hook RG27 9LA
(c) Sacred Heart Church, Hook