The Feast of Corpus Christi
This Week's Newsletter & Letter from Bishop Philip
A message from Bishop Philip Egan In our Diocese of Portsmouth, begins a Year of the Eucharist starting on the Feast of Corpus Christi, 6th June 2021.

"As you know, in these years 2020 to 2022, I am inviting everyone in the Diocese to undertake by God's grace a period of intense, spiritual renewal. The purpose ultimately is to help us realise our diocesan ambition of Bringing People Closer to Jesus Christ through His Church. We are always totally dependent on God and His grace and on the gifts of the Holy Spirit He pours out upon us through the Holy Eucharist. In other words, we wish to be renewed in faith so that we will be better equipped for service and mission.

Read more at the end of the newsletter.
The summer month is traditionally dedicated to the Most Sacred Heart of Jesus. The feast itself this year is celebrated on Friday 11th June.
It is with great joy that Mass with a congregation present has resumed. In order that we can attend Mass safely we will still follow the socially distancing rules and seats will need to be booked.

Booking is by email at hello@sacredhearthook.org. Please title the email "Mass booking" and give the name, address and contact details of all who will be attending including of all those in a family group or by phone call to Jan on 07719012955.

More information and a guide on what to expect can be found on the last page the PDF newsletter and on our website's Attending Mass page. Don't forget that the Sunday Mass will still be live streamed via Facebook and our website's Live Page.


Rosary

Please join us for the Rosary during May, starting on Wednesday 5th May at 10:30am.
Fr. Chris Whelan (Parish Priest of St. Josephs and Dean of North West Hampshire) has penciled a date for a summer fete that will be held on Saturday 10th July at Bishop Challoner School Fields.

Depending on restrictions, this will allow all 5 Churches of our Pastoral Area (St Bedes, St. Josephs, St Michaels, St John the Baptist and Sacred Heart to come to together in thanksgiving for the easing of the pandemic.

There are plans forming around a thanksgiving Mass followed by a fete including stalls, activities, fundraisers and more.

We're looking for help in arranging Sacred Heart's stalls and presence at the fete, so please reach out to Helena Ranson (07957 371779 / helenaranson@hotmail.com) and Claire Burroughs (07539 079742 / burroughsclaire@hotmail.com)
ADoRE Online
A mini-retreat for spiritual renewal with Mass, Adoration, prophetic reflection, praise, inspiring talk and sharing. With guest speaker Carol Ann Harnett. Topic: "Growth in the Holy Spirit" – Grow your Christian life in the Spirit through prayer, Scripture, service and community. Part of our 2021 programme: "ALIVE IN THE SPIRIT -filled with all the fullness of God." We respond to Pope Francis' encouragement to be 'baptised in the Spirit.'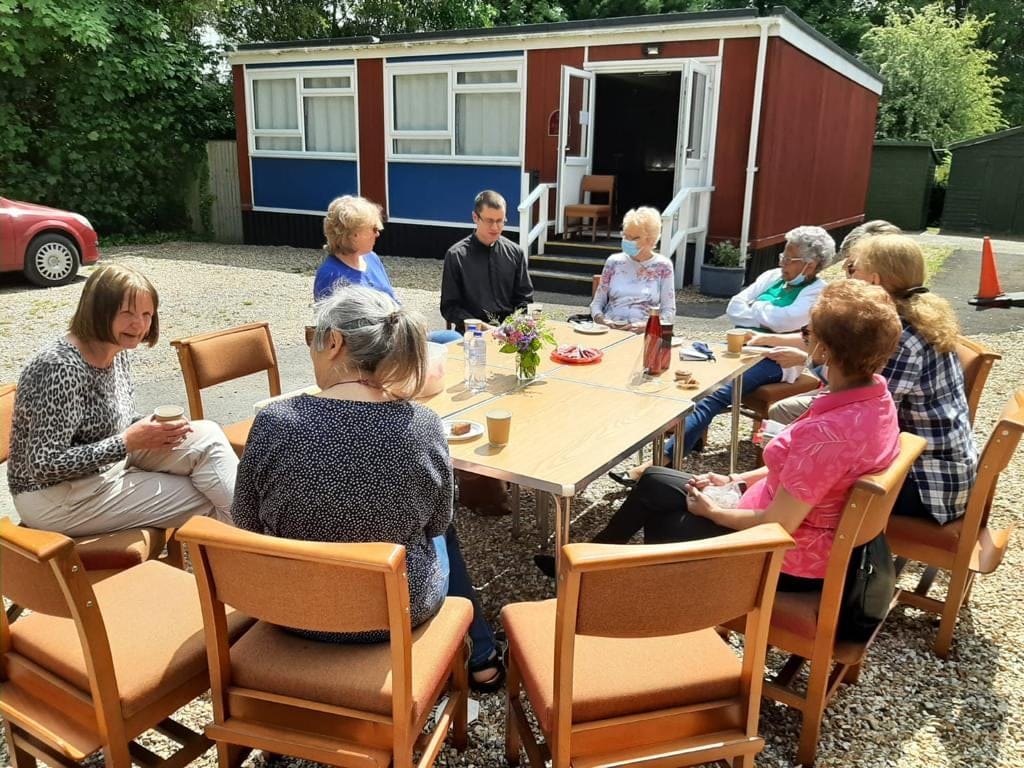 Let it Be (in the hall)
Even if you missed our first session on Thursday, do come and join us for the second session on Thursday 10th June. This is a beautiful course about Our Lady that will deepen your relationship with both Our Lady and Her Son. Please contact the parish office to register for the course on: hello@sacredhearthook.org
60 Orphans are now 100...
Due to the arrest of several people supporting other orphanages, 60 children is now sadly 100 in need of your help. This is not your typical appeal and support goes directly to these young Christian children. We need your help and if you you'd like to donate or have any fundraising ideas - please reach out to Dan Kent - dan@sacredhearthook.org

Safe Spaces
Safe Spaces is a free, national support service independently run by Victim Support. It provides a confidential, personal and safe space for anyone who has been abused through their relationship with either the Church of England or the Catholic Church of England and Wales. For those within our church communities who are in need of support, more information can be found here.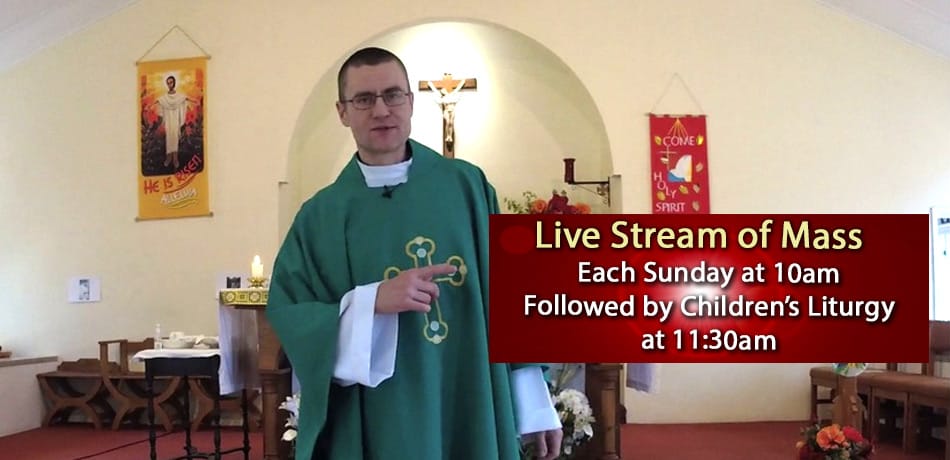 Latest Update Regarding Online Mass
We will be live streaming Mass this Sunday (6th June) at 10am from Sacred Heart Church. So please do join Fr Paul this Sunday to celebrate The Feast of Corpus Christi followed by Children's Liturgy at 11:30am.

Instructions For Watching Mass via our Website
Please note, when watching via our website, you will initially see an image like the above with a pink button below. This is because the video feed from our Church has not been activated. The video stream will start automatically, but if it doesn't, periodically press the button and if Mass is live, the picture will be replaced with a video player. For more questions - please contact dan@sacredhearthook.org

Why is there no sound?
Before Mass, the camera will initially be muted to avoid people's voices and/or Fr.Paul being picked up. Ensure your volume is turned up too, but rest assured that sound will be restored before Mass starts.

What happens if i lose my connection or the video stops?
Most problems can be resolved by waiting a few seconds and refreshing your browser.
Live Children's Liturgy & Resources Page
This Sunday, Children's Liturgy will be streamed at 11:30am.. We do have a new worksheet though. This page contains the latest prayers, hymns and downloadable activities, Look worksheets and more. This has been updated for Corpus Christi...
This Week's Look Magazine
Summer School 2021
St John of the Cross is one of the greatest Christian mystics and a Doctor of the Church. His writings have proved invaluable for spiritual guidance but understanding them can present a challenge. This summer school aims to help participants read the writings of St John of the Cross as he himself intended. This will mean examining the criteria which he gives us for correctly interpreting his work. Topics will include the relationship between his writings and his life-story; the place of his poetry in his overall message; the help which the prologues to his major works offer; and criteria for reading which we can dig out of each of those major works. The hope is that our summer school will enable us to read John with perhaps greater ease and relish, and certainly to let him speak to us with his authentic voice.

This summer school aims to help participants read the writings of St John of the Cross as he himself intended. It also provides an exciting opportunity for a prayerful pondering of God's word through the ancient practice of Lectio Divina. Lectio Divina is a wonderful antidote to the incessant noise and demands of modern life. Normally it is a struggle for us to practice stillness and quiet. But in these times of self-isolation and physical distancing, what a wonderful opportunity to use the extra time we have to go deeper in intimacy with God and with St John of the Cross himself as our guide.

This will offer people the opportunity to learn more about Carmelite spirituality through the writings of one of Carmel's best saints and from one of her best teachers of our time. It's an exciting new opportunity for biblical and spiritual formation to suit all Christians – clergy, laity and the inquisitive!
Online Offertory & Donations
An easy way to give online using your debit card has been set up on our website at https://www.sacredhearthook.org/donations. Just click the button and follow the instructions. Thank you so much for your generosity. God bless. Fr. Paul
Pray for Me
Note: The webpage on the Portsmouth Diocese has sadly been removed but you can still contact the Intercessor team directly. Details on our website.

Through the Called & Gifted process run by our Portsmouth Diocese, a growing number of people (currently over 60) have been able to discern that they have the charism of Intercessory Prayer. The intercessions could include prayers for our Diocese, Sacred Heart Church and all the people in it, Fr Paul or maybe something or someone close to you? Perhaps something you're concerned about relating to yourself, a family member or friend? If you wish the intercessors to pray for you, please email the team.

More details on our website.
Latest Blog Posts from our Website
Urgent Appeal for Lhavoa Orphanage
Sr. Rosaleen and Holly from the Portsmouth Diocese has alerted us to an urgent and heart wrenching cause that we've been called to support in…

St James the Greater by Grania Egan
In this new series, Grania Egan explores each of the Apostles of Christ. We continue with St.James the Greater.

Growing in Faith During a Pandemic
Here's a powerful testimony from Theresa Mahon, on how online courses can grow your Catholic Faith in a time of pandemic.

Father Paul Leonard's Talk from Feastcon International
We managed to acquire the full talk that Fr.Paul gave at Feastcon International recently, where he discussed "New Power". This is Fr.Paul, full of the…

Hope in the Pandemic
Lent is time for renewal and we were blessed with Sr.Valentina joining us to talk about how the Pascal Mystery, Jesus' life, death and resurrection,…

St Bartholomew by Grania Egan
In this new series, Grania Egan explores each of the Apostles of Christ. We continue with St.Bartholomew.
Sacred Heart Catholic Church, Hook
London Road Hook RG27 9LA
(c) Sacred Heart Church, Hook