E-Newsletter for the 28th Sunday in Ordinary Time
In this week's Gospel, the famous account of the "rich young man", Jesus also examines each of us with a look that reaches to the depth of our soul.

And then, from that place of deep love, Jesus is honest with us. He knows us better than we know ourselves. Nothing is hidden from him. And because he loves us, he tells us what we need to let go of in order to follow him.

What does he say to you ?
Booking is by email at hello@sacredhearthook.org. Please title the email "Mass booking" and give the name, address and contact details of all who will be attending including of all those in a family group. Booking closes on Thursday at 1:30pm. Don't forget to indicate which Mass you will be attending. You will receive an email during Friday morning with more instructions.

More information and a guide on what to expect can be found on our website's Attending Mass page.
Don't forget that the Saturday Mass will still be live streamed via Facebook and our website's Live Page.
COVID Restrictions Update
For the safety and wellbeing of all, we shall continue to:
• wear face coverings whilst inside the church building
• provide contact details
• use sanitiser before and after all services
• avoid unnecessary touching of surfaces
• socially distance within our church and building

New
From last weekend, we will continue to take bookings. But we will be allowing you to chose your own seats at Mass, please listen to the welcomers for more instructions. We will continue to live stream Sunday morning Mass via FaceBook and our website.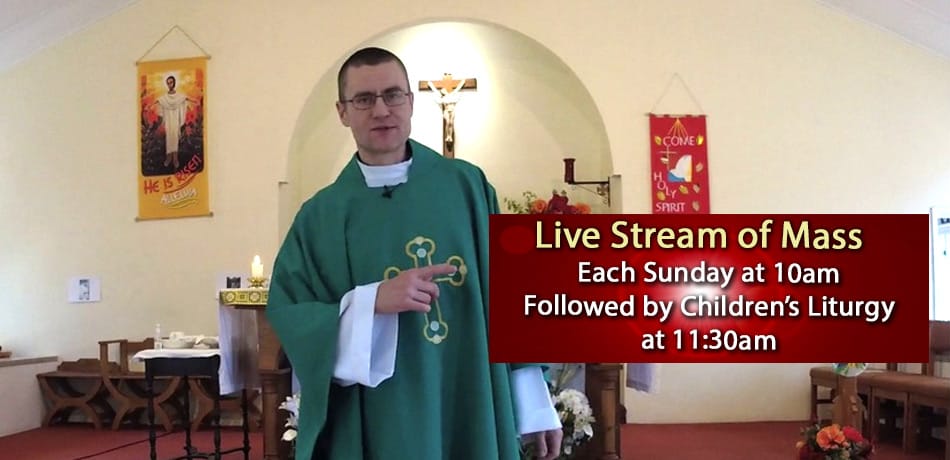 Live Mass Stream
We will be live streaming Mass this Sunday morning at 10am from Sacred Heart Church. Sunday Mass will be followed by Children's Liturgy at 11:30am. So please do join us to celebrate The Twenty Eighth Sunday in Ordinary Time .

Instructions For Watching Mass via our Website
Please note, when watching via our website, you will initially see an image like the above with a pink button below. This is because the video feed from our Church has not been activated. The video stream will start automatically, but if it doesn't, periodically press the button and if Mass is live, the picture will be replaced with a video player. For more questions - please contact dan@sacredhearthook.org

Why is there no sound?
Before Mass, the camera will initially be muted to avoid people's voices and/or Fr.Paul being picked up. Ensure your volume is turned up too, but rest assured that sound will be restored before Mass starts.

What happens if i lose my connection or the video stops?
Most problems can be resolved by waiting a few seconds and refreshing your browser.
Our Lady of Walsingham Shrine Visit
We are planning a visit to Walsingham Shrine in Norfolk on Tuesday 26th October 2021 for the day. We will travel in a 15 seater mini bus with 2 drivers who are doubly jabbed and will be wearing masks. Cost £90.00 per person. 6am start from Scared Heart Church car park, Hook. There will be a one stop en route. Cut off date for booking: Wednesday 13th October 2021. Please call Anne da Silva on 07826 727469 or e-mail to annedasilva100@yahoo.co.uk More information on their website.
Last Chance to Donate! Fr Paul and Ian Liddell running Royal Parks Half Marathon - 10th October
Fr Paul and Ian are running the half marathon on October 10th, 2021 for The Catholic Agency for Overseas Development (CAFOD) to help raise money to help those living in poverty around the world. In donating and supporting their Fr Paul and Ian's efforts, you will be helping people like Abdella:
Abdella is 23 and he has big dreams. He dreams of starting a small business. He dreams of starting a family. He dreams of having his own home.
He dreams of the day he wont have to walk ten hours to get water.
Abdella lives in Afar, Ethiopia one of the hottest places on earth. Like hundreds of people in the area, he spends most of the day walking to get water for his family to drink.
He knows that if there was water near his home, his family wouldn't have to worry any more about getting enough to stay alive. And he could start on the dreams he has for the rest of his life.
Please join us in supporting this great cause by clicking the button below to donate. Thank you and God bless.
October the month of the Holy Rosary
The month of October is a month customarily dedicated to Our Lady of the Rosary. The Rosary, with its sequence of prayers and mysteries, is a Christ-centred Gospel prayer, which we say in union with the Blessed Mother. As we also commence the Extraordinary Mission Month, please offer the Rosary each day for the Church's mission both at home and abroad.

There's a handy, downloadable guide of all the Rosary Prayers and Mysteries on our website.

https://www.sacredhearthook.org/how-to-say-the-rosary

Latest Updates
CAFOD is asking us to get sponsored for the month of October on their Go Green challenge. There are three options

• Go Cycling – get on your bike!
• Go Veggie – give up meat and fish towards a more sustainable lifestyle.
• Go Plastic-Free – help the planet!

You can find all of the latest news from CAFOD on our website which has recently been updated with three new items relating to climate change, green living and of course Fr.Paul's sponsored run!.
A Rich Man Poor Man's Meal at St. Bedes
This will be held in St. Bede's Church Hall on Saturday 23rd October at 7pm for 7.15pm. A two-course planet friendly meal will be served to seven out of eight diners with one in eight receiving soup and bread in solidarity with the one in eight people who go hungry every day. The 'poor' will be chosen by lot on the night! Tickets are £16 a head to include a donation to CAFOD. Please reserve your place by emailing judith@stbedesbasingstoke.org.uk by Saturday 16th Oct. Payment can be made online to Account Name: PRCDTR Basingstoke Holy Ghost; Sort Code: 30-93-04; Account Number: 00874184 with the reference CAFOD MEAL.
Say "No" to Assisted Suicide
We need to redouble our prayers, advocacy and action to thwart Baroness Meacher's 'Assisted Dying Bill 2021' which comes before the House of Lords for its second reading and debate on 15th October. To this end, I encourage you to join in a national novena of prayer, seeking the intercession of St John Paul II, on whose feast the second reading falls. The Novena will run from 13th-22nd October.

The Novena Prayer is as follows:

Merciful God, we pray with thanks and gratitude for the great spiritual gift of Saint John Paul II's apostolic life and mission. Through his heavenly intercession we ask that the 'Assisted Dying' Bill be defeated and that the infinite worth of each human person is upheld through proper investment in palliative care. Grant also that we may grow in love for You and proclaim the love of Jesus Christ to all people. Through Christ, Our Lord Amen Our Father … Hail Mary … Glory be ...
The Saints Course - Next Session is Thursday 14 October (St. Ignatius of Loyola).
We welcome you to join us for this face-to-face course, to find out more about some of our Saints. We will enjoy a 'cuppa' and cake (or savoury snacks) while we learn more about some of our well-known and less well-known Saints. Sessions will include a video and friendly discussions. (We may sit outside for our early autumn discussions, if the weather is kind to us, or in the hall when it's chilly!)
Next Session : Thursday 14 October, from 10am – 11.30am. Will look at the life of St. Ignatius of Loyola.

Brief summary: The course comprises 6 sessions on some well-known traditional Saints, followed by 4 weeks of some of our more modern saints. Saints include: St. Therese of Lisieux, St. Ignatius of Loyola, St. Catherine of Sienna, St. Francis of Assisi, St. Patrick, St. Benedict Modern saints will include St. Teresa of Calcutta, Pope St. John Paul II, St. John Henry Newman, St. Faustina Kowalska, Blessed Carlo Acutis and others Please don't be put off signing up if you can't make all the sessions! To sign up, please email Jan in the Parish Office: hello@sacredhearthook.org We look forward to seeing you! (Theresa & Shanthi)
Virtual Pilgrimage to the Holy Land
Fr Tom Grufferty invites you to join him on a Virtual Pilgrimage to the Holy Land at 7.30pm on Monday evenings from 6th September to 1st November. There are nine sessions and there will be a different presenter for each one. Each session will last for about 40 minutes. There is no need to book, just click this link at 7.20pm on Monday 6th September and follow the instructions.
Live Children's Liturgy & Resources Page
This Sunday, the Children's Liturgy is taking place at 11:30am via our Live Stream.. We also have a new worksheet that is live on our website. This page contains the latest prayers, hymns and downloadable activities, Look worksheets and more. This has been updated for the the 28th Sunday in Ordinary Time...
Online Offertory & Donations
An easy way to give online using your debit card has been set up on our website at https://www.sacredhearthook.org/donations. Just click the button and follow the instructions. Thank you so much for your generosity. God bless. Fr. Paul
Pray for Me
Note: The webpage on the Portsmouth Diocese has sadly been removed but you can still contact the Intercessor team directly. Details on our website.

Through the Called & Gifted process run by our Portsmouth Diocese, a growing number of people (currently over 60) have been able to discern that they have the charism of Intercessory Prayer. The intercessions could include prayers for our Diocese, Sacred Heart Church and all the people in it, Fr Paul or maybe something or someone close to you? Perhaps something you're concerned about relating to yourself, a family member or friend? If you wish the intercessors to pray for you, please email the team.

More details on our website.
Carmelite Online Talks - Voices of the Great Tradition
Voices from the Great Tradition Series Starting 11th October 2021 In this series of online talks, we reflect on the teachings of several remarkable ancient, medieval, and modern spiritual masters. These figures are bright lights on the horizon of our two-thousand year treasury of Christian wisdom.
Carmelite Spirituality
Our Carmelite friends from Oxford invite us all to join with them in their gentle, contemplative spirituality that's inspired by Carmelite Saints such as St Teresa of Avila and St John of the Cross. They offer a number of free and paid talk, retreats, courses and spiritual direction options that will help you deepen your relationship with God.
Latest Blog Posts from our Website
Urgent Appeal for Orphans in Myanmar
*Updated* Sr. Rosaleen and Holly from the Portsmouth Diocese has alerted us to an urgent and heart wrenching cause that we've been called to support…

Discovering Prayer Apps During the Pandemic by Jennifer Hutton
In this new article, Jennifer Hutton explains how these top prayer apps have helped her during the pandemic and on her daily commute.

St Andrew by Grania Egan
In this new series, Grania Egan explores each of the Apostles of Christ. We continue with St.Andrew.

St James the Greater by Grania Egan
In this new series, Grania Egan explores each of the Apostles of Christ. We continue with St.James the Greater.

Growing in Faith During a Pandemic
Here's a powerful testimony from Theresa Mahon, on how online courses can grow your Catholic Faith in a time of pandemic.

Father Paul Leonard's Talk from Feastcon International
We managed to acquire the full talk that Fr.Paul gave at Feastcon International recently, where he discussed "New Power". This is Fr.Paul, full of the…
Sacred Heart Catholic Church, Hook
London Road Hook RG27 9LA
(c) Sacred Heart Church, Hook