E-Newsletter for Our Lord Jesus Christ, King of the Universe
Thought for the Week

In these times of fake news and alternatives facts, it is so refreshing to hear Jesus solemnly proclaim that he was born and came into the world to testify to the truth. The basic truth is that God is love and loves the world he created so much that he sent his own Son to save it. We should ask ourselves how important truth is for us, and to what extent are we committed to find it and live by it? We ask for the grace to seek and listen to His voice.

Reflection from sacredspace.ie

DATES FOR YOUR DIARY
Thurs 25 Nov - The Saints Course 10am-11.30am
Sat 27 Nov - Christmas Wreath Workshop
Sat 4 Dec - Christmas Bazaar
Sat 18 - Dec Advent Afternoon of Prayer
Sun 19 - Dec Advent Children's Liturgy Workshop
Sun 19 - Dec Pastoral Area Reconciliation Service
Sun 16 - Jan Litter pick in Hook

Please contact hello@sacredhearthook.org if you'd like to attend or need more info on any of these events.

The Month of November Holy Souls

Throughout the month of November, we will be praying for all those it pleased the Lord to call to Himself. The names of loved ones can be placed in the wooden box in front of the Altar. Please do not include money. May the souls of the faithful departed, through the mercy of God, Rest in Peace. Amen

Pope Francis Prayer Intention

People Who Suffer From Depression: We pray that people who suffer from depression or burn-out will find support and a light that opens them up to life. Amen.
Booking is by email at hello@sacredhearthook.org. Please title the email "Mass booking" and give the name, address and contact details of all who will be attending including of all those in a family group. Booking closes on Thursday at 1:30pm. Don't forget to indicate which Mass you will be attending. You will receive an email during Friday morning with more instructions.

More information and a guide on what to expect can be found on our website's Attending Mass page.

Don't forget that this Sunday, Mass will still be live streamed via YouTube and our website's Live Page.
COVID Restrictions Update
Our priority is to continue to create a safe environment within our Parish. Due to the size of the Sacred Heart, we adopted a cautious approach; in recognition that many of our parishioners are vulnerable or elderly, so we will continue to adhere to all COVID guidelines.
For the safety and wellbeing of all, we shall continue to:
• wear face coverings whilst inside the church and hall.
• social distance, within the church and hall, with the use of crosses to close seats.
• encourage parishioners to sanitise their hands, before and after Mass.
• In recognition of the differing needs of our parishioners, we have decided to carry on with the following
• Saturday 6pm and Sunday 10am Masses will therefore continue, with social distancing in place, with a maximum capacity of 60 parishioners, and the Masses MUST be booked. Please do not embarrass the stewards by turning up without booking, as they will be turning you away, even if it appear spacious.
• For Wednesday 10am Mass and The Rosary you do not need to be book, but the above rules still apply.
New
We will continue to take bookings. But we will be allowing you to chose your own seats at Mass, please listen to the welcomers for more instructions. We will continue to live stream Sunday morning Mass via YouTube and our website.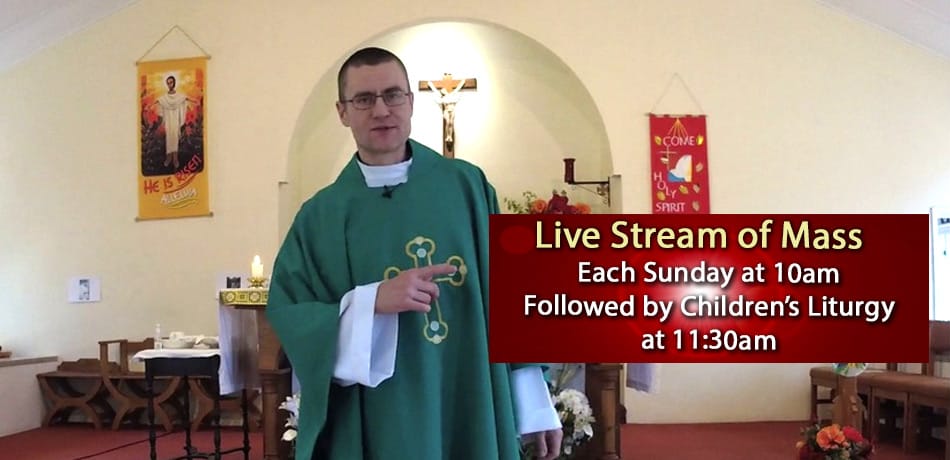 Sunday's Live Mass Stream
We will be live streaming Mass for the Solemnity of Our Lord Jesus Christ, King of the Universe this Sunday morning at 10am from Sacred Heart Church. Sunday Mass will be followed by Children's Liturgy at 11.30am.

New Camera
Our new camera with automatically allow you to watch our live Mass stream via our website and YouTube. However, we will no longer be live streaming on Facebook.

Instructions For Watching Mass via our Website
Please note, when watching via our website, you will initially see an image like the above with a play button. This is because the video feed from our Church has not been activated. The video stream will start automatically, so press the play button and if Mass is live, the picture will be replaced with a video player. For more questions - please contact dan@sacredhearthook.org

Instructions For Watching Mass via YouTube If you'd prefer to watch via YouTube, you can do so here. Don't to forget to like and subscribe.

Why is there no sound?
Before Mass, the camera will initially be muted to avoid people's voices and/or Fr.Paul being picked up. Ensure your volume is turned up too, but rest assured that sound will be restored before Mass starts.

What happens if i lose my connection or the video stops?
Most problems can be resolved by waiting a few seconds and refreshing your browser.
Wreath Making Workshop - Sunday is Last Chance to Register
This is going to be so much fun and all proceeds go to an incredible cause. Please contact Penny on 079 3645 1255 or email pawithey@gmail.com to book your place.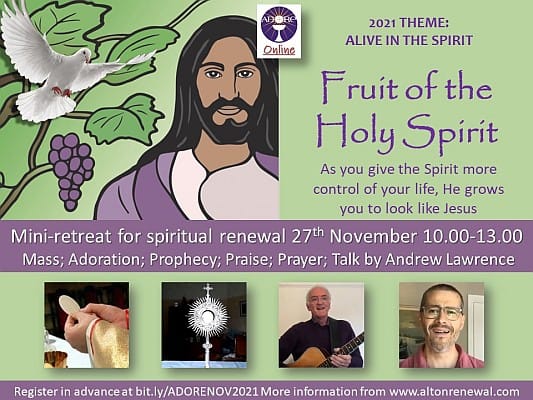 Adore Online - Fruits of the Holy Spirit
ADoRE Monthly Mini Retreat for Spiritual Renewals Online spiritual mini-retreat morning is taking place on 27 November 10.00am -1.00pm, with Mass, Adoration, Reflection, Praise, Talk, Prayer & Discussion. Theme: "Fruit of the Holy Spirit" As you give the Holy Spirit more control of your life, He grows you to look more like Jesus. Mass celebrant is Fr Paul Leonard, & the guest speaker Andrew Lawrence, Lead Pastor of the Harvest Church in Alton & a gifted & passionate speaker on the Holy Spirit.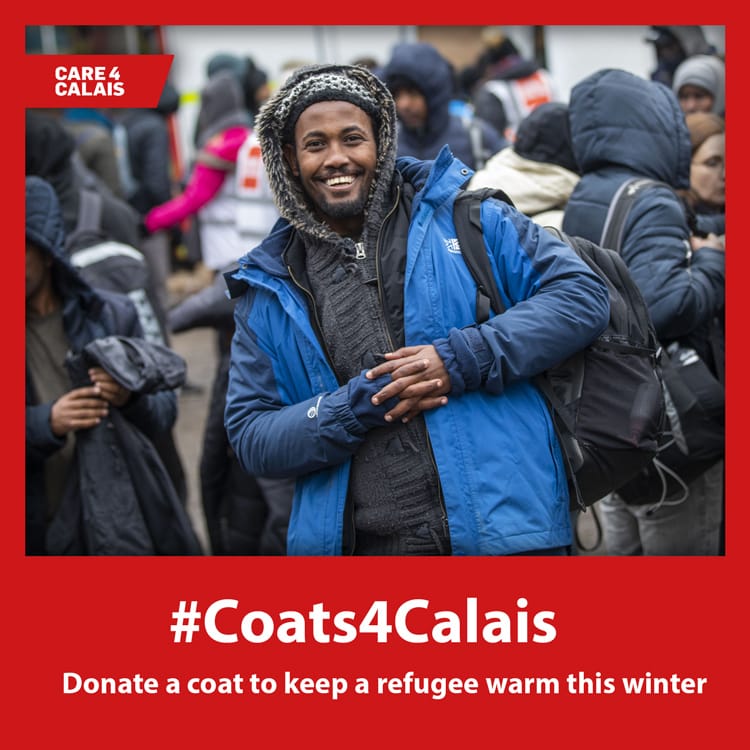 Coats4Calais
Each year Coats4Calais provides warm clothing for many of the refugees in Calais throughout the winter months. This is an opportunity for you to clear your wardrobes of your unwanted coats, jackets, scarves, hats and gloves. However any donations of warm items like sleeping bags, duvets etc. will be gratefully received. I am the point of contact in Basingstoke for the collection of donations. Items can be received between 06 November & 11 December. They will be very much appreciated. Please contact me on any of the following: (m) 07881781407, landline: 01256 419427, email: joeshevlin@icloud.com to arrange the drop-off point for the items. More information about this project may be found on the following link:
Church Christmas Bazaar - 4th December
We invite you to come along to a Church Christmas Bazaar on the 4th December. Get an early start on your Christmas shopping and grab some unique gifts at bargain prices or pop along for some mince pies and mulled wine or get the kids to come and meet santa!! We will also be selling raffle tickets after Mass during the lead up to the bazaar so come and find us at the back of church!
Mary's Meals is named after Mary, the mother of Jesus, who brought up her own child in poverty. We consist of, respect and reach out to people of all faiths and of none. Up until 31 January 2022 the charity has promised to match and double the amount donated by anyone. So if you could provide a small doantion to Mary's meals, be assured our efforts will be doubled. Please see here:Double The Love | Mary's Meals

Update. Sacred Heart Activities and Resources on Environment (SHARE)
The last two weeks have seen the world's leaders, scientists, environmentalists, activists and many of us following the daily events in Glasgow at the COP26 meeting, which finally closed on Sunday with an agreed statement. One of the major achievements of the conference was that acknowledgment by most of the world that Net Zero is the key target by 2050.

Many countries have made pledges and plans with that goal in mind, and these will be scrutinised and reviewed in the coming years. In addition deals on ending deforestation are very encouraging too. Commentators across the globe are saying that there is still a mountain to climb. Probably the area of most concern is that of compensating nations who are already experiencing the impact of climate change - termed as loss and damage - which was still not resolved adequately. So where does this leave us ? Pope Francis in Laudato Si calls for global dialogue about how we are shaping the future of our planet through our daily acts and decisions. And that is the key to this for us - what we do to contribute to the reduction of CO2 emissions and other greenhouse gases into our atmosphere .

May I suggest a couple of websites that you may find helpful - https://journeyto2030.org/parish/ This is a website that focuses on individual and parish wide action to help shape our planet for the better. https://cafod.org.uk/About-us/Policy-and-research/Climate-change-and-energy CAFOD is also working hard to support individuals and parishes , particularly with biodiversity and tree planting. CARITAS are also actively involved in a diocesan wide initiative called Caring for Creation - we will be hearing more about this in the coming weeks.

I encourage you all to look at the SHARE webpage on the Church's website as there are regular updates. Also please keep praying with climate change at the forefront of our minds.

For much more information on SHARE and to get involved, please visit our webpage.
PASSING ON LOVE FOR THE EUCHARIST TO OUR CHILDREN
Sr Hyacinthe OP, Leader of our Formation for Mission Team shares news of an exciting new online course to support our Diocesan Year of the Eucharist beginning next month on Monday evenings... In this Year of the Eucharist our Formation for Mission Team is delighted to offer an opportunity to share advice and ideas on how to foster love for the Eucharist in our families. We are offering 4 online sessions for parents, grandparents, catechists, teachers and everyone passionate about passing on love for the Eucharist to our children, led by Sr Hyacinthe and Angela Wood, with practical advice, discussions, testimonies and prayer, finishing each session with a Adoration. The sessions will run on Mondays evenings from 22nd November to 13th December at 7.00pm. The sessions will be:

1. Why the Eucharist is Important and how to pass on love of the Eucharist 2. Going to Mass as a Family 3. Making the Home a Place of Communion 4. Taking and Making Opportunities to foster love for the Eucharist You can register for 'Passing on love for the Eucharist to our children' at https://us02web.zoom.us/meeting/register/tZYucOmsqDgoGN1pyBB7YAfHGV4_u8kemJ8e register/tZYucOmsqDgoGN1pyBB7YAfHGV4_u8kemJ8e
The Saints Course - 'Mop-up' Session on the 25th November
Thursday 25th November 10am – 1pm in, Parish Hall

We are holding a 'mop-up' session for anyone who missed one of the Saints' sessions, or who would like to watch one, or more, again. We will show the films, one after the other, at the approximate times listed below (bearing in mind that some films are slightly longer than 30 minutes and others slightly shorter). You are very welcome to stay for the whole session, or to just 'drop-in' to watch the Saint you missed on the course. We will have refreshments and cake and we would love to see you!
Theresa & Shanthi
10.00 am St. Patrick
10.30 am St. Benedict
11.00 am St. Thérèse of Lisieux
11.30 am St. Francis of Assisi
12.00 pm St. Ignatius of Loyola.
12.30 pm St. Catherine of Sien

To sign up, please email Jan in the Parish Office: hello@sacredhearthook.org We look forward to seeing you! (Theresa & Shanthi)
Live Children's Liturgy & Resources Page
This Sunday, Children's Liturgy will be with Gill Byrne. We have a new worksheet that is live on our website. This page contains the latest prayers, hymns and downloadable activities, Look worksheets and more. This has been updated for Our Lord Jesus Christ, King of the Universe...
Have you ever considered being a church reader or are you already reading at Mass, but missed out on the Diocesan training. This December, our Readers Training Team will be offering online the two Readers Workshops: • Workshop 1 (the Liturgy of the Word / Practical skills) on 4th December 10am - 1pm • Workshop 2 (the Bible / Preparing a text) on 11th December 10am - 1pm You can register for the workshops, knowing that you need to have attended workshop 1 and workshop 2 to obtain a diocesan recognitio.

Please follow this link to the registration page https://www.pffm.org.uk/readers
The Diocese's Marriage & Family Life team would like to invite you to the next Break-through Workshop. This Workshop is an opportunity to improve communication between you and your spouse (both spouses do not have to attend). Breakthrough offers spouses tools and strategies to overcome communication 'gridlock'. It takes two to tango but only one to change the dance. The Workshop is for anyone: spouses, clergy, singles, grandparents, friends and or family interested in supporting married couples at a time where the pressure and stress on family life is enormous. Suggested donation is £10 per person or more, this includes a light lunch and refreshments. The Workshop is on Saturday 27th November 2021, 12pm – 6pm, at the Church of the Holy Family, Southampton. To register or for more information : marriagefamilylife@portsmouthdiocese.org.uk
Online Offertory & Donations
An easy way to give online using your debit card has been set up on our website at https://www.sacredhearthook.org/donations. Just click the button and follow the instructions. Thank you so much for your generosity. God bless. Fr. Paul
Pray for Me
Note: The webpage on the Portsmouth Diocese has sadly been removed but you can still contact the Intercessor team directly. Details on our website.

Through the Called & Gifted process run by our Portsmouth Diocese, a growing number of people (currently over 60) have been able to discern that they have the charism of Intercessory Prayer. The intercessions could include prayers for our Diocese, Sacred Heart Church and all the people in it, Fr Paul or maybe something or someone close to you? Perhaps something you're concerned about relating to yourself, a family member or friend? If you wish the intercessors to pray for you, please email the team.

More details on our website.
Advent with Alex from the Carmelites
During a series of three, weekly (one-hour), Saturday online workshops, artist, Alex Roberts will join Fr. Tony Parsons to share how making, viewing, and experiencing works of art can offer pause for personal reflection. Using examples of site-specific works (Hope, Cleanse, Reveal, 2017) Alex previously made for an exhibition at St. Paul's Cathedral London, the artist will provide insights into what she observed, proposed, created, and acknowledged from the exhibition experience. Alongside delivering some practical tips on how to allow your subjects of interests choose you, spurring you to get drawing, painting, building and doodling! Fostering a reflective dialogue through making.
Advent Weekend Retreat with the Carmelites
This residential Advent weekend retreat will be making a gentle invitation to open our hearts and allow our hearts to enlarge with love, so that we can grow deeper in our prayer life and learn how to reach out our hands to others.
Carmelite Spirituality
Our Carmelite friends from Oxford invite us all to join with them in their gentle, contemplative spirituality that's inspired by Carmelite Saints such as St Teresa of Avila and St John of the Cross. They offer a number of free and paid talk, retreats, courses and spiritual direction options that will help you deepen your relationship with God.
Latest Blog Posts from our Website
Urgent Appeal for Orphans in Myanmar
*Updated* Sr. Rosaleen and Holly from the Portsmouth Diocese has alerted us to an urgent and heart wrenching cause that we've been called to support…

Discovering Prayer Apps During the Pandemic by Jennifer Hutton
In this new article, Jennifer Hutton explains how these top prayer apps have helped her during the pandemic and on her daily commute.

St Andrew by Grania Egan
In this new series, Grania Egan explores each of the Apostles of Christ. We continue with St.Andrew.

St James the Greater by Grania Egan
In this new series, Grania Egan explores each of the Apostles of Christ. We continue with St.James the Greater.

Growing in Faith During a Pandemic
Here's a powerful testimony from Theresa Mahon, on how online courses can grow your Catholic Faith in a time of pandemic.

Father Paul Leonard's Talk from Feastcon International
We managed to acquire the full talk that Fr.Paul gave at Feastcon International recently, where he discussed "New Power". This is Fr.Paul, full of the…
Sacred Heart Catholic Church, Hook
London Road Hook RG27 9LA
(c) Sacred Heart Church, Hook