E-Newsletter for the Baptism of the Lord
Update from the Parish Council
Pope Francis Prayer Intention for January
Intention for Evangelisation: – Human Fraternity May the Lord give us the grace to live in full fellowship with our brothers and sisters of other religions, praying for one another, open to all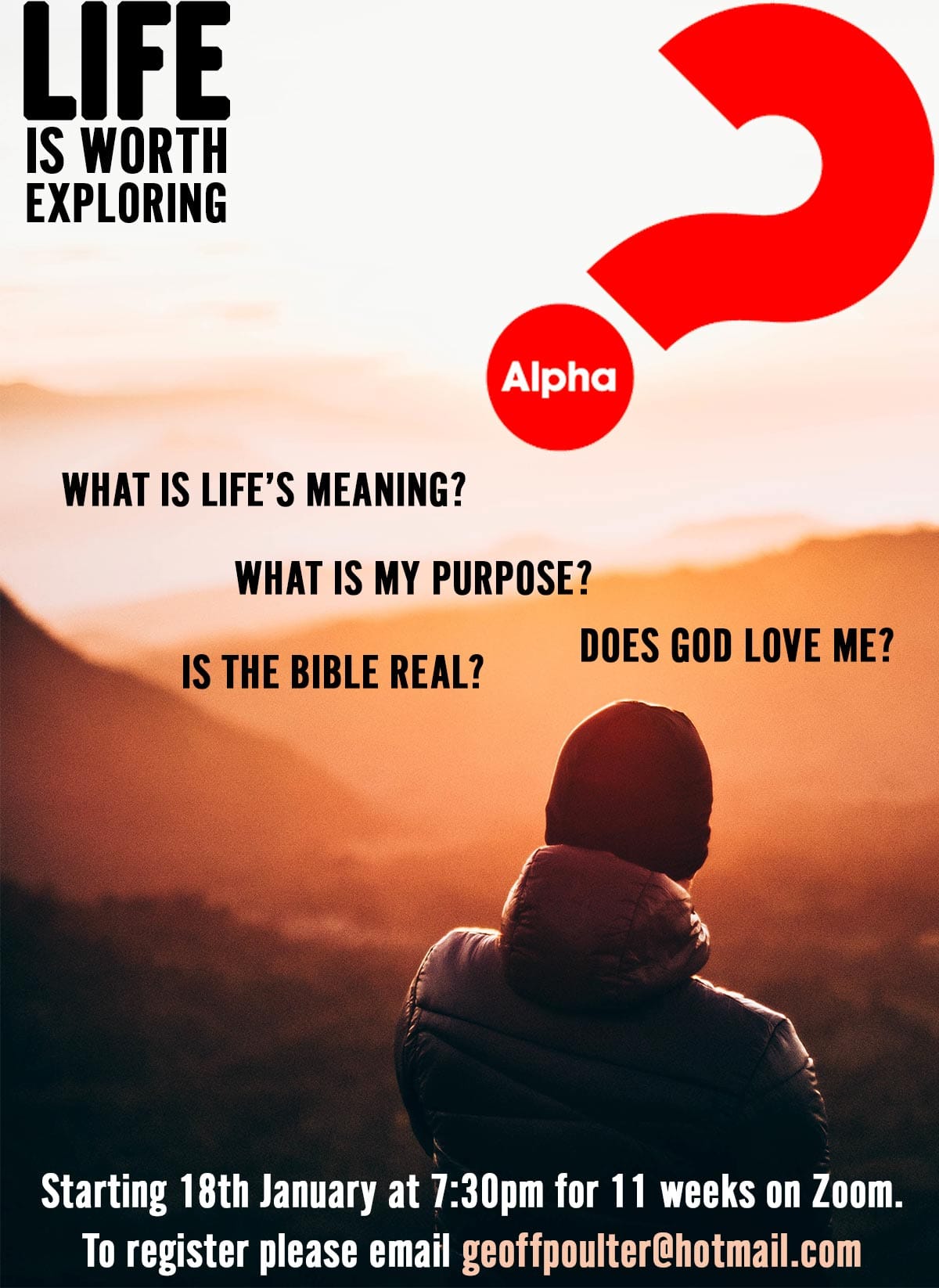 Alpha - Hosted by Sacred Heart
Alpha is a series of Interactive sessions that freely explore the basics of the Christian faith. The programme will be hosted on Zoom and is open to all – why not make it your New Year Resolution ?

Please watch the video to learn more or register below.
To register your interest and for more information please contact geoffpoulter@hotmail.com or register here
Jesus - The Way, the Truth and the Life
Are you looking to find out more on Jesus and his ministry? This is a Powerful Study on the Life of Jesus Christ. The marvellous treasures of the Catholic Faith— the Eucharist, Mary, the saints, and the Creed—are all centered on a single figure: Jesus Christ. Jesus is more than a historical or theological figure. He is our Saviour, our Redeemer, our Lord, and our God. While many of us already know a lot about him, how well can we say we really know him? Filmed on location in the Holy Land, Jesus: The Way, the Truth, and the Life is a new and fresh look at Jesus—who he is, what he is really like, what he taught, and what he did for our salvation. This encounter with Christ will inspire and empower you to center your entire life on him as you come to know and love him in an ever-deeper and more intimate way. Starting Tuesday 12th January 7.45pm. If you would like to register for this course – please contact Joan at jkent@portsmouthdiocese.org.uk.
Alton Day Of Renewal - Alive in the Spirit
Alton Day of Renewal 2021 has released its programme for year. Please click on the below link for details of the speakers. You will be pleased to know that our Fr Paul will be the speaker on the 27 February, talking about Salvation and how God sent his son Jesus to give you new life through his death and resurrection: He is your Lord and Saviour.
Parish Council 2021 Update
Dear All,
The Parish Council has been working hard over the last year to listen to your feedback and incorporate this into their plans, priorities and activities within the Church. Do take a look at our updated webpage, 2021 newsletter and survey results that form the basis of our 2021 approach.
God bless,
Sacred Heart PPC
Online Offertory & Donations
An easy way to give online using your debit card has been set up on our website at https://www.sacredhearthook.org/donations. Just click the button and follow the instructions. Thank you so much for your generosity. God bless. Fr. Paul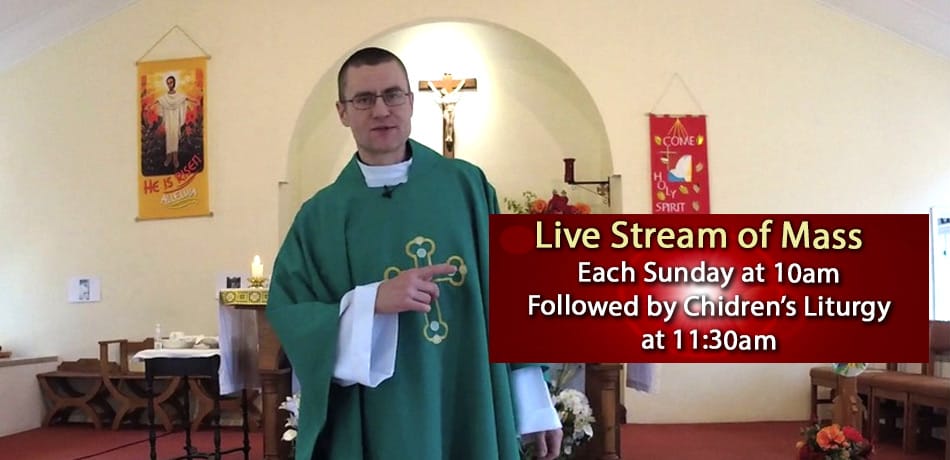 Latest Update Regarding Online Mass
We will be live streaming Mass this Sunday (10th January) at 10am from Sacred Heart Church. So please do join Fr Paul this Sunday to celebrate the Baptism of the Lord followed by Children's Liturgy at 11:30am..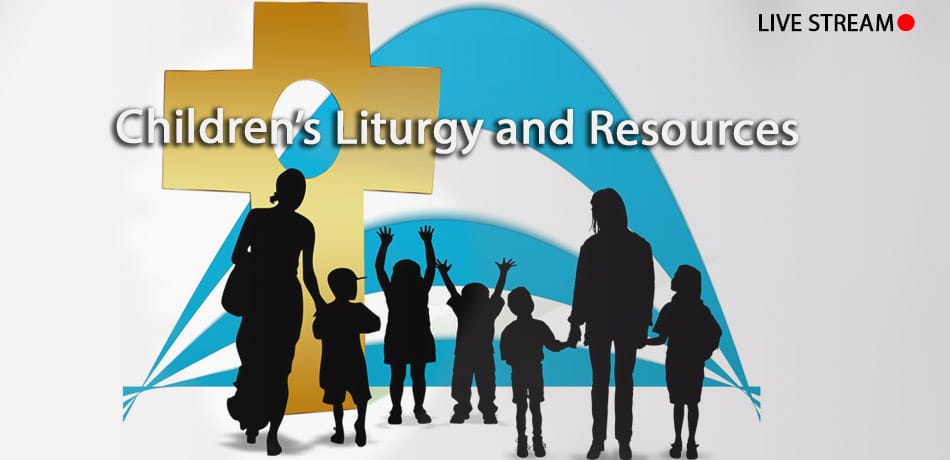 Live Children's Liturgy & Resources Page
This Sunday, Children's Liturgy will be streamed at 11:30am.. This page contains the latest prayers, hymns and downloadable activities, Look worksheets and more. This has been updated for the Second Sunday after the Nativity...
Pray for Me
Note: The webpage on the Portsmouth Diocese has sadly been removed but you can still contact the Intercessor team directly. Details on our website.

Through the Called & Gifted process run by our Portsmouth Diocese, a growing number of people (currently over 60) have been able to discern that they have the charism of Intercessory Prayer. The intercessions could include prayers for our Diocese, Sacred Heart Church and all the people in it, Fr Paul or maybe something or someone close to you? Perhaps something you're concerned about relating to yourself, a family member or friend? If you wish the intercessors to pray for you, please email the team.

More details on our website.
Latest Blog Posts from our Website
St Stephen – Patron Saint of Deacons and Altar Servers
In our December's March of the Saints series, Grania Egan tells the story behind St Stephen. Patron Saint of Deacons and Altar Servers.
First Holy Communion by Leonardo de Cillis
One of our children, Leonardo, who recently made his First Holy Communion, produced a wonderful PowerPoint presentation of his special day.
Posada 2020 by Maggie Wood
Posada is a chance to host Mary and Joseph to make room for Jesus at Christmas time. Learn how Sacred Heart is celebrating this.
The Deacon by Deacon Dave Skillen
If deacons are not mini-priests, or father's helpers, or enhanced lay people then who are they? Deacon Dave Skillen explains...
St Martin De Porres
In our November's March of the Saints series, Grania Egan tells the story behind St Martin De Porres - Patron Saint of Racial Harmony and…
Welcoming Our Neighbour
Helping house refugees through Community Sponsorship November Update Recently, the Home Office have advised that inbound flights, bringing refugees to the UK, are to resume…
Sacred Heart Catholic Church, Hook
London Road Hook RG27 9LA
(c) Sacred Heart Church, Hook