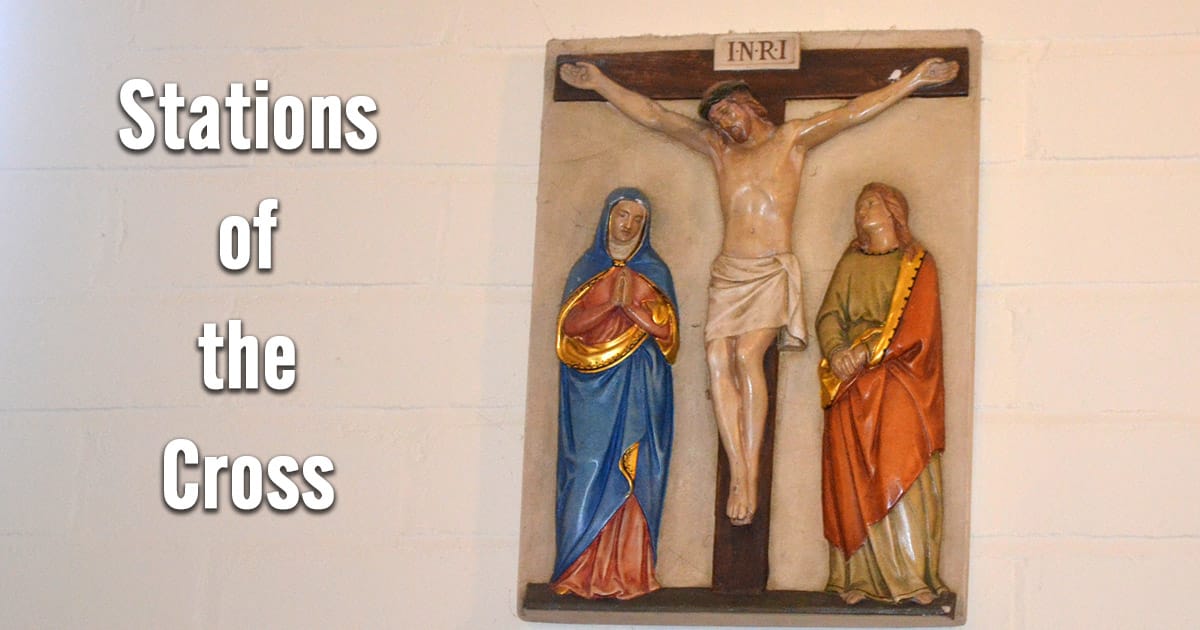 Virtual Stations of the Cross
COVID certainly won't stop us with our yearly Stations of the Cross Event! So this Lent, please join us for a virtual Stations of the Cross from the Sacred Heart Church and read along with the downloadable booklet.
Children's Liturgy Lent Workshop
Instead of our normal Children's Liturgy on this Sunday, we are planning a Lent workshop to help deepen our understanding of Lent. It will start at 11.15-12.15pm and will be Zoom (similar to the Advent workshop that we held in December ) and if you are able to attend please let Jan or Maggie know on hello@sacredhearthook.org.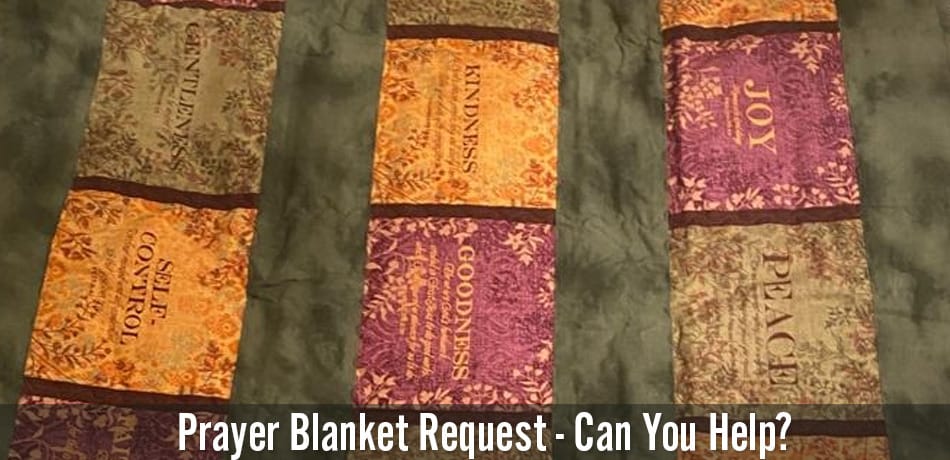 Prayer Blankets
Can you lend us your skill, time or do you have some spare wool? Are you a keen knitter? Good at crocheting or sewing? Would you like to get together with a group of like minded friends over a cup of tea and knit pieces of a patchwork blanket that we can put together to form a prayer blanket? While currently we are unable to physically meet we can virtually meet and chat while we put together these wonderful blankets. The aim is to have a prayer blanket made by knitting individual squares which will then be pieced together to form a blanket / shawl which will be blessed by Fr Paul and sent to those in the parish who are sick or in need of some comfort. If you are interested to learn more please do reach out to Andrea at andrea.waldram@gmail.com.
Alton Day Of Renewal - Alive in the Spirit
Alton Day of Renewal 2021 has released its programme for year. Please click on the below link for details of the speakers. You will be pleased to know that our Fr Paul will be the speaker on the 27 February, talking about Salvation and how God sent his son Jesus to give you new life through his death and resurrection: He is your Lord and Saviour.
Lenten Talk - Sr Valentina from Verbum Dei Thursday 4th March 7.45pm
Lent is time for renewal. Join us to learn how this time can help us to journey through this Pandemic. How the Pascal Mystery, Jesus' life, death and resurrection, can bring meaning to what we are living and make us bridges of hope. If you would like to learn more please contact Joan Kent on jkent@portsmouthdiocese.org.uk
Let It Be Cafe Course
Sacred Heart Church will be hosting another Cafe series course called Let it be which is about our Lady Mary. The cafe sessions involves watching a video and discussions in smaller groups. Here's the link to find out more - its a 5 weeks course it will end on 27th May. Let It Be | CaFE - Catholic Faith Exploration If you are interested please do get in touch with Joan Kent on jkent@portsmouthdiocese.org.uk
Ananias - Art of Accompaniment
Many of us long for our friends and family to have faith but we don't know how to start a conversation and often there is a culture of silence around talking about God. Some of them won't have any trust of God or the Church, but are searching for meaning of their lives. How can we listen, understand and accompany them according to where they are? We would like to offer the Ananias training to any parishioner who wants to grow closer to Jesus and share Him with others.
An Hour of Prayer and Praise
Join Bishop Philip and the cathedral clergy each Thursday at 7.30 pm on live-stream for an Hour of Prayer and Praise called "Verso L'Alto: Reach for the Heights". Bishop Philip writes 'During lockdown and serious situation we continue to face because of the COVID pandemic, as Christians our key task must be to pray for a speedy end to the crisis. We pray for the sick and for heroes, and for the safety of all. So, on Thursday nights over these weeks of lockdown, from 7.30 til 8.30, I'd like to invite you online to join me and the Cathedral clergy for an Hour of Prayer and Praise for these intentions. We need from God a word of assurance, a message of hope, a sign of love. We need a Saviour. We need Christ the Lord and a real friendship with Him. You can join us this Thursday by the Cathedral live-stream to pray for all our intentions, for our safety, for our Diocese, for the sick and for resolution of the crisis. '
Set Free Summit for Young Adults
Stefan Kaminski, Director of The Christian Heritage Centre at Stonyhurst invites you to explore some of their forthcoming opportunities… The "Set Free Summit", offered by ICPE Mission in partnership with the CHC, is an online series of sessions for young adults (18-30 years old), on human sexuality and relationships. It is led by a number of exciting speakers from around the world, building on St John Paul II's beautiful writings. It takes place (online) on the six Sundays from 7th February to 14th March, from 4:00- 5:30pm. Each session involves a talk, sharing in small groups and a general Q&A.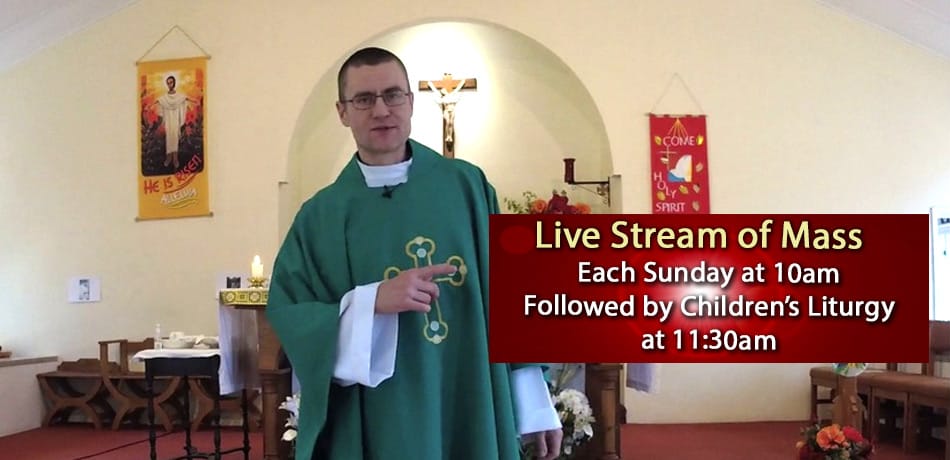 Latest Update Regarding Online Mass
We will be live streaming Mass this Sunday (21st Feb) at 10am from Sacred Heart Church. So please do join Fr Paul this Sunday to celebrate the the 1st Sunday of Lent followed by Children's Liturgy at 11:30am.

Instructions For Watching Mass via our Website
Please note, when watching via our website, you will initially see an image like the above with a pink button below. This is because the video feed from our Church has not been activated. Periodically press the button and if Mass is live, the picture will be replaced with a video player. For more questions - please contact dan@sacredhearthook.org

Why is there no sound?
Before Mass, the camera will initially be muted to avoid people's voices and/or Fr.Paul being picked up. Ensure your volume is turned up too, but rest assured that sound will be restored before Mass starts.

What happens if i lose my connection or the video stops?
Most problems can be resolved by waiting a few seconds and refreshing your browser.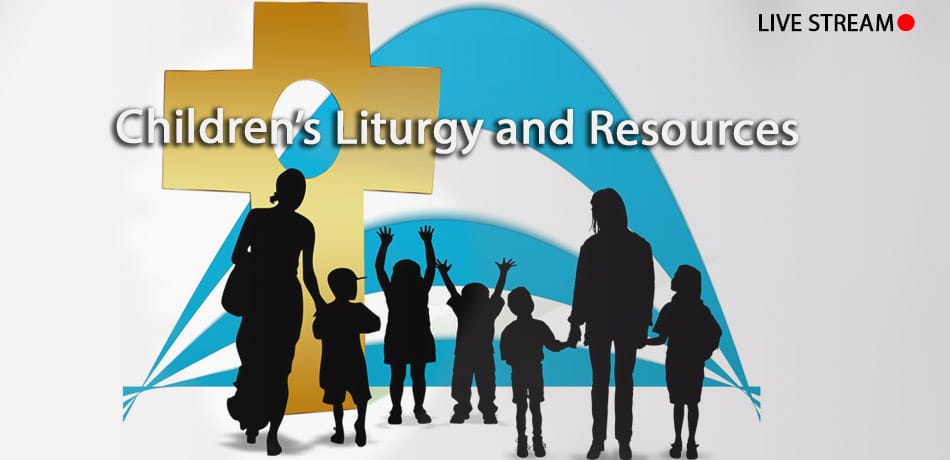 Live Children's Liturgy & Resources Page
This Sunday, Children's Liturgy will be streamed at 11:30am.. This page contains the latest prayers, hymns and downloadable activities, Look worksheets and more. This has been updated for the 1st Sunday of Lent...
This Week's Look Magazine
Bible in a Year with Fr. Mike Schmitz
Fr Mike Schmitz of Ascension Press is delivering a series of Podcasts over 2021 - The Bible in a Year. Unlike any other Bible podcast, Ascension's Bible in a Year Podcast follows a reading plan inspired by The Great Adventure Bible Timeline, a ground-breaking approach to understanding salvation history developed by renowned Catholic Bible teacher Jeff Cavins. With this podcast, you won't just read the Bible in a year … you'll finally understand how all the pieces of the Bible fit together to tell an amazing story that continues in your life today! It is available on most major podcast platforms including Apple, Google, Spotify and others. Have you ever wanted to read the Bible and didn't know where to start? Fr.Mike Schmitz is running a free "Bible in one year" podcast that includes both a brief reading and reflection each day! This follows the same timeline explored in our recent "Unlocking the Mystery of the Bible" course with Deacon Dave Skillen but is easily accessible to everybody! This is day 3 but 1 and 2 are still available. Highly recommended and perfect for the New Year
A Series of Talks Recommended by Deacon Dave
29th - 31st January: Finding Solitude: Led by Michael Woodward and Rev David Clayton
12th – 14th February: Christian Muslim Dialogue: Led by Fr Martin McGee OSB (a monk of Worth Abbey)
26th - 28th February: The Lent Journey – Led Fr Peter Williams OSB and members of Worth monastic community
12th - 14th March: Romero and the Salvadorian Martyrs – Led by Michael Woodward
26th - 28th March: The Holy Shroud – Led by Michael Woodward For all enquiries, please email: toc@worth.org.uk
School of Prayer from the Carmelites
The School of Prayer is intended for those who realise the importance of prayer in their lives and are seeking a deeper relationship with God and support and encouragement in their search. It is not intended as an academic programme; the course will be mainly experiential. Participants will be invited to take an active part in spiritual conversation, workshops and small group sharing. It will also include essential reading, intended as a framework and support for the ongoing process of prayer, reflection and growth. For participants, it will offer the opportunity to be nourished by the rich treasures of Christian prayer with particular reference to the Carmelite tradition – and at the same time to explore their own prayer journey and share this experience with others.
Online Offertory & Donations
An easy way to give online using your debit card has been set up on our website at https://www.sacredhearthook.org/donations. Just click the button and follow the instructions. Thank you so much for your generosity. God bless. Fr. Paul
Pray for Me
Note: The webpage on the Portsmouth Diocese has sadly been removed but you can still contact the Intercessor team directly. Details on our website.

Through the Called & Gifted process run by our Portsmouth Diocese, a growing number of people (currently over 60) have been able to discern that they have the charism of Intercessory Prayer. The intercessions could include prayers for our Diocese, Sacred Heart Church and all the people in it, Fr Paul or maybe something or someone close to you? Perhaps something you're concerned about relating to yourself, a family member or friend? If you wish the intercessors to pray for you, please email the team.

More details on our website.
Latest Blog Posts from our Website
Stations of the Cross
COVID certainly won't stop us with our yearly Stations of the Cross Event! So this Lent, please join us for a virtual Stations of the…
In Memoriam Captain Sir Tom Moore 1921-2021
A poem provided by Bridie Stringer on behalf of Chris McDonnell celebrating the inspiration of Captain Sir Tom Moore
St.Paul by Grania Egan
In this new series, Grania Egan explores each of the Apostles of Christ. We start with St. Paul.
St Stephen – Patron Saint of Deacons and Altar Servers
In our December's March of the Saints series, Grania Egan tells the story behind St Stephen. Patron Saint of Deacons and Altar Servers.
First Holy Communion by Leonardo de Cillis
One of our children, Leonardo, who recently made his First Holy Communion, produced a wonderful PowerPoint presentation of his special day.
Posada 2020 by Maggie Wood
Posada is a chance to host Mary and Joseph to make room for Jesus at Christmas time. Learn how Sacred Heart is celebrating this.
Sacred Heart Catholic Church, Hook
London Road Hook RG27 9LA
(c) Sacred Heart Church, Hook