The Sixth Sunday of Easter
It is with great joy that Mass with a congregation present will resume at Sacred Heart Church from the weekend of Saturday 1st and Sunday 2nd May. In order that we can all come back to Mass safely we will still follow the socially distancing rules and seats will need to be booked.

Booking is by email at hello@sacredhearthook.org. Please title the email "Mass booking" and give the name, address and contact details of all who will be attending including of all those in a family group or by phone call to Jan on 07719012955.

More information and a guide on what to expect can be found on page 3 of this newsletter and on our website's Attending Mass page. Don't forget that the Sunday Mass will still be live streamed via Facebook and our website's Live Page.


Rosary

Please join us for the Rosary during May, starting on Wednesday 5th May at 10:30am, more information in next weeks newsletter
Ascension of the Lord
This is a Holy Day of Obligation, Mass will be at 7:30pm on Thursday 13th, Places will need to be booked and we will also be live streaming the Mass
Urgent Appeal for Lhavoa Orphanage
Sr. Rosaleen from the Portsmouth Diocese has alerted us to an urgent and heart wrenching cause that we've been called to support in regards to our friends in Burma / Myanmar and the children there in an orphanage in Kachin state in the far north. We need your help.
In our Diocese of Portsmouth, we will begin a Year of the Eucharist starting on the Feast of Corpus Christi, 6th June 2021. This will be a unique opportunity for the Diocese as a whole, for parishes and schools, clergy and faithful, families and individuals to rekindle our love for Jesus Christ really and truly present and active in the Holy Eucharist. The Holy Father has made the year 2021 a Year of St. Joseph and so as we begin a Year of the Eucharist, Bishop Philip recommends prayerful reflection on the passages in the Gospels that speak of St. Joseph and which can draw us closer to the Child he loved and cared for.
Cecile has placed some cards and rosaries In the porch that are available to purchase. If there is anything else you would like, please see Jan in the office or Cecile after Mass
May - The Month of Mary and the Month of Prayer
Catholics across the globe are encouraged to dedicate the Marian month of May to praying for an end to the pandemic. The initiative involves 30 Marian Shrines from various parts of the world and takes place under the theme "The whole Church was fervently praying to God," which recalls a verse in the Book of Acts (12:5). Pope Francis will open the Marian month of prayer on 1st May with a Rosary broadcast on Vatican News. Thereafter the Rosary will be broadcast daily at 6 pm Rome time (5 pm UK time).

"Give me an army saying the rosary and I will conquer the world." - Pope Blessed Pius IX
Month Of Mary
Within the experience of the Church, Saturday, has been marked out as a unique day to reflect on Mary's role within God's plan of salvation. Join the Carmelite Community in a Holy Hour dedicated to praying the rosary and reflecting on various aspects of Mary's mystery with this plan of salvation. Each Saturday will draw on the experience of the Carmelite community as we provide a special moment to encourage thought on the Church's devotion to Mary.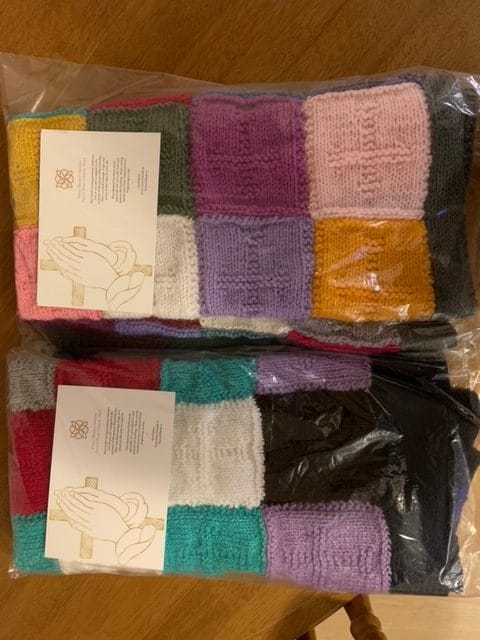 Prayer Blankets
** Our first few blankets have been blessed by Fr.Paul ready to be sent out. But we need to make more!! If you have any spare wool, please contact Andrea if you are able to help with knitting or wool. **

Can you lend us your skill, time or do you have some spare wool? Are you a keen knitter? Good at crocheting or sewing? Would you like to get together with a group of like minded friends over a cup of tea and knit pieces of a patchwork blanket that we can put together to form a prayer blanket? While currently we are unable to physically meet we can virtually meet and chat while we put together these wonderful blankets. The aim is to have a prayer blanket made by knitting individual squares which will then be pieced together to form a blanket / shawl which will be blessed by Fr Paul and sent to those in the parish who are sick or in need of some comfort. If you are interested to learn more please do reach out to Andrea at andrea.waldram@gmail.com.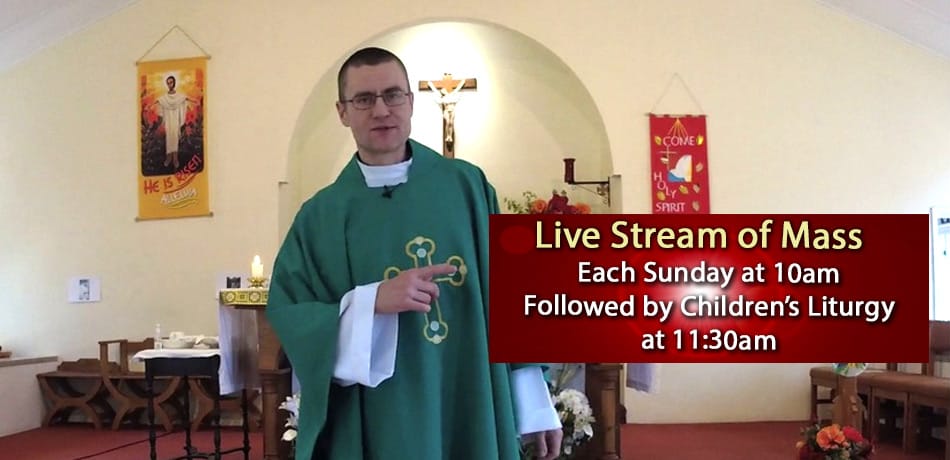 Latest Update Regarding Online Mass
We will be live streaming Mass this Sunday (9th May) at 10am from Sacred Heart Church. So please do join Fr Paul this Sunday to celebrate the the 6th Sunday of Easter followed by Children's Liturgy at 11:30am.

Instructions For Watching Mass via our Website
Please note, when watching via our website, you will initially see an image like the above with a pink button below. This is because the video feed from our Church has not been activated. The video stream will start automatically, but if it doesn't, periodically press the button and if Mass is live, the picture will be replaced with a video player. For more questions - please contact dan@sacredhearthook.org

Why is there no sound?
Before Mass, the camera will initially be muted to avoid people's voices and/or Fr.Paul being picked up. Ensure your volume is turned up too, but rest assured that sound will be restored before Mass starts.

What happens if i lose my connection or the video stops?
Most problems can be resolved by waiting a few seconds and refreshing your browser.
Live Children's Liturgy & Resources Page
This Sunday, Children's Liturgy will be streamed at 11:30am.. We do have a new worksheet though. This page contains the latest prayers, hymns and downloadable activities, Look worksheets and more. This has been updated for the Sixth Sunday of Easter...
This Week's Look Magazine
Online Offertory & Donations
An easy way to give online using your debit card has been set up on our website at https://www.sacredhearthook.org/donations. Just click the button and follow the instructions. Thank you so much for your generosity. God bless. Fr. Paul
Pray for Me
Note: The webpage on the Portsmouth Diocese has sadly been removed but you can still contact the Intercessor team directly. Details on our website.

Through the Called & Gifted process run by our Portsmouth Diocese, a growing number of people (currently over 60) have been able to discern that they have the charism of Intercessory Prayer. The intercessions could include prayers for our Diocese, Sacred Heart Church and all the people in it, Fr Paul or maybe something or someone close to you? Perhaps something you're concerned about relating to yourself, a family member or friend? If you wish the intercessors to pray for you, please email the team.

More details on our website.
Latest Blog Posts from our Website
Urgent Appeal for Lhavoa Orphanage
Sr. Rosaleen from the Portsmouth Diocese has alerted us to an urgent and heart wrenching cause that we've been called to support in regards to…
St James the Greater by Grania Egan
In this new series, Grania Egan explores each of the Apostles of Christ. We continue with St.James the Greater.
Growing in Faith During a Pandemic
Here's a powerful testimony from Theresa Mahon, on how online courses can grow your Catholic Faith in a time of pandemic.
Father Paul Leonard's Talk from Feastcon International
We managed to acquire the full talk that Fr.Paul gave at Feastcon International recently, where he discussed "New Power". This is Fr.Paul, full of the…
Hope in the Pandemic
Lent is time for renewal and we were blessed with Sr.Valentina joining us to talk about how the Pascal Mystery, Jesus' life, death and resurrection,…
St Bartholomew by Grania Egan
In this new series, Grania Egan explores each of the Apostles of Christ. We continue with St.Bartholomew.
Sacred Heart Catholic Church, Hook
London Road Hook RG27 9LA
(c) Sacred Heart Church, Hook