The Month of the Precious Blood
July is traditionally the month dedicated to the Precious Blood of Jesus. Why not pray the beautiful Litany of the Precious Blood each day for the rest of this month?
It is with great joy that Mass with a congregation present has resumed. In order that we can attend Mass safely we will still follow the socially distancing rules and seats will need to be booked.

Booking is by email at hello@sacredhearthook.org. Please title the email "Mass booking" and give the name, address and contact details of all who will be attending including of all those in a family group or by phone call to Jan on 07719012955.

More information and a guide on what to expect can be found on our website's Attending Mass page. Don't forget that the Sunday Mass will still be live streamed via Facebook and our website's Live Page.
The Apostles of Christ - St Andrew
In this new series, Grania Egan explores each of the Apostles of Christ. We continue with St.Andrew.
Summer Fete 2021
We are currently collecting donations for the Fete planned for the 4th September. If you have any of the following please could you reach out to Helena (helenaranson@hotmail.com) and Claire (burroughsclaire@hotmail.com) or drop it off at the church and let Helena or Claire know. We will be making collections on Wednesday or Saturday evenings and Sunday when Mass is on. We are looking for the following items: Bottles – empty and new bottles of wine, spirits or anything alcoholic stuff for raffles and tombola – new unwanted gifts, good quality stuff we can use as prizes, clothing – new or nearly new clothing and handbags.
It's shaping up to be a wonderful event and you can learn more about some of the activities being planned by clicking the button.
Virtual Pilgrimage to the Holy Land
Fr Tom Grufferty invites you to join him on a Virtual Pilgrimage to the Holy Land at 7.30pm on Monday evenings from 6th September to 1st November. There are nine sessions and there will be a different presenter for each one. Each session will last for about 40 minutes. There is no need to book, just click this link at 7.20pm on Monday 6th September and follow the instructions.
Wednesday Rosary at Sacred Heart Church
Please join us for the Rosary during June, each Wednesday at 10:30am. If you don't know the Rosary, you're still warmly welcome and guides will be handed out on the day. You can also download our handy guide from our website.
Please contact hello@sacredhearthook.org for more information about attending.
Iwona Hasting from Basingstoke runs a lovely Rosary Prayer Group every Friday at 7pm via Zoom. There is a handy guide to praying the Rosary on our website.


Anyone interested in joining her group can contact her via email on iwona.hastings@gmail.com for the Zoom link.
Metanoia - New Online Course
Every Catholic, no matter where we are in our faith journey, is invited to a deeper conversion. Metanoia is not a one-time event; rather, it is a continual process of turning away from the things of the world, from lies and sin and discovering a deeper union with Christ.

The North West Hampshire Pastoral area are offering this 10 week course Led by Gerry Penfold, starting on the 13th September and running to the 22nd November at 7.30pm. If you are interested in joining us for this course please register by reaching out to Joan Kent at jkent@portsmouthdiocese.org.uk

The course trailer can be viewed by clicking the button.
Live Children's Liturgy & Resources Page
This Sunday, Children's Liturgy will be streamed at 11:30am.. We do have a new worksheet though. This page contains the latest prayers, hymns and downloadable activities, Look worksheets and more. This has been updated for the Sixteenth Sunday In Ordinary Time...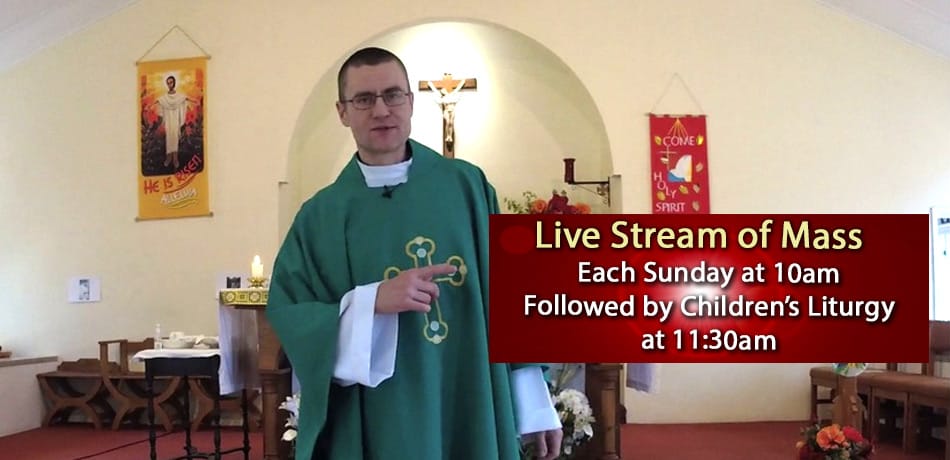 Latest Update Regarding Online Mass
We will be live streaming Mass this Sunday (18th July) at 10am from Sacred Heart Church. So please do join Fr Paul this Sunday to celebrate The Sixteenth Sunday in Ordinary Time followed by Children's Liturgy at 11:30am.

Instructions For Watching Mass via our Website
Please note, when watching via our website, you will initially see an image like the above with a pink button below. This is because the video feed from our Church has not been activated. The video stream will start automatically, but if it doesn't, periodically press the button and if Mass is live, the picture will be replaced with a video player. For more questions - please contact dan@sacredhearthook.org

Why is there no sound?
Before Mass, the camera will initially be muted to avoid people's voices and/or Fr.Paul being picked up. Ensure your volume is turned up too, but rest assured that sound will be restored before Mass starts.

What happens if i lose my connection or the video stops?
Most problems can be resolved by waiting a few seconds and refreshing your browser.

Safe Spaces
Safe Spaces is a free, national support service independently run by Victim Support. It provides a confidential, personal and safe space for anyone who has been abused through their relationship with either the Church of England or the Catholic Church of England and Wales. For those within our church communities who are in need of support, more information can be found here.
Online Offertory & Donations
An easy way to give online using your debit card has been set up on our website at https://www.sacredhearthook.org/donations. Just click the button and follow the instructions. Thank you so much for your generosity. God bless. Fr. Paul
Pray for Me
Note: The webpage on the Portsmouth Diocese has sadly been removed but you can still contact the Intercessor team directly. Details on our website.

Through the Called & Gifted process run by our Portsmouth Diocese, a growing number of people (currently over 60) have been able to discern that they have the charism of Intercessory Prayer. The intercessions could include prayers for our Diocese, Sacred Heart Church and all the people in it, Fr Paul or maybe something or someone close to you? Perhaps something you're concerned about relating to yourself, a family member or friend? If you wish the intercessors to pray for you, please email the team.

More details on our website.
Latest Blog Posts from our Website
St Andrew by Grania Egan
In this new series, Grania Egan explores each of the Apostles of Christ. We continue with St.Andrew.

Urgent Appeal for Lhavoa Orphanage
Sr. Rosaleen and Holly from the Portsmouth Diocese has alerted us to an urgent and heart wrenching cause that we've been called to support in…

St James the Greater by Grania Egan
In this new series, Grania Egan explores each of the Apostles of Christ. We continue with St.James the Greater.

Growing in Faith During a Pandemic
Here's a powerful testimony from Theresa Mahon, on how online courses can grow your Catholic Faith in a time of pandemic.

Father Paul Leonard's Talk from Feastcon International
We managed to acquire the full talk that Fr.Paul gave at Feastcon International recently, where he discussed "New Power". This is Fr.Paul, full of the…

Hope in the Pandemic
Lent is time for renewal and we were blessed with Sr.Valentina joining us to talk about how the Pascal Mystery, Jesus' life, death and resurrection,…
Sacred Heart Catholic Church, Hook
London Road Hook RG27 9LA
(c) Sacred Heart Church, Hook