E-Newsletter for First Sunday of Advent
Thought for the Week

The season of Advent prepares us to look at the world through Christ's eyes: it prepares us for His coming into our lives in a deeper way. Sometimes people think that we prepare by ignoring the world we live in, or imagine that the difficulties of this life are an obstacle between ourselves and God. But Christ makes it plain that we prepare for His coming precisely by taking a searching look at this world and perceiving, through the disorder, the guiding hand of God. With Christ's insight we can recognise that God is truly with us. Advent is a time to set aside, to stop and reflect on how Christ comes into our lives. First, Advent directs us to the birth of Christ in Bethlehem. Second, Advent directs our attention to Christ's coming in our everyday life. Finally, Advent directs us to Christ's coming for the last time - the "day [that] will be sprung on you suddenly, like a trap". If we have contemplated His coming at Christmas and in our daily life, this final coming will be no fearful scanning of the horizon. It will be a welcoming of a Lord who has been close to us.
Taken from The Living Word, Redemptorist

DATES FOR YOUR DIARY

Sat 27 Nov - Christmas Wreath Workshop
Sat 4 Dec - Christmas Bazaar
Sat 18 - Dec Advent Afternoon of Prayer
Sun 19 - Dec Advent Children's Liturgy Workshop
Sun 19 - Dec Pastoral Area Reconciliation Service
Sun 16 - Litter pick in Hook

Please contact hello@sacredhearthook.org if you'd like to attend or need more info on any of these events.

Congratulations

Prayers and congratulations to Fr. Christopher Rutledge who has been elected a member of the Cathedral Chapter. 'Canon' Chris is currently the parish priest & Dean of Guernsey. He will be installed at the next Chapter Mass in March. Let's offer our prayers for him. May God bless him

Pope Francis Prayer Intention

Catechists: Let us pray for the catechists, summoned to announce the Word of God: may they be its witnesses, with courage and creativity and in the power of the Holy Spirit.
Reconciliation Service for our Pastoral Area At St Bede's Church, Sunday 19 Dec 2.30 pm
Christmas Mass:
Christmas Eve (Friday) 4 pm Children's Christmas Service
Adults must be accompanied by a Child
6 pm Christmas Eve Mass
8 pm Christmas Eve Mass
Christmas Day (Saturday) 10:00 am
Mass During the Day
Booking is by email at hello@sacredhearthook.org. Please title the email "Mass booking" and give the name, address and contact details of all who will be attending including of all those in a family group. Booking closes on Thursday at 1:30pm. Don't forget to indicate which Mass you will be attending. You will receive an email during Friday morning with more instructions.

More information and a guide on what to expect can be found on our website's Attending Mass page.

Don't forget that this Sunday, Mass will still be live streamed via YouTube and our website's Live Page.
COVID Restrictions Update
Our priority is to continue to create a safe environment within our Parish. Due to the size of the Sacred Heart, we adopted a cautious approach; in recognition that many of our parishioners are vulnerable or elderly, so we will continue to adhere to all COVID guidelines.
For the safety and wellbeing of all, we shall continue to:
• wear face coverings whilst inside the church and hall.
• social distance, within the church and hall, with the use of crosses to close seats.
• encourage parishioners to sanitise their hands, before and after Mass.
• In recognition of the differing needs of our parishioners, we have decided to carry on with the following
• Saturday 6pm and Sunday 10am Masses will therefore continue, with social distancing in place, with a maximum capacity of 60 parishioners, and the Masses MUST be booked. Please do not embarrass the stewards by turning up without booking, as they will be turning you away, even if it appear spacious.
• For Wednesday 10am Mass and The Rosary you do not need to be book, but the above rules still apply.
New
We will continue to take bookings. But we will be allowing you to chose your own seats at Mass, please listen to the welcomers for more instructions. We will continue to live stream Sunday morning Mass via YouTube and our website.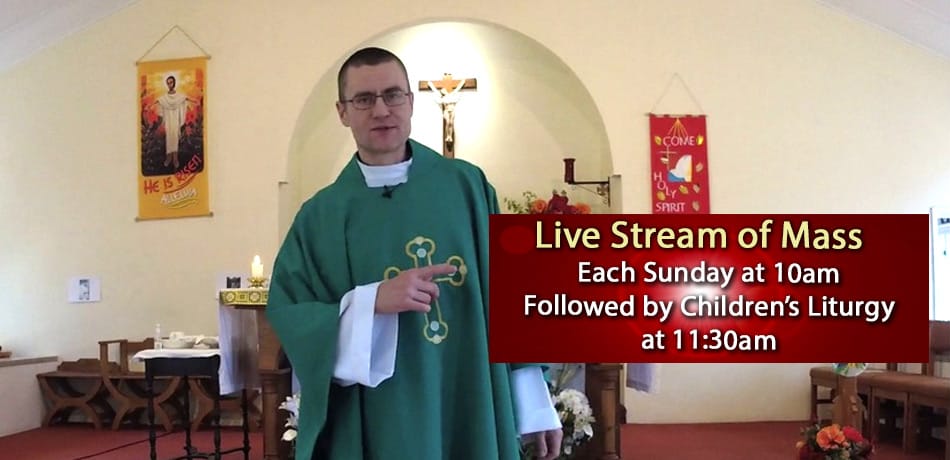 Sunday's Live Mass Stream
We will be live streaming Mass for the First Sunday of Advent this Sunday morning at 10am from Sacred Heart Church. Sunday Mass will be followed by Children's Liturgy at 11.30am.

New Camera
Our new camera with automatically allow you to watch our live Mass stream via our website and YouTube. However, we will no longer be live streaming on Facebook.

Instructions For Watching Mass via our Website
Please note, when watching via our website, you will initially see an image like the above with a play button. This is because the video feed from our Church has not been activated. The video stream will start automatically, so press the play button and if Mass is live, the picture will be replaced with a video player. For more questions - please contact dan@sacredhearthook.org

Instructions For Watching Mass via YouTube If you'd prefer to watch via YouTube, you can do so here. Don't to forget to like and subscribe.

Why is there no sound?
Before Mass, the camera will initially be muted to avoid people's voices and/or Fr.Paul being picked up. Ensure your volume is turned up too, but rest assured that sound will be restored before Mass starts.

What happens if i lose my connection or the video stops?
Most problems can be resolved by waiting a few seconds and refreshing your browser.
Church Christmas Bazaar - 4th December
We invite you to come along to a Church Christmas Bazaar on the 4th December. Get an early start on your Christmas shopping and grab some unique gifts at bargain prices or pop along for some mince pies and mulled wine or get the kids to come and meet santa!! We will also be selling raffle tickets after Mass during the lead up to the bazaar so come and find us at the back of church!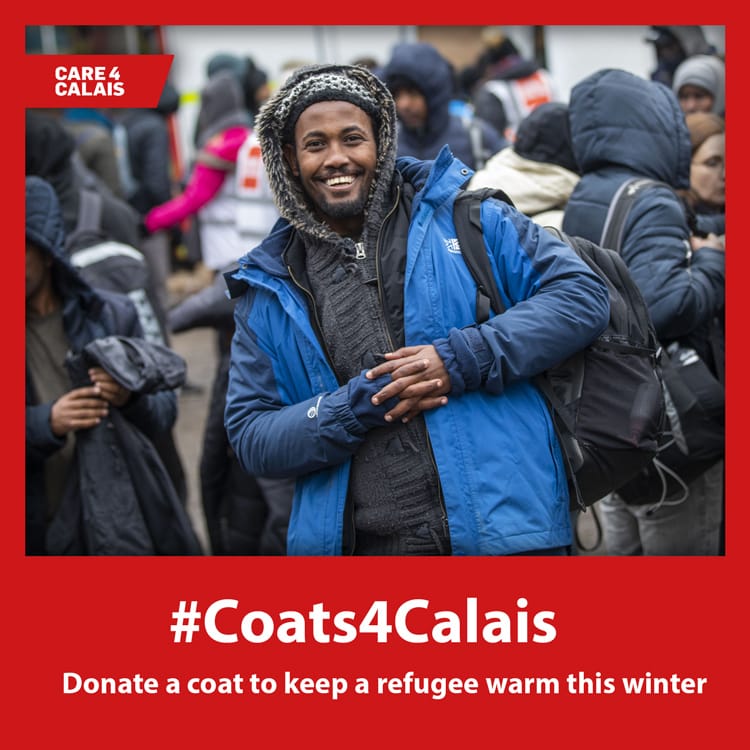 Coats4Calais
Each year Coats4Calais provides warm clothing for many of the refugees in Calais throughout the winter months. This is an opportunity for you to clear your wardrobes of your unwanted coats, jackets, scarves, hats and gloves. However any donations of warm items like sleeping bags, duvets etc. will be gratefully received. I am the point of contact in Basingstoke for the collection of donations. Items can be received between 06 November & 11 December. They will be very much appreciated. Please contact me on any of the following: (m) 07881781407, landline: 01256 419427, email: joeshevlin@icloud.com to arrange the drop-off point for the items. More information about this project may be found on the following link:
Advent Retreat Day with Verum Dei Missionary Community
Saturday 18th December 2021 in the Church from 2pm - 5pm.
"Blessed is she who believed in God's promises." (Lk 1:45)
Join us on an Advent Retreat Day with Mother Mary, in preparation to live Christmas open to the spiritual gifts that God wants to give us. With some talks, time for personal reflection and sharing.
Sunday 19th December 2021 in the Church from 11:00 - 12.30. All children aged 4+ are welcome to this workshop where we will be looking at Creation - why it is so important to our lives and our families, now and in the future and that we need to do all we can to take care of our planet.
We will have activities for younger children as well as older ones. We will be working in the church and family groups are welcome to work together. Children under 4 years are very welcome with parental help Older children are especially welcome to help! Refreshments will be available. Please let us know of any allergies when you book your places at hello@sacredhearthook.org
Update. Sacred Heart Activities and Resources on Environment (SHARE)
Plastics have very much been in the news lately and I am sure that most of you recycle plastic bottles and containers in the blue bins that are provided by Hampshire County Council.


You may recall that Village Magpies - the purple bin in the Church's front garden - also recycle some plastic containers - beauty products, crisp packets and many more ( Village Magpies, Recycle your waste in Rotherwick, Lyde Green, Hook )

The UK's target for plastic recycling is 50% of all plastics, but unfortunately it missed this target - 46%. in 2020. In addition the plastics industry are projecting that they will increase production from 368 million tonnes in 2019 to 1.2 billion tonnes in 2050 - quite scary figures!

From April 2022, the Government will be taxing those companies that do not include 30% recycled plastic in their packaging - this is very welcome, but we need to do more. Encourage supermarkets to provide more foods without plastic packaging - for example, loose fruit and veg, meat, fish and cooked meats in paper. Also think about shopping in Zero Waste/Refill Shops - there are shops in Basingstoke, Fleet and South Warnborough - you can bring your own containers or they will weigh out foods in paper bags - they are committed to no plastics.

Thank you.
Live Children's Liturgy & Resources Page
We have a new worksheet that is live on our website. This page contains the latest prayers, hymns and downloadable activities, Look worksheets and more. This has been updated for First Sunday of Advent...
Have you ever considered being a church reader or are you already reading at Mass, but missed out on the Diocesan training. This December, our Readers Training Team will be offering online the two Readers Workshops: • Workshop 1 (the Liturgy of the Word / Practical skills) on 4th December 10am - 1pm • Workshop 2 (the Bible / Preparing a text) on 11th December 10am - 1pm You can register for the workshops, knowing that you need to have attended workshop 1 and workshop 2 to obtain a diocesan recognitio.

Please follow this link to the registration page https://www.pffm.org.uk/readers
Online Offertory & Donations
An easy way to give online using your debit card has been set up on our website at https://www.sacredhearthook.org/donations. Just click the button and follow the instructions. Thank you so much for your generosity. God bless. Fr. Paul
Pray for Me
Note: The webpage on the Portsmouth Diocese has sadly been removed but you can still contact the Intercessor team directly. Details on our website.

Through the Called & Gifted process run by our Portsmouth Diocese, a growing number of people (currently over 60) have been able to discern that they have the charism of Intercessory Prayer. The intercessions could include prayers for our Diocese, Sacred Heart Church and all the people in it, Fr Paul or maybe something or someone close to you? Perhaps something you're concerned about relating to yourself, a family member or friend? If you wish the intercessors to pray for you, please email the team.

More details on our website.
Advent with Alex from the Carmelites
During a series of three, weekly (one-hour), Saturday online workshops, artist, Alex Roberts will join Fr. Tony Parsons to share how making, viewing, and experiencing works of art can offer pause for personal reflection. Using examples of site-specific works (Hope, Cleanse, Reveal, 2017) Alex previously made for an exhibition at St. Paul's Cathedral London, the artist will provide insights into what she observed, proposed, created, and acknowledged from the exhibition experience. Alongside delivering some practical tips on how to allow your subjects of interests choose you, spurring you to get drawing, painting, building and doodling! Fostering a reflective dialogue through making.
Carmelite Spirituality
Our Carmelite friends from Oxford invite us all to join with them in their gentle, contemplative spirituality that's inspired by Carmelite Saints such as St Teresa of Avila and St John of the Cross. They offer a number of free and paid talk, retreats, courses and spiritual direction options that will help you deepen your relationship with God.
Latest Blog Posts from our Website
Urgent Appeal for Orphans in Myanmar
*Updated* Sr. Rosaleen and Holly from the Portsmouth Diocese has alerted us to an urgent and heart wrenching cause that we've been called to support…

Discovering Prayer Apps During the Pandemic by Jennifer Hutton
In this new article, Jennifer Hutton explains how these top prayer apps have helped her during the pandemic and on her daily commute.

St Andrew by Grania Egan
In this new series, Grania Egan explores each of the Apostles of Christ. We continue with St.Andrew.

St James the Greater by Grania Egan
In this new series, Grania Egan explores each of the Apostles of Christ. We continue with St.James the Greater.

Growing in Faith During a Pandemic
Here's a powerful testimony from Theresa Mahon, on how online courses can grow your Catholic Faith in a time of pandemic.

Father Paul Leonard's Talk from Feastcon International
We managed to acquire the full talk that Fr.Paul gave at Feastcon International recently, where he discussed "New Power". This is Fr.Paul, full of the…
Sacred Heart Catholic Church, Hook
London Road Hook RG27 9LA
(c) Sacred Heart Church, Hook