E-Newsletter for the Second Sunday in Ordinary Time

DATES FOR YOUR DIARY


Sun 16 January - Litter pick in Hook
Sat 22nd January - Litter pick in Hook

Sat 22nd January - ADoRe Online Retreat
Sun 23 January - Unity Worship Service

Please contact hello@sacredhearthook.org if you'd like to attend or need more info on any of these events.

More News and Events

Please keep an eye on the Events Page on our website.

Pope Francis January Prayer Intention

Pope Francis asks us to pray for true human fraternity. We pray for all those suffering from religious discrimination and persecution; may their own rights and dignity be recognised, which originate from being brothers and sisters in the human family.

A Day of Peace for Prayer

This Sunday, 16th January, is in England a Day of Prayer for Peace. This year Pope Francis asks us to think about 'Education, work and dialogue between generations: tools for building lasting peace'. The need for peace in the world is obvious. People are struggling against violence and conflict, growing inequalities, the effects of climate change and the covid pandemic. How can we harness the gifts and energy of all generations in the work of peace-making? Which 'tools for building lasting peace' do you think Pope Francis might be talking about? In this country we have an active Catholic peace movement in Pax Christi, which does a much work to promote peace and nonviolence through parishes, schools and social media. To find out more go to Peace Sunday 16 January 2022 – Pax Christi England and Wales.

Booking for regular Mass is by email at hello@sacredhearthook.org. Please title the email "Mass booking" and give the name, address and contact details of all who will be attending including of all those in a family group. Booking closes on Thursday evening. Don't forget to indicate which Mass you will be attending. You will receive an email during Friday morning with more instructions.

More information and a guide on what to expect can be found on our website's Attending Mass page.

Don't forget that Mass on Sunday, will be live streamed via YouTube and our website's Live Page.
Please only attend if you have a confirmed booking and have not cancelled.
Please follow the instruction of the Welcomers.
Face coverings must be worn whilst you are in the church.
All the doors and windows will be open during Mass, so please wrap up warm.
In line with government guidance, we are requesting that you and your party please do Lateral Flow Tests before attending Mass.
Our priority is to continue to create a safe environment within our Parish. Due to the size of the Sacred Heart, we adopted a cautious approach; in recognition that many of our parishioners are vulnerable or elderly, so we will continue to adhere to all COVID guidelines.
For the safety and wellbeing of all, we shall continue to:
• wear face coverings whilst inside the church and hall.
• social distance, within the church and hall, with the use of crosses to close seats.
• encourage parishioners to sanitise their hands, before and after Mass.
• In recognition of the differing needs of our parishioners, we have decided to carry on with the following
• Saturday 6pm and Sunday 10am Masses will therefore continue, with social distancing in place, with a maximum capacity of 60 parishioners, and the Masses MUST be booked. Please do not embarrass the stewards by turning up without booking, as they will be turning you away, even if it appear spacious.
• For Wednesday 10am Mass and The Rosary you do not need to be book, but the above rules still apply.
New
We will continue to take bookings. But we will be allowing you to chose your own seats at Mass, please listen to the welcomers for more instructions. We will continue to live stream Sunday morning Mass via YouTube and our website.
Please note that the wearing of face coverings is mandatory in all Church Buildings.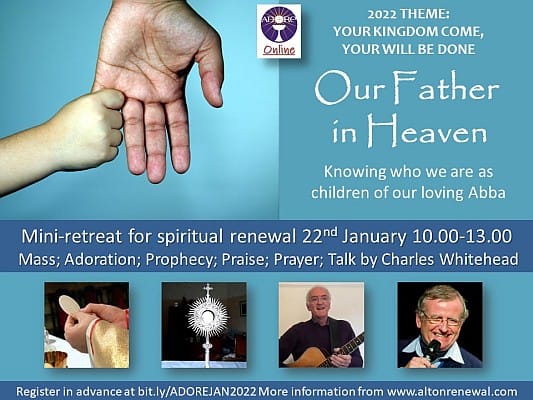 ADoRE Online - Our Father in Heaven
ADoRE Online spiritual mini-retreat morning. January 22nd 10.00-13.00 with Mass, Adoration, Reflection, Praise, Talk, Prayer and Discussion. Theme: "Our Father in Heaven" – Knowing who we are as children of our loving Abba. Our special guest speaker is Charles Whitehead KSG, acclaimed international renewal author and speaker who was appointed by Pope Saint John Paul II to run the International Catholic Charismatic Renewal office in Rome. Please register for the Zoom meeting in advance. View the poster and register by clicking "learn more".
Online Collection and Regular Donations
Some of you have asked how you can continue to support the church financially with your regular giving even if you are unable to physically come to church during these days. I am very grateful for your generous spirit especially during this period when some of you are suffering financially. If you feel that you are able to continue to support the church, then an easy way to give has been set up below. Just click the button and follow the instructions. Thank you so much for your generosity.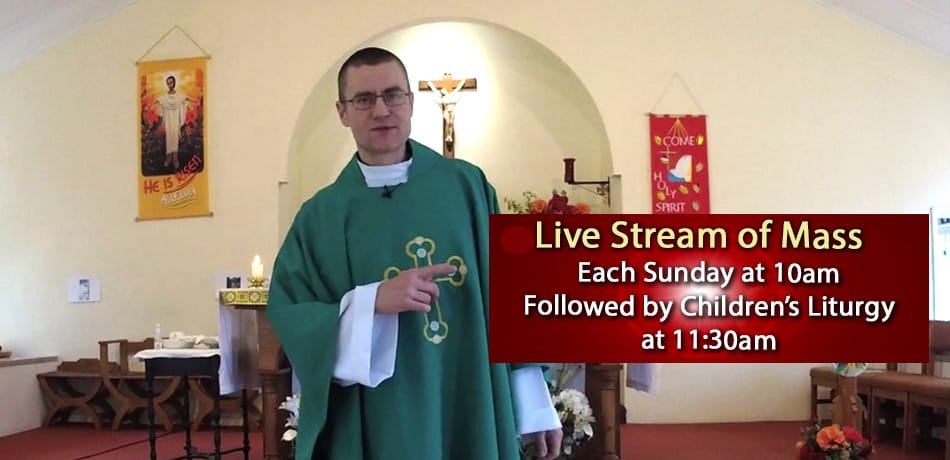 Sunday's Live Mass Stream
We will be live streaming Mass for the Second Sunday in Ordinary Time this Sunday morning at 10am from Sacred Heart Church.

New Camera
Our new camera with automatically allow you to watch our live Mass stream via our website and YouTube. However, we will no longer be live streaming on Facebook.

Instructions For Watching Mass via our Website
Please note, when watching via our website, you will initially see an image like the above with a play button. This is because the video feed from our Church has not been activated. The video stream will start automatically, so press the play button and if Mass is live, the picture will be replaced with a video player. For more questions - please contact dan@sacredhearthook.org

Instructions For Watching Mass via YouTube If you'd prefer to watch via YouTube, you can do so here. Don't to forget to like and subscribe.

Why is there no sound?
Before Mass, the camera will initially be muted to avoid people's voices and/or Fr.Paul being picked up. Ensure your volume is turned up too, but rest assured that sound will be restored before Mass starts.

What happens if i lose my connection or the video stops?
Most problems can be resolved by waiting a few seconds and refreshing your browser.
SHARE - Sacred Heart Activities and Resources on the Environment
Recycling is one important way of helping to reduce waste and maximise the resources that we have, in this beautiful planet of ours and we are fortunate to have Village Magpies purple bin in the church grounds - they are based in Rotherwick and recycle a wide range of plastics including Biscuit packaging, All crisp packets, Taylor of Harrogate coffee and tea packets , Marigold rubber gloves, Pringles packets, beauty products, Cleaning products, Baylis & Harding soap dispensers, To name but a few. It is always worth checking on their website https://www.villagemagpies.co.uk as they are expanding their recycling all the time. Tescos are also collecting any plastic carrier bags, crisp packets, plastic wrappers, any plastic bags and food and pet pouches- there is a big container in the entrance of the Hook store. If you were fortunate to receive soaps, body lotions and other toiletries that you don't need, these can always be recycled via the Food Bank box in our church porch.
Week of Prayer for Christian Unity
18-25 Jan An extract from Bishop Philip Egan (e-news) "We pray together and through our prayers come trust, friendship and the desire to work together. The late Cardinal Hume once said that Christians "should not do apart that which we can do together" – and this, I believe, should be our default approach to so many of the pastoral issues that face all our communities. Yes, we need to recognise our differences, but there is much that unites us & allows us to work and pray together. I want us all to be more open to the spiritual gifts that flow from a greater engagement with our fellow Christians. If we are honest, Christian Unity is something that many Catholics have long viewed as a bit of a "side-issue" - perhaps because it hasn't been given the prominence in our parishes that it demands. Yet we have it from the very highest authority that unity is central to the very nature of the Church. On the night before he died, Jesus prayed for unity amongst his disciples "that they may all be one" – and he linked his prayer to the mission that he had given them, "so that the world may believe" (John 17:21). Vatican II lamented that this unity had fragmented, noting that division among Christian communities "openly contradicts the will of Christ [and] scandalizes the world" and Saint John Paul II in his encyclical Ut unum sint, told us that "the quest for Christian unity is not a matter of choice or expediency, but a duty which springs from the very nature of the Christian community". in his varied ministry, one that could and should be Christian Unity isn't a side-issue ...- make Christian Unity more of a priority in your parish."
Live Children's Liturgy & Resources Page
Children's Liturgy will be live streamed this Sunday at 11:30am .

We do have new worksheets that are live on our website. This page contains the latest prayers, hymns and downloadable activities, Look worksheets and more. This has been updated for the Second Sunday in Ordinary Time..
Pray for Me
Note: The webpage on the Portsmouth Diocese has sadly been removed but you can still contact the Intercessor team directly. Details on our website.

Through the Called & Gifted process run by our Portsmouth Diocese, a growing number of people (currently over 60) have been able to discern that they have the charism of Intercessory Prayer. The intercessions could include prayers for our Diocese, Sacred Heart Church and all the people in it, Fr Paul or maybe something or someone close to you? Perhaps something you're concerned about relating to yourself, a family member or friend? If you wish the intercessors to pray for you, please email the team.

More details on our website.
Events from the Carmelites
Expand the Place in your Tend – Jan 17th at 7pm
As the new year begins, opportunities for growth in the spiritual life abound. Join Canon John Udris as he explores expansion of heart in the thought of the mystics and in the process of discernment, helping us to ready our hearts in a place of receptivity for the inflow of God. The evening will offer plenty of time for prayer and sharing.
Letting Teresa Speak – Jan 22nd to Feb 26th
By allowing Teresa to speak to us through her own words, it will provide participants with an insight into her character, her concerns, and the central themes of her mystical theology. Join us in this Online Course.
Let Us Dream – from Jan 26th to Feb23rd
In this FREE Online Talk, we begin with Pope Francis' book "Let Us Dream – A Path To A Better Future". He offers his opinion clearly on current affairs, setting him apart from other world leaders. In doing so, His Holiness has ventured where many an angel would fear to tread – and left himself vulnerable, personally. Yet in Let us Dream we have an author who encourages us to face such realities confidently and discern what we are to learn from it all.
Latest Blog Posts from our Website
Sacred Heart Catholic Church, Hook
London Road Hook RG27 9LA
(c) Sacred Heart Church, Hook