E-Newsletter for the Third Sunday in Ordinary Time
Booking for regular Mass is by email at hello@sacredhearthook.org. Please title the email "Mass booking" and give the name, address and contact details of all who will be attending including of all those in a family group. Booking closes on Thursday evening. Don't forget to indicate which Mass you will be attending. You will receive an email during Friday morning with more instructions.

More information and a guide on what to expect can be found on our website's Attending Mass page.

Don't forget that Mass on Sunday, will be live streamed via YouTube and our website's Live Page.
Please only attend if you have a confirmed booking and have not cancelled.
Please follow the instruction of the Welcomers.
Face coverings must be worn whilst you are in the church.
All the doors and windows will be open during Mass, so please wrap up warm.

We are requesting that you and your party consider to do Lateral Flow Tests before attending Mass.
Our priority is to continue to create a safe environment within our Parish. Due to the size of the Sacred Heart, we adopted a cautious approach; in recognition that many of our parishioners are vulnerable or elderly, so we will continue to adhere to all COVID guidelines.
For the safety and wellbeing of all, we shall continue to:
• wear face coverings whilst inside the church and hall.
• social distance, within the church and hall, with the use of crosses to close seats.
• encourage parishioners to sanitise their hands, before and after Mass.
• In recognition of the differing needs of our parishioners, we have decided to carry on with the following
• Saturday 6pm and Sunday 10am Masses will therefore continue, with social distancing in place, with a maximum capacity of 60 parishioners, and the Masses MUST be booked. Please do not embarrass the stewards by turning up without booking, as they will be turning you away, even if it appear spacious.
• For Wednesday 10am Mass and The Rosary you do not need to be book, but the above rules still apply.
New
We will continue to take bookings. But we will be allowing you to chose your own seats at Mass, please listen to the welcomers for more instructions. We will continue to live stream Sunday morning Mass via YouTube and our website.
Please note that the wearing of face coverings is mandatory in all Church Buildings.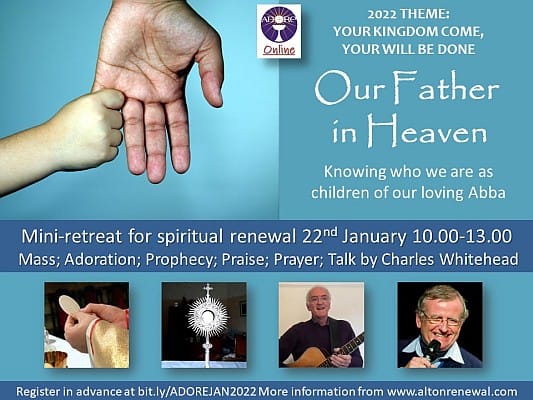 ADoRE Online - Our Father in Heaven
ADoRE Online spiritual mini-retreat morning. January 22nd 10.00-13.00 with Mass, Adoration, Reflection, Praise, Talk, Prayer and Discussion. Theme: "Our Father in Heaven" – Knowing who we are as children of our loving Abba. Our special guest speaker is Charles Whitehead KSG, acclaimed international renewal author and speaker who was appointed by Pope Saint John Paul II to run the International Catholic Charismatic Renewal office in Rome. Please register for the Zoom meeting in advance. View the poster and register by clicking "learn more".
PORTSMOUTH DIOCESE KNOCK PILGRIMAGE
"Knock Pilgrimages" is organising a four night Pilgrimage especially for parishioners of the Portsmouth Diocese.
The pilgrimage to Knock will begin on Monday 14th March 2022. Please contact Patricia Ronane for more
information at knockpilgrimages@gmail.com
PILGRIMAGE TO THE HOLY LAND
Canon John Cooke will be leading a Pilgrimage to the Holy Land from 6th – 17th March 2022 travelling with McCabe Pilgrimages
A postponed 2021 Pilgrimage is now set to travel this Spring, albeit with some of the 'normal' COVID travel restrictions. Due to the postponement, and for various reasons, some pilgrims are now unable to join the group so there are a few last minute spaces available. It will be a 12 Day, 3 centred experience through the Holy Land; residing in the Negev (kibbutz), Jerusalem (by the Old City Walls) & finishing by the Sea of Galilee (with a sea view) It is a fully guided trip (with individual headsets), and all your entrance fees, transfers, meals & tips are included.
If you'd like a brochure or more information please contact Canon John: jcooke@portsmouthdiocese.org.uk.
A Pre-Pilgrimage Social & Information Session will take place on Saturday 15th January at 11am in the Sacred
Heart Hall, Fareham, PO16 0NF.
LOURDES PILGRIMAGE 2022
Our Diocese of Portsmouth Annual Pilgrimage to Lourdes will take place from 18th to 22nd July 2022.
Bishop Philip is now very pleased to be able to invite you once again to join him and many others from across the Diocese on this pilgrimage. We will be leaving from Bournemouth airport. Once in Lourdes we will stay at the Hotel La Solitude, celebrate Mass daily and take part in all that Lourdes has to offer. If you would like to know more about joining him either a a pilgrim or as a youth pilgrim, serving our pilgrims and helping to make our pilgrimage a success, please email lourdes@portsmouthdiocese.org.uk

More information will be posted here when it becomes available.
CAFOD - Walk Against Hunger
This Lent CAFOD are asking you to help to stamp out hunger by joining their new Lent challenge, Walk Against Hunger. You can take on the individual challenge of walking 200km – 5km each day for the 40 days of Lent or walk as a group to reach 200km. There will also be a community Walk against Hunger on Saturday 26th March.
Latest Update
Bishop Philip and the Diocesan Trustees approved the Environment Strategy for the Diocese just before Christmas. Caritas work will now focus on developing a plan with other teams across the diocese, to put into action the work needed to achieve our diocesan environmental targets, which include net carbon zero by 2030, a really significant target. Other Caritas work will be looking at biodiversity throughout the diocesan estate and assisting parishes and parishioners to play their part in our work for the care of Creation. We all have a part to play in this very important work, so we are asking you all to consider making a personal pledge to help the environment. If you visit https://www.surveymonkey.co.uk/r/LL9YKNF you will be able to access a pledge questionnaire which will help you identify what you can do as an individual to help in this work.
Online Collection and Regular Donations
Some of you have asked how you can continue to support the church financially with your regular giving even if you are unable to physically come to church during these days. I am very grateful for your generous spirit especially during this period when some of you are suffering financially. If you feel that you are able to continue to support the church, then an easy way to give has been set up below. Just click the button and follow the instructions. Thank you so much for your generosity.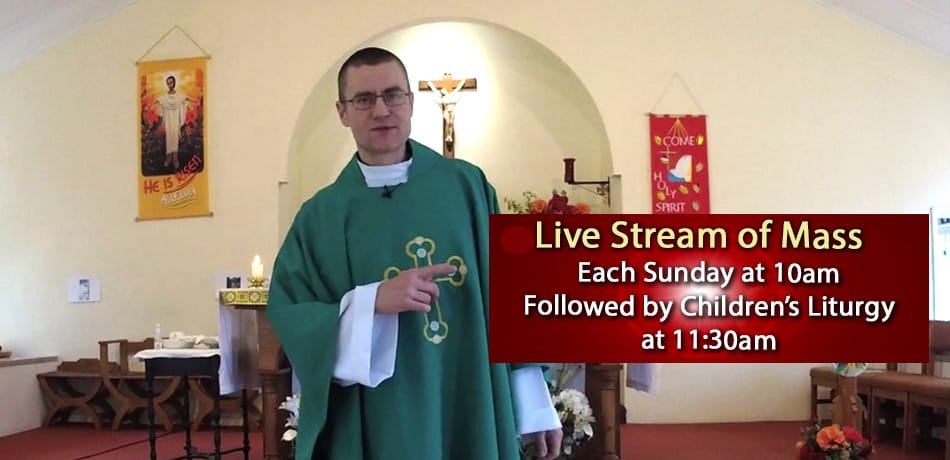 Sunday's Live Mass Stream
We will be live streaming Mass for the Third Sunday in Ordinary Time this Sunday morning at 10am from Sacred Heart Church. This will be followed by Children's Liturgy at 11:30am.

New Camera
Our new camera with automatically allow you to watch our live Mass stream via our website and YouTube. However, we will no longer be live streaming on Facebook.

Instructions For Watching Mass via our Website
Please note, when watching via our website, you will initially see an image like the above with a play button. This is because the video feed from our Church has not been activated. The video stream will start automatically, so press the play button and if Mass is live, the picture will be replaced with a video player. For more questions - please contact dan@sacredhearthook.org

Instructions For Watching Mass via YouTube If you'd prefer to watch via YouTube, you can do so here. Don't to forget to like and subscribe.

Why is there no sound?
Before Mass, the camera will initially be muted to avoid people's voices and/or Fr.Paul being picked up. Ensure your volume is turned up too, but rest assured that sound will be restored before Mass starts.

What happens if i lose my connection or the video stops?
Most problems can be resolved by waiting a few seconds and refreshing your browser.
SHARE - Sacred Heart Activities and Resources on the Environment - Latest Update
With 'Veganuary' , many people are looking at the carbon footprint of animals in our food chain, such as cows and sheep, and their impact in terms of greenhouse gases, and wondering whether we can consider a life with considerably less beef and dairy, for example. Cows in particular produce considerable quantities of methane gas, a particularly long-living greenhouse gas in our atmosphere and contribute something in the region of 15% of all greenhouse gases, mainly because of the intensive farming associated with dairy .

Some people will eat meat every day, at one or two of their daily meals and it is something that they have done for most of their life. Others are trying to be more vegetarian or vegan in their diet.
Perhaps there is a mid path – scientists recommend that if we reduced our meat and dairy consumption, to possibly a maximum of twice a week – over time, that would have a significant impact on the greenhouse gas levels.

It's life changing – Pope Francis in Laudato Si reminds us that we must all, as individuals, do what we can to protect this beautiful planet that we have been entrusted with.
I would encourage you to read his letter, it is quite beautiful.

Perhaps give it a go – try plant based meals for two/three times a week and see how you get on.

Good Luck!

To read all about SHARE, our previous articles and to get involved - please click the button.
Week of Prayer for Christian Unity
18-25 Jan An extract from Bishop Philip Egan (e-news) "We pray together and through our prayers come trust, friendship and the desire to work together. The late Cardinal Hume once said that Christians "should not do apart that which we can do together" – and this, I believe, should be our default approach to so many of the pastoral issues that face all our communities. Yes, we need to recognise our differences, but there is much that unites us & allows us to work and pray together. I want us all to be more open to the spiritual gifts that flow from a greater engagement with our fellow Christians. If we are honest, Christian Unity is something that many Catholics have long viewed as a bit of a "side-issue" - perhaps because it hasn't been given the prominence in our parishes that it demands. Yet we have it from the very highest authority that unity is central to the very nature of the Church. On the night before he died, Jesus prayed for unity amongst his disciples "that they may all be one" – and he linked his prayer to the mission that he had given them, "so that the world may believe" (John 17:21). Vatican II lamented that this unity had fragmented, noting that division among Christian communities "openly contradicts the will of Christ [and] scandalizes the world" and Saint John Paul II in his encyclical Ut unum sint, told us that "the quest for Christian unity is not a matter of choice or expediency, but a duty which springs from the very nature of the Christian community". in his varied ministry, one that could and should be Christian Unity isn't a side-issue ...- make Christian Unity more of a priority in your parish."
Live Children's Liturgy & Resources Page
Children's Liturgy will be live streamed this Sunday at 11:30am .

We do have new worksheets that are live on our website. This page contains the latest prayers, hymns and downloadable activities, Look worksheets and more. This has been updated for the Third Sunday in Ordinary Time..
Pray for Me
Note: The webpage on the Portsmouth Diocese has sadly been removed but you can still contact the Intercessor team directly. Details on our website.

Through the Called & Gifted process run by our Portsmouth Diocese, a growing number of people (currently over 60) have been able to discern that they have the charism of Intercessory Prayer. The intercessions could include prayers for our Diocese, Sacred Heart Church and all the people in it, Fr Paul or maybe something or someone close to you? Perhaps something you're concerned about relating to yourself, a family member or friend? If you wish the intercessors to pray for you, please email the team.

More details on our website.
Events from the Carmelites
Let Us Dream – from Jan 26th to Feb23rd
In this FREE Online Talk, we begin with Pope Francis' book "Let Us Dream – A Path To A Better Future". He offers his opinion clearly on current affairs, setting him apart from other world leaders. In doing so, His Holiness has ventured where many an angel would fear to tread – and left himself vulnerable, personally. Yet in Let us Dream we have an author who encourages us to face such realities confidently and discern what we are to learn from it all.
Latest Blog Posts from our Website
Sacred Heart Catholic Church, Hook
London Road Hook RG27 9LA
(c) Sacred Heart Church, Hook