CAFOD stands for the Catholic Agency For Overseas Development. They are an international development charity and the official aid agency of the Catholic Church in England and Wales.
CAFOD stand beside people living in poverty – whatever their religion or culture. Through local Church partners like Sacred Heart, Hook, we help people directly in their own communities, and campaign for global justice, so that everyone can reach their full potential.
Latest Updates
Deacon Dave and Fr.Paul Sponsored Run – £1,142 raised so far
A thank you to all who have donated to our small contribution to the annual Cafod Christmas Fun Run. As we finished the run at Sacred Heart Church, Hook. Hampshire, donations have continued growing to a wonderful £1,142. Amazing, thank you. We all know that your generosity will go a long way to alleviating the dire suffering of some of the poorest people in our world. Thank you very much dear friends! If you have not donated but still would like to it is not too late. Many thanks, and God bless one and all…
CAFOD Advent Resources
The CAFOD 2020 online Advent calendar of daily prayer and reflection offers an opportunity to pause and reflect, pray and take action as we prepare for Christmas. There are also online advent calendars for children and young people. Please visit their website for more information. This year CAFOD's Advent appeal focuses on those who have been affected by Coronavirus for example Saba who fled from Myanmar and now lives in the refugee camp in Cox's Bazar Bangladesh. She and her family have faced the challenges of social distancing, self-isolation, and lockdown. CAFOD's partners provided Saba and her 3 children with a shelter kit including essential materials to build a place to live.
CAFOD Coronavirus Appeal
Fundraising Marathon Hike (please still donate!)
I've done it! 🎉. 26.8 miles, with 981 metres of climbing…..and it was my wettest walk ever!
A few months ago, I joined an inspirational Zoom meeting for CAFOD parish volunteers, and we heard about the devastating effect of coronavirus on the most vulnerable communities https://cafod.org.uk/Give/Donate-to-Emergencies/Coronavirus-appeal.

That day, I decided to make a commitment to a fundraising walk for the CAFOD Coronavirus Appeal. My wife was already thinking about making a similar effort for MacMillan Cancer Care, so we teamed up and chose a 26-mile route around the South Downs – our first Marathon Hike!

We started training and I set up a JustGiving page with assistance from CAFOD office volunteers : https://www.justgiving.com/fundraising/ian-liddell1.

I won't bore you by talking about the 200+ miles of training walks we did, so here are some highlights of the big day itself.

Photo 0 – The weather forecast!
Photo 1 – We started in the rain and mist from Harting Down at 7am – well wrapped-up but daunted by the long rainy day ahead.
Photo 2 – 9 miles in, and the rain was easing off – left us with a few challenges underfoot.
Photo 3 – after 16 miles, it was dry at least – but the hilly section of our route was still ahead. We were thinking of our good causes to stay motivated, and trying to enjoy the scenery!
Photo 4 – great coastal views from the high point of the route, but some more storm clouds were heading our way from Portsmouth.
Photo 5 – we reached the finishing line just after 6pm. It was great to be finished after 11 hours on our feet, and time to enjoy the feeling of achievement.
Photo 6 – the stats! We got the distance wrong and ended up at 26.8 miles walking – a marathon plus a little more….and 981 metres of climbing along the way
CAFOD Family Harvest Day
On 10th and 11th October our parish is marking
CAFOD's Family Fast Day to help people facing the worst
or the coronavirus crisis. We've all felt the impact of
this terrible disease – let's come together to help the
poorest and most vulnerable people in the world
survive, rebuild and heal. Please pray for all those
affected and donate online at https://cafod.org.uk/Give where
possible or by using one of the envelopes and putting it
in the collection basket or send it direct to CAFOD. You
can also give easily via text. Text CAFOD to 70085 to
donate £10. Texts cost £10 plus one standard rate
message and you'll be opting in to hear more about our
work and fundraising via telephone and SMS. If you'd
like to give £10 but do not wish to receive marketing
communications, text CAFODNOINFO to 70085. Thank
you.
CAFOD Coronavirus Appeal
Fundraising Marathon Hike

After a few month's training, I am ready to tackle a 26- mile route around the South Downs, starting and finishing at Queen Elizabeth Country Park near Petersfield on 03 October. My fundraising cause is the
CAFOD Coronavirus Appeal, as described on the following link about the devastating effect of coronavirus on the most vulnerable
communities
https://cafod.org.uk/Give/Donate-to-Emergencies/Coronavirus-appeal,
If you would like to support me then please visit

https://www.justgiving.com/fundraising/ianliddell1

Thanks, Ian Liddell
Volunteering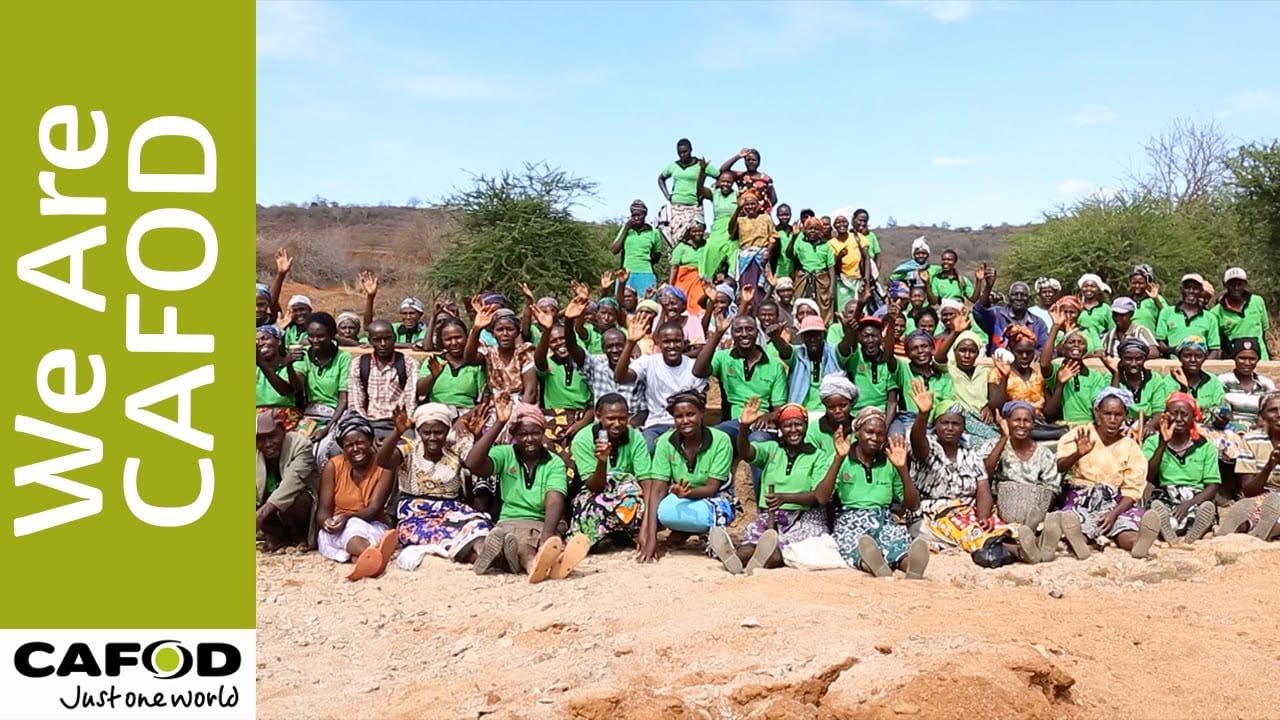 Jo Lewry, CAFOD Portsmouth Community Partnership Co-ordinator writes…

Why not consider volunteering for CAFOD? We have many volunteering opportunities in the Portsmouth Diocese so if you would like to make a difference & help your brothers/ sisters living in poverty overseas then please volunteer! Our fantastic parish volunteers help promote our Lent & Harvest family fast days in their parishes. Most parishes have at least one parish volunteer but would always welcome more! Other volunteering roles include school volunteers who go into Catholic primary and secondary schools to give assemblies about CAFOD's work, campaign volunteers who get involved with our campaigns, MP Correspondents who write to their MPs a couple of times a year and office volunteers who help out in the CAFOD Portsmouth office in Aldershot.

For more information on any of these roles please contact me by email portsmouth@cafod.org.uk or telephone 01252 329385.
CAFOD Family Fast Day
This Lent CAFOD's family fast day (6th March) is an opportunity to reach out to some of the poorest , most marginalised of our sisters and brothers. Please consider eating a simple meal and put what you save in the CAFOD collection envelope. Through CAFOD's global Church family your support can help those living in poverty overseas so many thanks for your donation.

A Fast Day envelope is available in the porch. Please give generously or you can donate online at www.cafod.org.uk/fastday Thank you.
The time is now
The time is now! "The earth, our home is beginning to look more and more like an immense pile of filth" Pope Francis. In his encyclical Laudato Si' Care for our Common Home Pope Francis urges us to hear the cry of the earth and the cry of the poor and to take action. Climate Change is the biggest threat to our planet, and we are calling on everyone to tell their MPs that the time to act is NOW! Please join us on Wednesday 26th June for the Time is Now Lobby of Parliament.

For more information and to sign up go to https://cafod.org.uk/Campaign/Climate/Climate-lobby
How else can I help ?
Struggling to think of that present for the person in your life who has everything? Then pick up a catalogue of CAFOD World Gifts – and give a gift that will change a life. There are gifts for every budget from 'Happy Queen Bee' at £4 to 'Help a Refugee child' at £46. Each CAFOD Worldgift has been chosen for the real and lasting difference it makes to families living in developing countries. Catalogues are available in the Church porch, or you can buy online at cafod.org.uk/worldgifts.
The true spirit of Giving !