CAFOD stands for the Catholic Agency For Overseas Development. They are an international development charity and the official aid agency of the Catholic Church in England and Wales.
CAFOD stand beside people living in poverty – whatever their religion or culture. Through local Church partners like Sacred Heart, Hook, we help people directly in their own communities, and campaign for global justice, so that everyone can reach their full potential.
Fix the Food System Campaign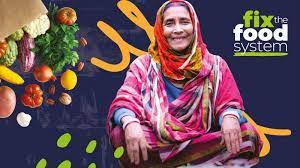 Of the 800 million people in the world facing hunger, two thirds of them are agricultural workers. So, there's a very real chance that the people who produce our food do not have enough food themselves. And the dominance of large-scale industrial agriculture leads to individual farmers having limited choices about which crops to grow and how to grow them.
CAFOD is launching a new campaign – about the way the world produces food. Called Fix the Food System, it's all about drawing attention to the huge imbalance of power that exists between the big companies known as 'agribusiness' and smallscale farmers in communities around the world who make a living from what they can grow. The current way that we produce food is actually very bad for the planet. Did you know that the food and agriculture sector is responsible for one third of harmful green- house gas emissions? Forests and rainforests are cut down or burned to make huge areas available for rearing cattle for meat and dairy or to grow soya to feed the animals that we want to eat. There is a lot of wastage, and huge areas of land are used in the production of crops for profit, often destined for export to serve the consumption habits of rich nations.
Making big changes to the global food system is critical to tackling the climate crisis. There is a better way. Communities around the world, including some that CAFOD works with, are demonstrating that alternative food systems can produce abundant results, with methods that are good for people and good for the planet. CAFOD's Fix the Food System campaign is calling on the UK government to support these alternative food systems, rather than continuing to mainly support agribusiness. Parishes and schools will be invited to take part in the campaign this spring and summer.
Family Fast Day – Small acts of love can make big things happen
This Family Fast Day, we remember that there are many people who need our love and support all around the world.
Children experiencing malnutrition like Amie's daughter Lombeh in Sierra Leone or families affected by conflict, as we are seeing now in Ukraine. Thanks to your generous giving on previous Fast Days CAFOD was able to respond very quickly to the current emergency by sending £100,000 to our partner agencies Caritas Poland, Moldova and Ukraine. Donating to CAFOD this Lent will enable local experts across the world to provide support to families in times of need or conflict. You can donate in church using a CAFOD envelope or by visiting the CAFOD website: cafod.org.uk/lent CAFOD has launched an online appeal as well. https://cafod.org.uk/News/Emergencies-news/Ukraine-crisis
---
Walk Against Hunger

This Lent CAFOD are asking you to help to stamp out hunger by joining their new Lent challenge, Walk Against Hunger. You can take on the individual challenge of walking 200km – 5km each day for the 40 days of Lent or walk as a group to reach 200km. There will also be a community Walk against Hunger on Saturday 26th March.
---
Update
Thank you for supporting our Climate Crisis Appeal for our recent Family Fast Day. Every donation helps us in our work and is gratefully received
Please pray for the success of the upcoming UN climate talks in Glasgow, COP26, from 31 October to
12 November. There are prayer cards at the back of church; please do take one and pray that that world leaders will put the needs of marginalised communities around the world, those most affected by climate change, right at the heart of these climate talks. For more information see https://cafod.org.uk/COP26
May the Holy Spirit inspire all political leaders at COP26 and in still in them the courage and gentleness to implement fairer solutions for the most vulnerable.

Please pray for the success of the upcoming UN climate talks in Glasgow, COP26, from 31 October to
12 November. There are prayer cards at the back of church; please do take one and pray that that world leaders
will put the needs of marginalised communities around the world, those most affected by climate change, right
at the heart of these climate talks. For more information see cafod.org.uk/COP26
May the Holy Spirit inspire all political leaders at COP26 and in still in them the courage and gentleness to
implement fairer solutions for the most vulnerable.
Fr Paul and Ian Liddell running Royal Parks Half Marathon – 10th October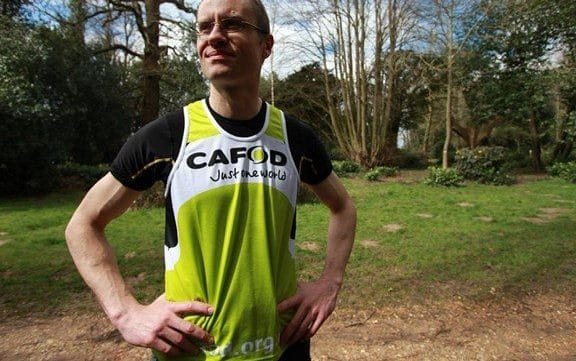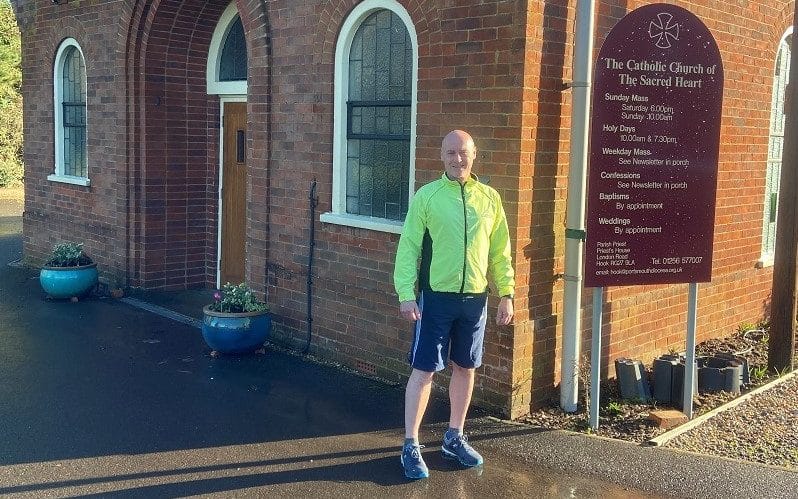 Fr Paul and Ian are running the half marathon in October 10th, 2021 for The Catholic Agency for Overseas Development (CAFOD) to help raise money to help those living in poverty around the world. In donating and supporting their Fr Paul and Ian's efforts, you will be helping people like Abdella:
Abdella is 23 and he has big dreams. He dreams of starting a small business. He dreams of starting a family. He dreams of having his own home.
He dreams of the day he wont have to walk ten hours to get water.
Abdella lives in Afar, Ethiopia one of the hottest places on earth. Like hundreds of people in the area, he spends most of the day walking to get water for his family to drink.
He knows that if there was water near his home, his family wouldnt have to worry any more about getting enough to stay alive. And he could start on the dreams he has for the rest of his life.
Please join us in supporting this great cause by clicking the button below to donate. Thank you and God bless.
Climate Change
Our local experts are helping people all over the world to adapt to climate change and protect our common home. By donating to CAFOD this Family Fast Day you can help communities affected by the worst impacts of the
climate crisis. Donate online through the CAFOD website or by using a CAFOD envelope.
You can also easily give via text.
Text CAFOD10 to 70580 to donate £10*. Or choose to give any whole amount between £1 and £20 by texting CAFOD, followed by the amount you would like to donate, to 70580
Go Green Challenge
CAFOD is asking us to get sponsored for the month of October on their Go Green challenge. There are three options
• Go Cycling – get on your bike!
• Go Veggie – give up meat and fish towards a more sustainable lifestyle.
• Go Plastic-Free – help the planet!

Sign up on their website –
https://cafod.org.uk/Fundraise/Go-Green
Earthquake Appeal
CAFOD is responding to significant crises across the world this week. We are working with local Church organisations in Haiti to deliver emergency aid to people affected by the catastrophic earthquake and tropical storm. In the tragic situation in Afghanistan, we are working to ensure the safety of our local partners and their communities. We are supporting local aid workers to deliver urgent food and water supplies to hundreds of thousands of people facing extreme hunger in Tigray in Ethiopia, South Sudan and north-east Nigeria. You can read more about how we can all express solidarity with our sisters and brothers affected by these emergencies on the CAFOD website: https://www.cafod.org.uk/News/Emergencies-news.

Your compassion, generosity and prayers have helped us to stand together and enable us to continue to support communities in these difficult times. Thank you.
Thank You
Thanks to your support, CAFOD has been helping communities around the world cope with the pandemic.
Just in Zambia, in the past year, our reports show we've been able to reach 1,234,200 people with messages on COVID-19, provide 13,312 people with access to safe water, train 392 frontline health workers from Zambia's 11 dioceses on how to prepare and respond to COVID19 in their local communities and donate over 1000 handwashing hygiene stations in communities to support handwashing measures. Thank you for standing alongside people in Zambia and for supporting people in more than 30 other countries worldwide.
Half Marathon for CAFOD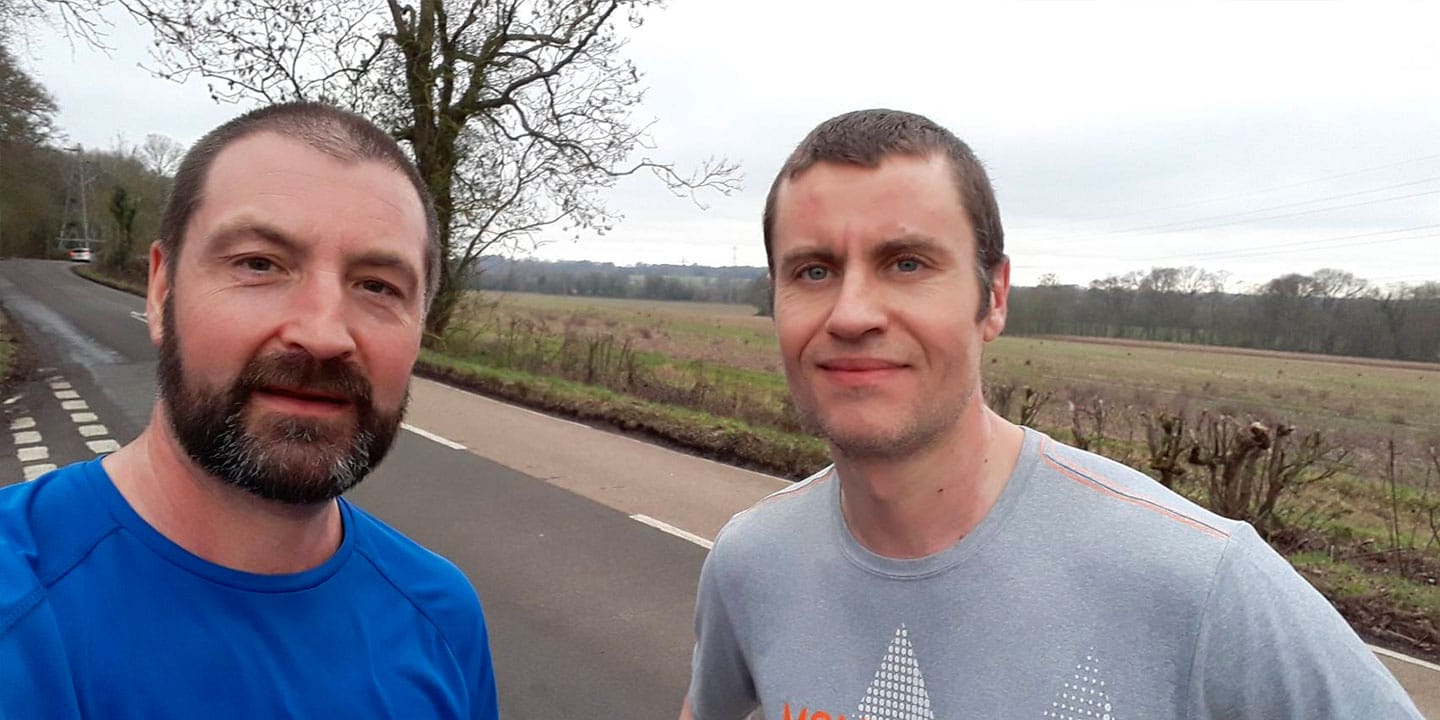 Dn Dave & Fr Paul are running again for The Catholic Agency for Overseas Development (CAFOD).
They are running the London Landmarks Half Marathon for CAFOD on 1st August 2021. Please show your love and support by giving generously to help smash their £800 target.
Together as a community, we can help others in great need.
Becoming a Volunteer
Jo Lewry, Community Participation Co-ordinator for CAFOD Portsmouth, asks you to become a CAFOD campaign volunteer and help rebuild a better world …
We are looking for more campaign volunteers in all the parishes in Portsmouth Diocese to help promote our new campaign Reclaim our Common Home. 2021 is a very exciting year for anyone interested in campaigning for a just world and a green recovery from the pandemic.
The G7 summit is taking place in the UK in June and we are hosting the UN 'COP26' climate talks in Glasgow between 1-12 November. The eyes of the world will be on the UK this year so help us ensure that our government hears "the cry of the earth and the cry of the poor".
Become a campaign volunteer and help to make the world a better place in 2021. Not only will you gain new friends and skills, but you will be a part of our life-saving work. Don't worry if this is something you've not tried before, CAFOD provides support and training both on and offline.
So, please contact Jo by emailing portsmouth@cafod.org.uk or phone 07710 094447 if
you are interested
CAFOD Walk for Water Challenge – Ian Liddell update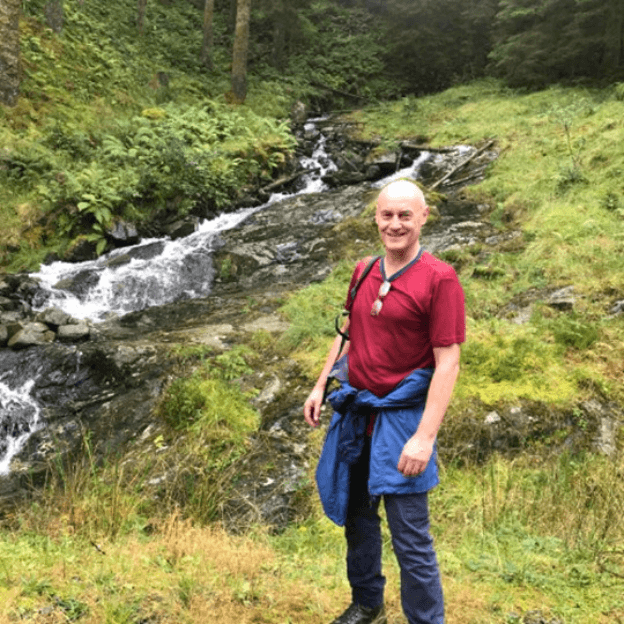 I've been inspired by Abdella's story (https://vimeo.com/499534920) I and am now in week 5 of the Lent challenge.
However, as I usually walk 10,000 steps per day anyway it didn't feel right to adopt that as my target – so I am doing a 5 mile run every day instead. I'll admit it was difficult to begin with, as I would set off in the mornings while still feeling the muscle-ache from the previous day. I always spend some time during each run thinking about Abdella and his daily challenge to collect water – knowing that he will often undertake his daily trek when he does not feel 100%, because he has no choice but to press on.

I've experienced some of the monotony that comes from following the same route everyday, although at least I can vary my route to bring some variety whereas Abdella has no respite from his daily slog.

I'm also careful to avoid injury from muscle strain or turning an ankle etc, but I would be able to put my feet up until I had recovered whereas Abdella cannot afford to let down those who depend on him.

I'm lucky to be doing this in lightweight running gear whereas the whole point of Abdella's daily challenge is to carry as much water as he can!

All in all, this leaves me even more aware of the need for us to do what we can to help – so please donate to my Just Giving page https://walk.cafod.org.uk/fundraising/ians-40-day-walk-for-water, or to any of the other CAFOD fund raisers – we're all in this together
CAFOD LENT FAST DAY
Our next Special Collection is for CAFOD (Lent Fast) on 28th February. If you are able please donate to CAFOD online or by text.

To donate by text :
£5 text LENT5 to 07460
£10 text LENT10 to 07460
£20 text LENT20 to 07460
To opt out of CAFOD info :
Text LENTNOINFO to 074660

Online donations : https://cafod.org.uk/lent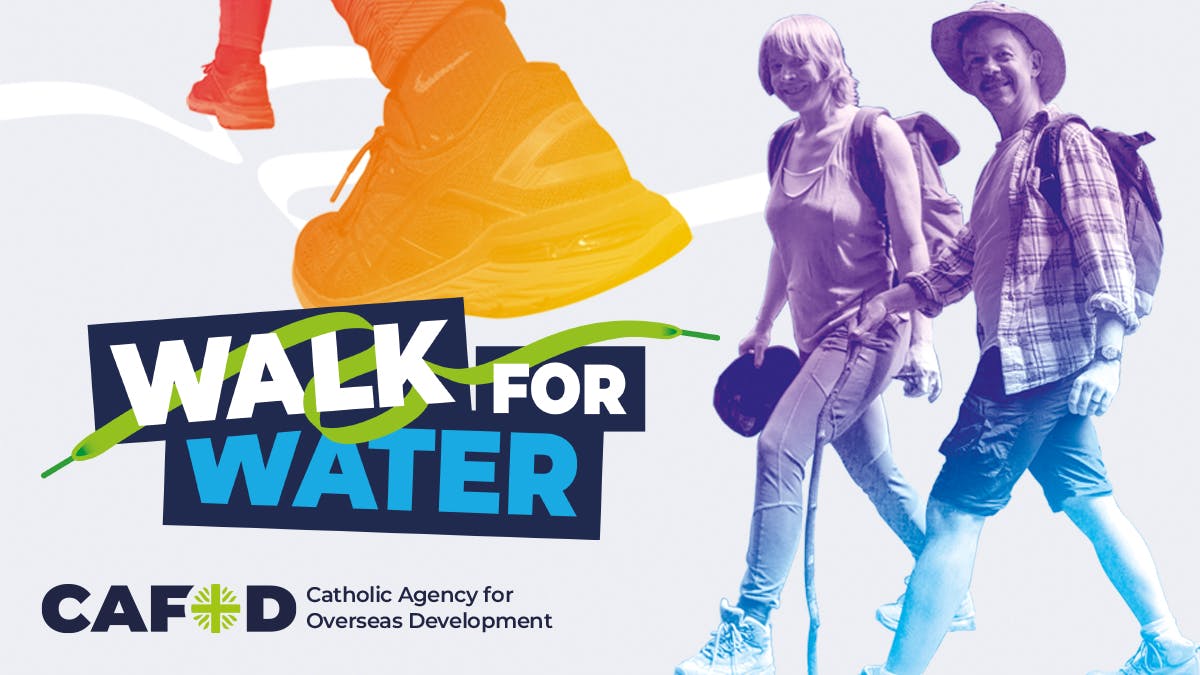 This Lent, CAFOD invites you to join the Big Walk for Water CAFODS virtual event on Saturday 20th February . We are asking everyone to walk in solidarity with those who have to walk to collect water each day like Abdella from Ethiopia. You can walk 5
miles or just around your garden but please walk so that we can make this an event to create awareness of water poverty and to raise funds for those living in poverty around the world.
CAFOD Update From Ian Liddel

On Saturday 30 January, I joined CAFOD's South East Region on-line update meeting, and was amazed to find myself in
an audience of over 100 CAFOD volunteers!

2020 Appeals Feedback
After our opening prayer, we heard good news about everyone's efforts in 2020.

· The Coronavirus Appeal raised £4.1M, which is helping to fund 238 projects across 33 countries
-6.5 million people received information on COVID-19 prevention and treatment
– 0.5 million people were reached with sanitation and hygiene supplies
– 6,800 healthcare workers were provided with PPE and trained in management of COVID-19
o 13,000 households received grants to meet basic needs, food and other emergency supplies

· The Harvest Appeal raised £1.2M, down from £1.4M in 2019. Inevitably, school and parish donations were
down on 2019, but individual fundraising and online giving almost doubled from 2019
· Advent and World Gifts fundraising reached £1.4M
Many thanks for all of your support and prayers!

2021 Lent Appeal – Walk for Water
Conor Molloy, CAFOD's Ethiopia Country Director, joined us live from Addis Ababa!

He told the moving story of two Ethiopians.
· Abdella lives in Afar, a remote region and one of the hottest parts of the world.
He dreams of starting a small business, having his own home, and starting a family…. but he has to walk 10 hours every day to collect water. You can find out more here
Lent Appeal 2021: Abdella's walk for water | CAFOD on Vimeo

· Hagos lives in a drought-prone area of northern Ethiopia and said "Land and water feed us. They keep us alive". Lives in his community were transformed when CAFOD's local partner constructed two
solar-powered water pumps which enabled water tanks to be filled with water for domestic use and irrigation to sustain crops. Hagos can now grow crops and is more secure financially, so he can now keep his daughters in school for longer

Please support CAFOD's fundraising this Lent. This will help local water engineers install water pumps and storage and
remote places to help Abdella and many others.
This year's Fast Day will be Friday 26 February, and details about how to give support will be given in the newsletter on
the run-up to Fast Day.

Reclaim our Common Home Campaign
We were shown a short film https://youtu.be/WoAAvioYEW8 about this new campaign, which is CAFOD's response to
Pope Francis's call for a new way of thinking about the world – Fratelli Tutti.
"All of us have a responsibility for the wounded, those of our own people and all the peoples of the earth." (Fratelli Tutti79)
We want to:
Reclaim nature so that everyone can breathe clean air and be protected from the threat of climate disasters.
Reclaim the world's land and resources so they are more fairly distributed and all our brothers and sisters around the
world can live in dignity.

Reclaim power so that everyone can be involved in decision making and have agency over their own lives.– tackling
global poverty, injustice and climate change.
Please take a look at the Reclaim our Common Home petition Urge the Prime Minister to put people hardest hit at the
heart of COP26 climate talks | CAFOD (e-activist.com)


Deacon Dave and Fr.Paul Sponsored Run – £1,142 raised so far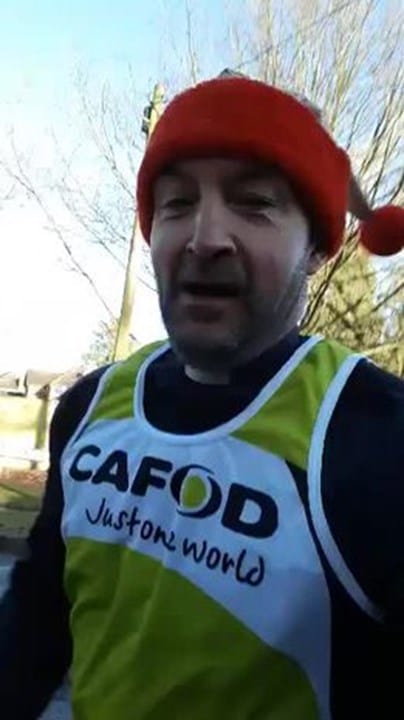 A thank you to all who have donated to our small contribution to the annual Cafod Christmas Fun Run. As we finished the run at Sacred Heart Church, Hook. Hampshire, donations have continued growing to a wonderful £1,142. Amazing, thank you. We all know that your generosity will go a long way to alleviating the dire suffering of some of the poorest people in our world. Thank you very much dear friends! If you have not donated but still would like to it is not too late. Many thanks, and God bless one and all…
CAFOD Advent Resources
The CAFOD 2020 online Advent calendar of daily prayer and reflection offers an opportunity to pause and reflect, pray and take action as we prepare for Christmas. There are also online advent calendars for children and young people. Please visit their website for more information. This year CAFOD's Advent appeal focuses on those who have been affected by Coronavirus for example Saba who fled from Myanmar and now lives in the refugee camp in Cox's Bazar Bangladesh. She and her family have faced the challenges of social distancing, self-isolation, and lockdown. CAFOD's partners provided Saba and her 3 children with a shelter kit including essential materials to build a place to live.
CAFOD Coronavirus Appeal
Fundraising Marathon Hike (please still donate!)
I've done it! 🎉. 26.8 miles, with 981 metres of climbing…..and it was my wettest walk ever!
A few months ago, I joined an inspirational Zoom meeting for CAFOD parish volunteers, and we heard about the devastating effect of coronavirus on the most vulnerable communities https://cafod.org.uk/Give/Donate-to-Emergencies/Coronavirus-appeal.

That day, I decided to make a commitment to a fundraising walk for the CAFOD Coronavirus Appeal. My wife was already thinking about making a similar effort for MacMillan Cancer Care, so we teamed up and chose a 26-mile route around the South Downs – our first Marathon Hike!

We started training and I set up a JustGiving page with assistance from CAFOD office volunteers : https://www.justgiving.com/fundraising/ian-liddell1.

I won't bore you by talking about the 200+ miles of training walks we did, so here are some highlights of the big day itself.

Photo 0 – The weather forecast!
Photo 1 – We started in the rain and mist from Harting Down at 7am – well wrapped-up but daunted by the long rainy day ahead.
Photo 2 – 9 miles in, and the rain was easing off – left us with a few challenges underfoot.
Photo 3 – after 16 miles, it was dry at least – but the hilly section of our route was still ahead. We were thinking of our good causes to stay motivated, and trying to enjoy the scenery!
Photo 4 – great coastal views from the high point of the route, but some more storm clouds were heading our way from Portsmouth.
Photo 5 – we reached the finishing line just after 6pm. It was great to be finished after 11 hours on our feet, and time to enjoy the feeling of achievement.
Photo 6 – the stats! We got the distance wrong and ended up at 26.8 miles walking – a marathon plus a little more….and 981 metres of climbing along the way
CAFOD Family Harvest Day
On 10th and 11th October our parish is marking
CAFOD's Family Fast Day to help people facing the worst
or the coronavirus crisis. We've all felt the impact of
this terrible disease – let's come together to help the
poorest and most vulnerable people in the world
survive, rebuild and heal. Please pray for all those
affected and donate online at https://cafod.org.uk/Give where
possible or by using one of the envelopes and putting it
in the collection basket or send it direct to CAFOD. You
can also give easily via text. Text CAFOD to 70085 to
donate £10. Texts cost £10 plus one standard rate
message and you'll be opting in to hear more about our
work and fundraising via telephone and SMS. If you'd
like to give £10 but do not wish to receive marketing
communications, text CAFODNOINFO to 70085. Thank
you.
CAFOD Coronavirus Appeal
Fundraising Marathon Hike

After a few month's training, I am ready to tackle a 26- mile route around the South Downs, starting and finishing at Queen Elizabeth Country Park near Petersfield on 03 October. My fundraising cause is the
CAFOD Coronavirus Appeal, as described on the following link about the devastating effect of coronavirus on the most vulnerable
communities
https://cafod.org.uk/Give/Donate-to-Emergencies/Coronavirus-appeal,
If you would like to support me then please visit

https://www.justgiving.com/fundraising/ianliddell1

Thanks, Ian Liddell
Volunteering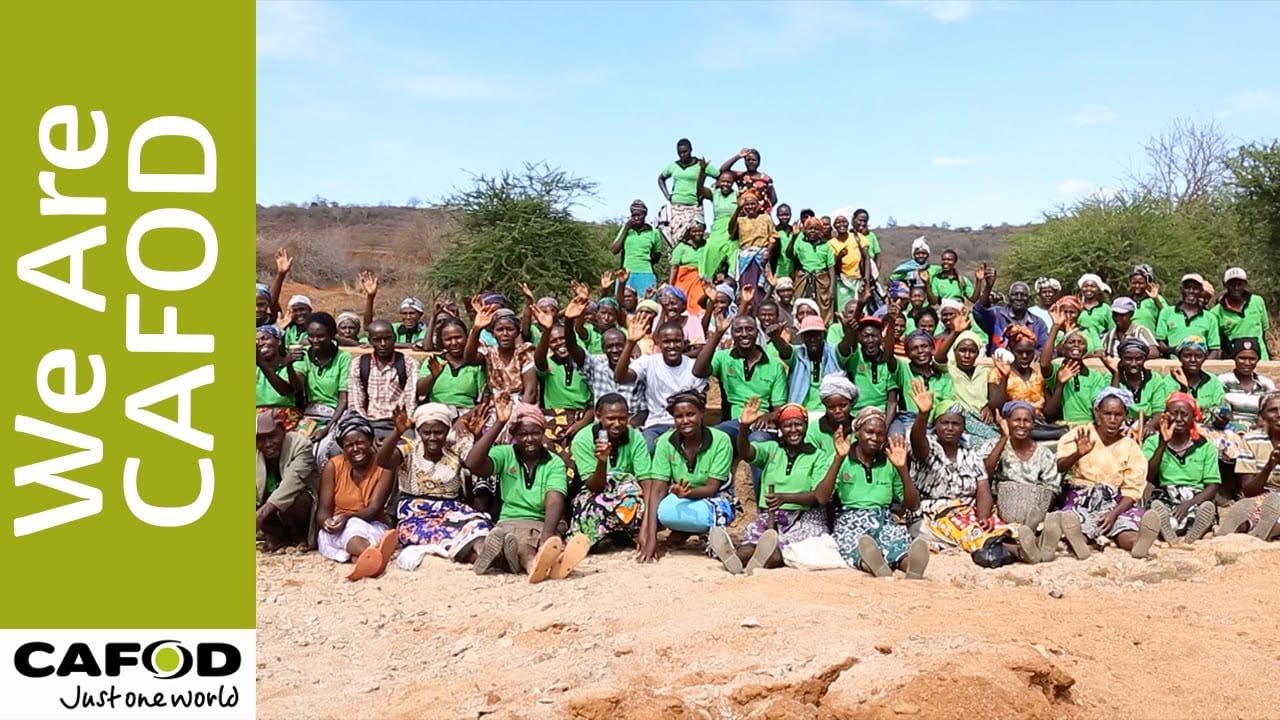 Jo Lewry, CAFOD Portsmouth Community Partnership Co-ordinator writes…

Why not consider volunteering for CAFOD? We have many volunteering opportunities in the Portsmouth Diocese so if you would like to make a difference & help your brothers/ sisters living in poverty overseas then please volunteer! Our fantastic parish volunteers help promote our Lent & Harvest family fast days in their parishes. Most parishes have at least one parish volunteer but would always welcome more! Other volunteering roles include school volunteers who go into Catholic primary and secondary schools to give assemblies about CAFOD's work, campaign volunteers who get involved with our campaigns, MP Correspondents who write to their MPs a couple of times a year and office volunteers who help out in the CAFOD Portsmouth office in Aldershot.

For more information on any of these roles please contact me by email portsmouth@cafod.org.uk or telephone 01252 329385.
CAFOD Family Fast Day
This Lent CAFOD's family fast day (6th March) is an opportunity to reach out to some of the poorest , most marginalised of our sisters and brothers. Please consider eating a simple meal and put what you save in the CAFOD collection envelope. Through CAFOD's global Church family your support can help those living in poverty overseas so many thanks for your donation.

A Fast Day envelope is available in the porch. Please give generously or you can donate online at www.cafod.org.uk/fastday Thank you.
The time is now
The time is now! "The earth, our home is beginning to look more and more like an immense pile of filth" Pope Francis. In his encyclical Laudato Si' Care for our Common Home Pope Francis urges us to hear the cry of the earth and the cry of the poor and to take action. Climate Change is the biggest threat to our planet, and we are calling on everyone to tell their MPs that the time to act is NOW! Please join us on Wednesday 26th June for the Time is Now Lobby of Parliament.

For more information and to sign up go to https://cafod.org.uk/Campaign/Climate/Climate-lobby
How else can I help ?
Struggling to think of that present for the person in your life who has everything? Then pick up a catalogue of CAFOD World Gifts – and give a gift that will change a life. There are gifts for every budget from 'Happy Queen Bee' at £4 to 'Help a Refugee child' at £46. Each CAFOD Worldgift has been chosen for the real and lasting difference it makes to families living in developing countries. Catalogues are available in the Church porch, or you can buy online at cafod.org.uk/worldgifts.
The true spirit of Giving !