This page is dedicated to Church news and announcements, as well as uplifting or moving stories, videos, poems and more
Last Updated 04/04/2020.
Sacred Heart Stream Times
Login to Facebook, just before 10am and Fr Paul will be live streaming the full Mass for Palm Sunday. Hope to see you there! If you don't have a Facebook account – now the time to create a free one 🙂
Other Mass Live Streams
The Mass will also be streamed live at St Bedes on Sunday at 9am and 11am
Also streamed live at St Jospeh 6pm Sat and 10am Sunday
Important Announcements
Important Message from Fr Paul
As you may have heard in the news, the Bishops of England and Wales have today suspended public worship. This means that Masses will continue but with no congregation physically present.

The last public Mass in our Pastoral Area will be Friday evening at Holy Ghost Church at 7.30pm. It will commence with Stations of the Cross at 7.10pm. All Masses after this date, including Sundays, are not open to the public.

Both St Bede's Church and St Joseph's Church intend to offer Mass privately each day. Which you will be able to follow at home via their St Bede or St Joseph live streams and make a Spiritual Communion.

More details will be made available as they are made more clear, including the impact on other sacraments. Please stay tuned to our website and follow our Facebook page to keep up to date.

Please do sign up for the newsletter so you also receive our updates more quickly. We will also post updates to our website and calendar in terms of events and Mass as soon as we have them.

Bishop Philip has released a pastoral letter.

Sent on behalf of Fr Paul Leonard
Priest in Charge, Sacred Heart Parish
Cardinal Vincent Nichols has has also recorded a YouTube message to all Catholics in England and Wales.
Prayer
Love Comes from Prayer
Huge thanks to Bridie Stringer for sharing this beautiful piece on Prayer by Chris Mc Donnell who sent the reflection on Auschwitz.
Prayer, Homily and Blessings from Pope Francis


Today, Pope Francis gave the most moving homily, prayers and special urbi et orbi blessing for the world in this time of the coronavirus.

If you missed it, don't worry, you can watch the full video here.
Prayers for times of Pandemic – Shared 26/03/2020 by Fr. Paul
Fr. Paul wanted to share this excellent resource and set of prayers for times of a pendemic.
Daily Prayer at Noon – Hail Mary – Shared 20/03/2020 by Theresa and Anne Da Silva
Thursday 19th – Pope Francis to Lead Global Rosary


As we continue to face the coronavirus outbreak, Pope Francis urges Catholics to unite spiritually at 8pm UK time, to pray the rosary simultaneously on the Feast of St. Joseph. They will be live streaming on Facebook too.
https://lacatholics.org/rosary/
or live here
https://www.youtube.com/watch?v=5YceQ8YqYMc
Inspiration
More Inspiration from Theresa
Prayer Service At Home
These links have has some wonderful prayers for our community in a time of a pandemic as well as this guide on how to have a prayer service at home. More info here
Blessings, Fr Paul.
Servant Song – Brother, Sister let me serve you
Dear friends, I felt called to share this song/hymn with you all. Stay safe and God Bless,
Fr. Paul.
Staying Spiritually Connected by CAFOD
If you don't subscribe to CAFOD's emails, take a look at this link which is full of interesting information on how to stay spiritually connected.
Faith in the time of Coronavirus – Shared by Fr Paul
"Dear friends, please read this wonderful article. It echoes my own sentiment."
https://www.americamagazine.org/faith/2020/03/13/faith-time-coronavirus
God Bless, Fr. Paul
Uplifting Video Shared by Grania
Grania has shared this positive video compilation from Fr. Tom which he has prepared in relation to the Coronavirus, including, prayers, sayings and imagery. All uplifting and positive stuff.
Offers & Help
Coronavirus Hampshire Helpline
The Coronavirus Hampshire Helpline – Hantshelp4vulnerable – can be contacted on 0333 370 4000. The helpline is available seven days a week, from 9am-5pm. The service is available to people residing in the county of Hampshire only. There are separate arrangements in place for Southampton, Portsmouth and Isle of Wight residents.

More information here.
Magificat Offer
As there will be no public Masses for an indefinite period starting this weekend and an increasing number of people are self-isolating, here is an offer for free access to Magnificat online, and for those who would like the Print Edition there is a special one-off 4-month subscription to Magnificat and/or a 3-month subscription to The Catholic Herald at substantially discounted and affordable prices to ensure that the maximum number of people can take advantage. Full details are in the downloadable PDF below.
Poems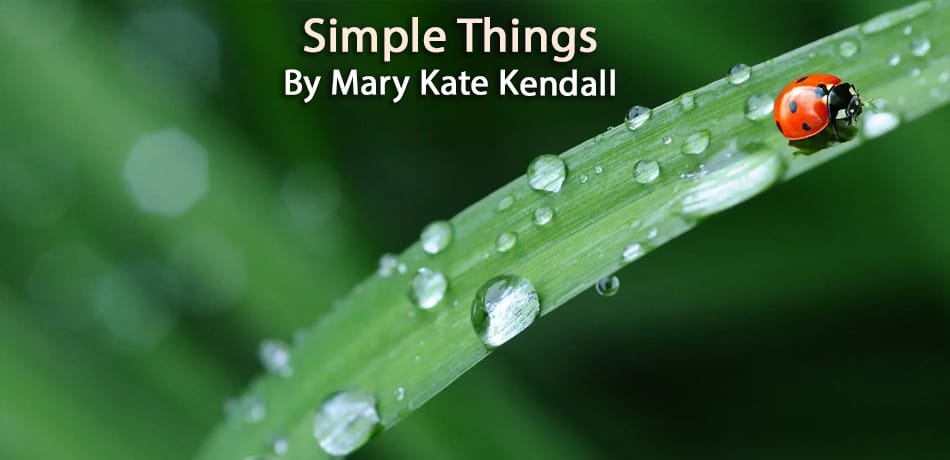 It's the simple things I appreciate Father;
The smell of a soft summer's day.
Walking barefoot amongst freshly cut grass,
Rainbow raindrops that taste of wine…

It's the small things that I notice Father;
The little ladybug crawling along my arm,
One white feather drifting down from Heaven
The scent of Jasmine in the air…

When doubt wages war on my soul,
During adversity and terror,
When fallen angels lay battered and broken,
You appear before me; my salvation,
My Lord and saviour…

When doubt wages war on my soul,
During adversity and terror,
When fallen angels lay battered and broken,
You appear before me; my salvation,
My Lord and saviour…

Mary Kate Kendall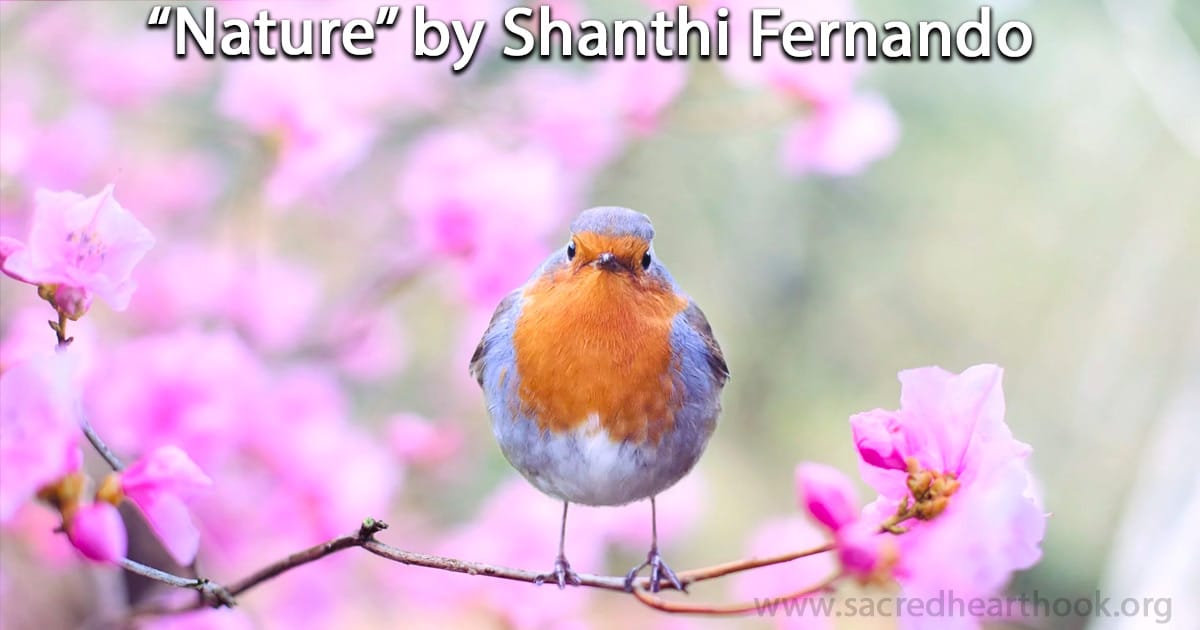 With my eyes I look through the kitchen window.
What can I see and what can I hear,
Or what can I feel after this in my mind;
Gift of seeing , a gift of hearing,
A creator saying 'I love you'

This first few days of the springtime,
What did I see with my eyes.
The leafs about to come out.
Getting ready for spring dance.
Nice and still waiting for the winter curtains to be lifted.
What an uplifting time it is,
Let's go out and greet them 'The Spring season'.

Let's dance moving our hands,
like the branches in the springtime.
To celebrate a spring dance.
Where it was dressing up and rejuvenating in Winter.
Let our life be like the branches.
A winter has passed.
We have each other's like the trees.
A network of roots to secure to the ground.
The Sun above looking at the trees,
Seeing them growing.
Lord above us seeing our needs,
We grow hand in hand,
Loving each other.
Oh nature, Oh nature,
Loving every moment,
Thanking the Lord,
Eyes gazed to heaven.
  S.F
Lockdown


Fr Paul wished to share this beautiful poem of hope with you at a time when there is much fear in the world. God Bless.
"Yes there is fear.
Yes there is isolation.
Yes there is panic buying.
Yes there is sickness.
Yes there is even death.
But,
They say that in Wuhan after so many years of noise
You can hear the birds again.
They say that after just a few weeks of quiet
The sky is no longer thick with fumes
But blue and grey and clear.

They say that in the streets of Assisi
People are singing to each other across the empty squares,
keeping their windows open so that those who are alone
may hear the sounds of family around them.
They say that a hotel in the West of Ireland
Is offering free meals and delivery to the housebound.

Today a young woman I know is busy spreading fliers
with her number through the neighbourhood
So that the elders may have someone to call on.
Today Churches, Synagogues, Mosques and Temples
are preparing to welcome and shelter the homeless,
the sick, the weary.

All over the world people are slowing down and reflecting
All over the world people are looking at their neighbours in a new way
All over the world people are waking up to a new reality
To how big we really are.
To how little control we really have.
To what really matters.
To Love.

So we pray and we remember that Yes there is fear.
But there does not have to be hate.
Yes there is isolation.
But there does not have to be loneliness.
Yes there is panic buying.
But there does not have to be meanness.
Yes there is sickness.
But there does not have to be disease of the soul
Yes there is even death.
But there can always be a rebirth of love.

Wake to the choices you make as to how to live now.
Today, breathe.
Listen, behind the factory noises of your panic
The birds are singing again
The sky is clearing,
Spring is coming,
And we are always encompassed by Love.
Open the windows of your soul
And though you may not be able to touch across the empty square,
Sing."

Fr. Richard Hendrick, OFM March 13th 2020
If you have any inspiring stories or poems – do send let us know…
Easter Resources
Live Stream at Sacred Heart for Palm Sunday
Login to Facebook, just before 10am and Fr Paul will be live streaming the Mass.
Stations of the Cross Podcasts / Audio


Thanks to Theresa Mahon for sharing
these Stations of the Cross Podcasts for all to use.
Latest Decree from the Bishop
Please note the Church is now closed until further notice. For full information including Baptisms, Weddings and Funerals please see the document.