The brand new diocesan magazine has arrived in our Parish this weekend and with it launches the online equivalent www.vivavoce.uk and the accompanying app, Viva Voce AR. An augmented reality app that literally brings the pages to life! It's truly amazing!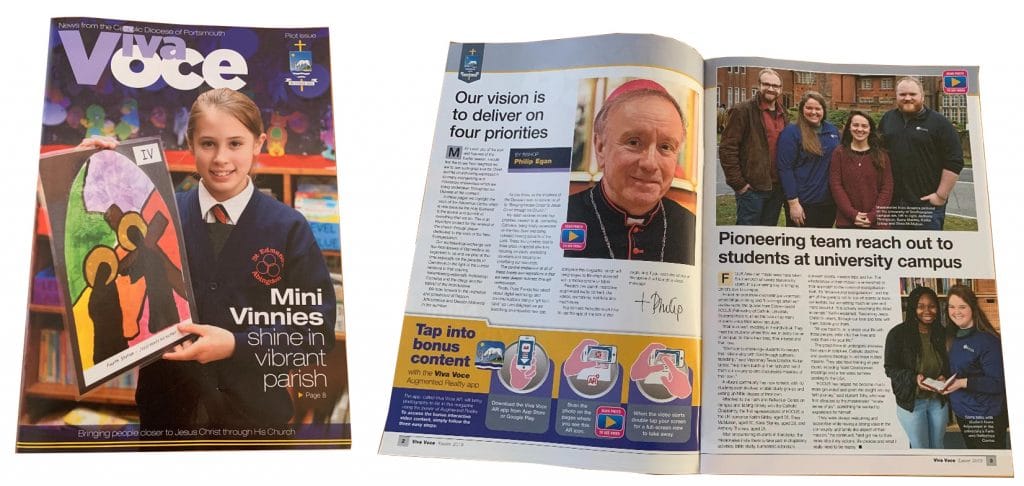 Viva Voce brings you high quality news from the Catholic Diocese of Portsmouth. Explore how parishes and communities are innovating, discover what our amazing schools and youth are up to and find out about the culture of vocation we're creating.
"As the shepherd of the
Diocese I wish to commit
us all to "bringing people
closer to Jesus Christ
through his Church." Bishop Philip.
Bishop Philip's Vision
Before jumping in, do take a moment to watch the below video and learn a little more of Bishop Philip's wider vision.
Please discover for yourself the many great stories inside Viva Voce, drawn from the many communities of our Diocese. The magazine covers many themes but there is a particular focus on the latest News, Youth, Evangelisation and Vocation.
How to get your copy
There are some copies of the magazine in the porch or there is a PDF version here.
Do let us know your views on the magazine and app in the comments below.